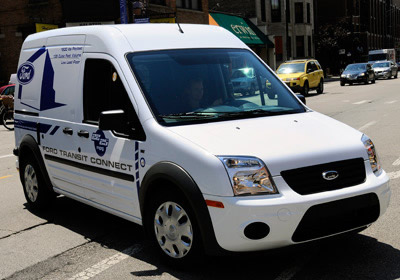 Ford Transit Connect Delivers
By Jim Bray
September 17, 2010
Ford's new little delivery van really does "deliver the goods", as it were.
Depending on the type of business you own, the Transit Connect might be just what the doctor ordered. It's small for such a vehicle and the fact that it doesn't offer a huge amount of power may limit its practicality, but for what it is, it's very good.
The Transit Connect, which apparently has been available in Europe for several years now but which is just hitting North America, is similar in its raison d'être to the Dodge Sprinter, though smaller. Ford says it fills a need for a vehicle developed specifically for small business owners, offering low operating and ownership costs.
Ford says the Transit Connect uses a dedicated front-wheel drive commercial vehicle platform to provide a vehicle they hope will encourage people to pony up for it instead of reconfiguring their minivan or making do somehow else.
Its mechanical heart is a two liter four cylinder engine that puts out 136 horses @ 6,300 rpm and 128 ft.-lb. of torque @ 4,750 rpm. Those figures won't set the world on fire – and I wouldn't want to be hauling heavy stuff up and down mountainsides with that kind of oomph – but it might be all you need.
It has a rather mundane four speed automatic transmission, too, though it works fine, with shifts that are only a bit cargo van-like.
My review Transit Connect was pretty straightforward, with few creature comforts. The cab's two bucket seats are comfortable but you won't forget you're at work and not at play. Perhaps that's just as well if you're paying someone to drive the van for you.
The Transit Connect's relatively small size helps the driving experience. As with the seats, you aren't about to forget you're driving a mini cargo van, but it manages to feel relatively nimble and is, in fact, pretty good to drive.
Ford says the power-assisted rack and pinion steering helps achieve a 39 foot turning circle; it also feels right for the guy doing the turning, with tight and accurate control.
Inside are 135 cubic feet (with 52.1 inches of available load height) you can use for stuff, and getting that stuff in is pretty easy thanks to rear cargo doors that open up to 255 degrees. I didn't load much into the Transit Connect at any one time during my short visit with it, mostly just the assorted detritus we'd been meaning to get rid of for ages. Needless to say, we had room for a lot of it in the Transit Connect!
Ford says the beast will carry 1,600 pounds of stuff.
I also hauled a bicycle in it, which wasn't much of a chore. In fact, since the lift over is less than two feet high and the cargo section is a big box, I had no trouble getting the bike off the ground and onto its side in the back, lashing it down so it wouldn't fly out the front window at the first stop sign.
You can lay something just shy of four feet wide between the wheel wells and it can be a tad more than six feet long. The rubber floor is a thoughtful touch, though it can make sliding something in or out a little more difficult. Sliding doors on either side of the van mean you can grab the forward end of whatever's being loaded from the rear and help haul it home.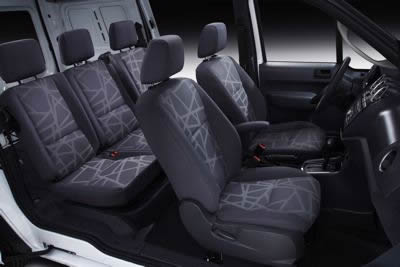 The van can be configured with no side or rear windows, or with privacy glass, and you can fix up the interior in a variety of ways – including as a wagon, with a folding second row bench seat in two or three passenger layout. You can ferry the kids or co-workers with you, or maybe even run an airport cab for people who don't know when to stop packing!
Besides a selection of bulkheads, racks, bins and other stuff you can mix and match, Ford offers "Work Solutions," an in-dash computer system the company says can provide Internet access, productivity software and even printing capabilities. Mine didn't have that, darn it, but it sounds like it would be a great tool for when the van is also your mobile office and you want to provide quotes, invoices, do product research – you name it.
Heck, I'd like that in my car!
The Ford Work Solutions also lets you organize, scan and track your tools, inventory or whatever, as well as giving you a telematics service to monitor and manage your fleet.
My sample didn't have any of that. In fact, there wasn't a lot of instrumentation, just the basic info you need via four gauges and an LCD screen. But it was air conditioned, had cruise control, power windows and the like, so it wasn't really as if I were roughing it.
I can think of the perfect application for the Ford Transit Connect, though it's 25 years too late. I co-owned a couple of small town video rental businesses back in the early 1980's and we offered a service that delivered movies and rental VCR's to rural areas surrounding our town.
At the time, we slapped a camper onto a small pickup, putting shelves in the camper and stuffing it with inventory. It was top-heavy and lumbering, but it worked.
The Ford Transit Connect would have been ideal. Its relatively low power would have been okay because, despite the mountainous terrain in which we lived, most of the route was up valleys that were fairly flat – and the stuff we were hauling wasn't too heavy. Stick a few shelves in the FTC and we'd have been off to the races.
Ain't hindsight great?
Ford estimates the Transit Connect will deliver at least 20 city and 24 highway mpg. I didn't put a lot of miles on my sample, but at the end of the week the fill up was gratifyingly small for a vehicle you don't expect to sip gas like a Fiesta.
The Transit Connect starts at $21,185 U.S./$24,989 Canadian.
Copyright 2010 Jim Bray
TechnoFile.com