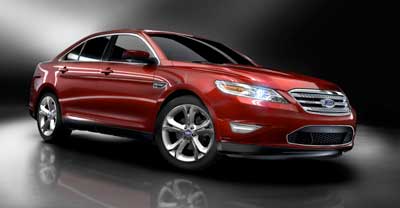 Ford's Hot Taurus Sedan – It's SHO Time!
By Jim Bray
January 13, 2010
Ford's new Taurus SHO is another welcome sign the company may be making a comeback, product-wise at least, avoiding the government takeover to which its domestic competitors succumbed.
It deserves to sell. I spent a week in a loaded SHO (as opposed to "loaded in an SHO") and liked it a lot – much more than I thought I would. Even its exterior, which had seemed bland, even frumpy, in my brief glances previously, grew on me.  
While the exterior may be the car's weakest link, the interior is top notch and, at least in its upgraded SHO configuration, the car's performance is exhilarating.
Like many cars offered today, Taurus has grown since it was first introduced as basically a mid-sized sedan, a niche now occupied very capably by the Fusion. That Taurus never really appealed to me, but it sold well – which shows how I know! The Taurus was discontinued around the turn of the century, then resuscitated a couple of years ago as a rebadging of the Ford 500, a nice car but not as nice as this Taurus.
The Taurus SHO (Super High Output) is the sport version of the big sedan and offers Ford's new EcoBoost engine, a 3.5 liter V6 with twin turbochargers, variable valve timing and direct fuel injection. In the Taurus SHO it's rated at "an estimated" 365 horsepower at 5,500 rpm and 350 ft.-lb. of torque at 3,500 rpm; Ford says it's the most powerful EcoBoost engine.
Powerful it is, as Yoda might say. While my week in the SHO came during bitterly cold and snowy weather that prevented me from winding it out, I was very impressed with the car's punch those few times I could goose it. On a dry road, this would be a very fast car. Car and Driver magazine measured its zero-60 mph performance at 5.2 seconds, which is very impressive. Couple acceleration like this with the car's innocuous looks and you have a stealth missile.
The engine, as Ford claims, does feel more like a V8 than a six, and it doesn't feel like a turbo, either, because lag is almost non-existent. If I hadn't known going in that it was a turbo, I'd have thought the engine breathed normally. It sounds good, too, when pressed, despite the car's very quiet cabin. And, oh yeah, it's happy to burn regular unleaded gas, a nice surprise.
Okay, so its get up and go is great, and the EcoBoost works as advertised. How about the rest of the car?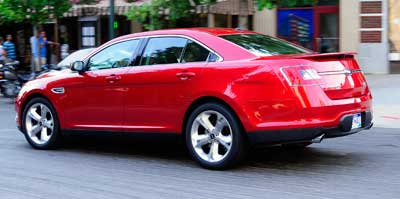 Though the SHO is bigger than I like (I'd prefer something in the Fusion class), it comes with all the stuff I like: not only does it go fast, its all-wheel drive system (optional on some lesser Tauri) was fantastic on our snowy and slippery roads and the smoothly shifting six speed automatic transmission's paddle shifters gave me great control on the slippery streets.
Taurus's four wheel independent suspension is sported up for the SHO and offers a nice balance between sporty tightness and family sedan sedateness. The power-assisted rack and pinion steering offers pretty good response too.
SHO's 20 inch wheels are equipped with P245/45 series tires. My tester had a good set of snow tires, thankfully! The car comes with four wheel disc brakes with ABS and the usual assists; brake feel and efficiency was as good or better than I could expect in slippery conditions.
I hope they send the car back when summer comes!
The Taurus SHO's interior is attractive, efficient, and luxurious. Mine featured a metallic-look trim and a high tech appearance in which the two front bucket seats are separated by a swoopy centre stack that extends backward to become the center console. It makes the big car feel a little more intimate while bringing all the controls closer to reach.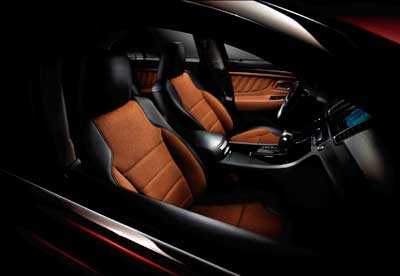 The leather seats (with "Miko suede" inserts) up front are very comfortable and supportive and feature power movement in just about any direction you could want. Of course they're also heated and cooled. My sample's even had a massage setting that was quite disconcerting when I activated it accidentally.
The tilt/telescoping steering wheel and adjustable pedals help you find a perfect driving position.
Ford's voice-activated Sync system was also included in my sample, paired with a very good navigation system. Ford's voice and touch screen interface is one of the best I've used and this is yet another example of it: I rarely had to repeat myself before the dashboard droid understood. Such efficiency makes these systems so much less annoying.
The view out from inside the Taurus is a bit restricted, especially to the rear, due to small windows, but the mirrors do a good job of making up for this. The outside mirrors also had blind spot warnings (and defrosting) and between all that and the rear view camera, looking at the world around is pretty easy.
My SHO also had automatic climate control and an adaptive cruise control system that keeps you preset distances behind the vehicle in front – and if you can think of any other features a modern, reasonably high end car might offer these days, chances are the Taurus SHO has it: Bluetooth, a fine audio system that handles DVD-A discs, "intelligent" keyless entry and start, automatic headlights, rain sensing windshield wipers, etc. etc. etc. This is a very well-equipped car.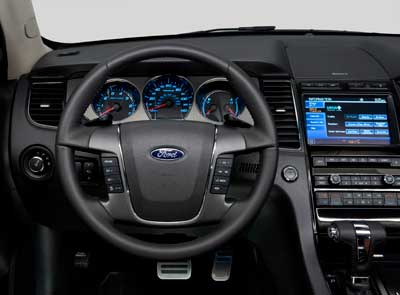 Though the SHO looks for all intents and purposes like the garden variety Taurus, there are clues that lurking under the Taurus' exterior is more beast than boat. These include sporty premium wheels, a little spoiler on the trunk, chrome twin exhaust tips and SHO-specific parking lamp bezels.
Likewise, SHO-specific touches adorn the interior, such as on the floor mats and instrument panel.
The Taurus SHO is a terrific car, proof that Ford gets it. Now all they have to do is put all this neat SHO stuff into the Fusion.
The Ford Taurus SHO starts at $37,770U.S./$48,199 Canadian. Options on my test car included the adaptive cruise control and navigation system, which add a few grand to the price.
Copyright 2010 Jim Bray
TechnoFile.com