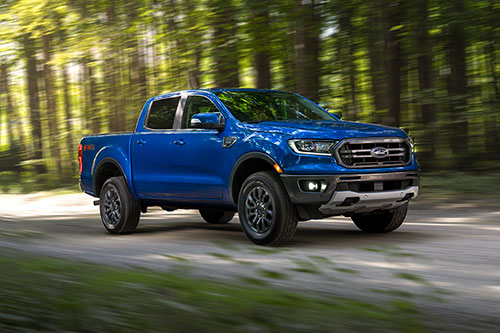 Ford Ranger a solid mid-sized truck in the vein of big brother F-150
By Jim Bray
January 23, 2020
Are you looking for a pickup truck that'll haul your stuff and get you where you want to go, yet not take up your entire driveway the way a full-sized truck might?
If so, you might be a prime target of Ford's new Ranger. It's a pickup that, like the legendary F-150, offers a lot of truck goodness, but which is aimed at those in the market for a smaller pickup.
(click on the image to open a slideshow)
Climbing Every Mountain…
In my last vehicle-related column I looked at the Jeep Gladiator, which is arguably a more serious off-road fun machine, but the Ranger will also take you off of the asphalt and undoubtedly do a fine job – though if you're looking for a more "civilized" ride on paved roads, you might find the Ranger ticks your boxes better.
As I mentioned in my Gladiator column, however, I must remind you that these opinions are coming from a non-truck person, so take my tirades with a grain of salt, knowing that this isn't my area of supposed expertise.
That said, after spending a week with each of these trucks I found that I preferred the Ford Ranger, not only because it was a lot easier for me to get into and out of, I also liked its driving experience better. That said, the Jeep got more "ooohs and aaahs" from onlookers and passersby when I had it – not that the Ranger wasn't received well – but the Gladiator appeared to be the "sexy" choice, whereas the majority of the comments I heard about the Ranger were from people who were glad to see that it's back – potential customers as opposed to "not so secret admirers?". Time will tell, based on each model's sales, I guess.
Ford of Canada's sample was a 4x4 CrewCab version, and to me if felt basically like a small F-150 (if equipped comparably, of course). It came with Ford's 2.3 litre four-cylinder EcoBoost engine, and its 270 horsepower and 310 lb/ft of torque seemed just fine for driving around with nothing in the bed – and would probably be fine with stuff there as well. I didn't notice any lag from the turbos, either.
Alas, that engine didn't seem to like being fired up first thing in the morning (I can identify with that!), because its initial performance was very rough and noisy when cold and seemed to lack some of its more normal oomph. Once it warmed up, however – which was pretty quickly – it was fine.
Power gets to the road via an electronically-controlled 10 speed transmission. It works as intended, but it also tends to push for gas mileage over oomph and therefore upshifts more quickly than you (or I) might like. It isn't a big deal normally, though.
What could be a bigger deal is the number of gears you have to drop if you want to pass someone – and 10 speeds means you may have to go down several before you find the sweet power/torque spot for such manoeuvres. Again, however, this shouldn't be a huge problem under most normal circumstances.
And, to be fair, keeping the revs low won't only potentially save you some gasoline money, it also means less noise coming into the cabin from the drivetrain.
The Ranger drives pretty much like a Ford truck, which should surprise no one and undoubtedly in part is due to its "Hotchkiss-type non-independent live, leaf spring rear end" that means you may want to hang on for dear life when navigating road imperfections. Its smaller size makes it much more manageable, driveable and enjoyable to this non-truck-guy, however, so if you're one of those who doesn't need the full size of an F-150 or its even bigger siblings, you might like this choice.
Obviously you don't sit as high as you do in a comparable F-150, but you're still quite a bit higher than in a car and many SUV/Crossovers – and its lower stance meant (as mentioned above) that it was a lot easier for me to get into and out of (the slick running boards didn't hurt, either). I liked that a lot.
Inside the Ranger is a straightforward Ford interior, which is clean and simple and thought out well. The things you need to see are placed where you can see them, and the knobs, levers, buttons and the like are all well at hand, which of course is as it should be. The touch screen uses Ford's current Sync system, which is a tad slow compared to some competitors these days, but which still works better than much of the competitors, thanks to its straightforward simplicity. 
Ford's sample also came with the optional FX4 off-road package ($1400), which includes off road tires, locking rear differential, tow hooks and skid plates, trail control and a terrain management system. It also had the trailer tow package, splash guards/mud flaps, running boards, trailer tow package and more. Add extras like a sprayed in liner and the "sport appearance package" and all this combines to raise the Ranger's Canadian price from the base (for the 4x4 crew cab) $42,289 to $50,059 CAD.
Oh, and that price also included the Lariat package ($3,000), which gets you such stuff as the B&O audio system, adaptive cruise control, a remote start and "some technology".
There's also nifty stuff like LED lighting front and back, dual zone HVAC, and much of the other handy and thoughtful features you get in many, if not most, of today's vehicles – stuff like ambient lighting, automatic high beams, lane keeping assist, etc. etc.
In short, it can be equipped to handle just about any car or truck duty, on or off road.
Entry level Rangers can be had for just over $31,000.
The Ranger had been a fixture in Ford's lineup for what seems like forever and this newly reborn North American version is a logical addition to Ford's lineup of pickup trucks, filling a niche they had abandoned to the competition for too long.
Welcome back!
Copyright 2019 Jim Bray
TechnoFile.com
Jim Bray is a member of the Automobile Journalists Association of Canada. His columns are available through the TechnoFile Syndicate.