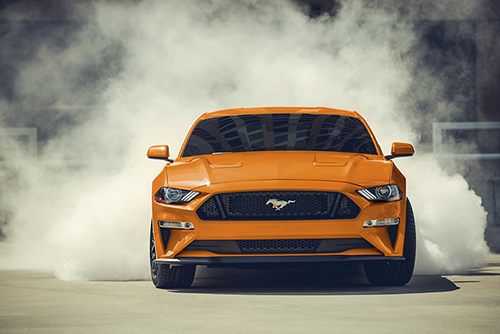 Enhanced Mustang offers a lot of performance and a great soundtrack
By Jim Bray
November 28, 2019
How do you not have a barrel of laughs driving a Ford Mustang?
Well, you could get one that's souped up nicely, even to Recaro seats, then stick ultra wide and slickish race track tires on it that are quite impractical on chilly autumn roads in the foothills of the Rocky Mountains.
Click on the image to open a slideshow.
That's what I spent a week doing recently, and even though the road and weather conditions made it virtually impossible for me to enjoy the 'Stang as much as I'd have liked to, I still managed to come away with a big, muscle car smile on my face – as well as many stares from onlookers who heard me coming and undoubtedly were wondering at the ancient oaf and his mid-life crisis.
And I loved it!
I'm not really a muscle car-kind of guy, though if I were, I'd be a Mustang person. It's not only the original pony car, with GM and Chrysler coming to the party after the horse was already out of the barn – but I've always tended to prefer vehicles that come from the blue oval to those from the other two "once-big three" manufacturers.
Not only that but, beauty being in the eye of the keyholder, I think this current generation of Ford Mustang is the most attractive ever. My favourite was the 1967-68 fastback (though the early 00's reboot was plenty fetching as well) and this one not only captures its stylistic feel, it also upgrades it to modern car status while retaining that Mustang magic that's been so popular for the past 55 years.
So, when Ford offered me a chance to spend a week in the 2019 Mustang GT Coupe Premium, I jumped at the chance even though I knew that its optional rubber was going to "rubber" me the wrong way at this time of year. And it did, though those 305/30 19-inch tires would certainly be a blast at other times.
Well, mostly. The wide and low and nearly slick tires need time to warm up at the best of times, so regardless of when you're out and about you'll want to pay close attention to that when you set out. They also don't like rain, or imperfections in the road: drive over a frost heave that's split the asphalt in the same direction as you're travelling and the car tends to chitter sideways as if it were a pickup truck. So, you'll want to keep both hands on the wheel and your eyes and brain fixed on the task. Of course, you should drive like that all the time anyway.
Do that, and you'll have a wonderful time!
Ford of Canada's sample featured the regular five litre V8 engine, which the company says puts out 460 horses at 7,000 rpm, with 420 lb.-ft. of torque. This may not seem like much in a muscle car market where you can get over 700 horses, but it's certainly no slouch. It also sounds tremendous rattling out of the quad exhaust tips; I had to leave in the early morning one day during my time with the car and I swear I woke all the neighbours just by firing it up. It was wonderful! Except now they park in front of my house and leave no room for my review vehicles.
The Mustang gets its oomph to the road either by a six-speed manual or a 10-speed automatic transmission. Thank goodness the test car had the stick, and it's not only a slick shifter, it also features a light clutch and even does rev-matching on downshifts, which means a chimpanzee can (and did!) execute smooth downshifts regardless of its "heel and toe" ability.
This particular 'Stang also came with the $6500 Performance Package Level II, which includes such goodies as larger rear wheels, a special spoiler, magna-ride damping system and limited slip axle. It was equipped as well with Ford's $1500 Safe and Smart package (Pre-Collision Assist with Automatic Emergency Braking, Auto High Beam headlamps, Lane-Keeping Alert, Adaptive Cruise Control and Rain Sensing Wipers), and "over the top" black racing stripe ($600, which is, indeed, over the top), an enhanced security system ($700 – though if you opt for the stick shift potential car thieves probably can't drive it anyway), a thousand loonies worth of special exhaust stuff, the $1800 Recaro seats – and a lovely feature in any other car, the $1000 Bang and Olufsen 12 speaker audio system.
Why not opt for the B&O? Well, because there's little chance you're going to hear it over the roar from road noise created by those outrageous tires and that sonorous engine, so you might as well just stick with the base system – and I can't believe this audiophile is saying that!
There's also $2350 worth of other stuff, such as blind spot assist, nicer trim, and the voice-activated Sync and navigation systems.
Further drawing attention to the Mustang was its optional Orange Fury Metallic Tricoat paint, a $550 option I'd probably opt for if I didn't just opt for the lovely "American Racing Green" on the Bullitt version.
Total lucre for Ford's sample – whose base model starts at about $47,025 CAD – tipped the fiscal scale at $63,625. That's getting to be serious cash, though it pales when compared to the ultra-sporty Shelbys, the top end one of which starts at $94,675. Much as I love the Mustang, I think I might be looking at a Cayman for that cash. I guess it depends on what you love the most.
The interior is just like it should be, laid out well and logically, customizable (there are several drive modes, including drag strip and track, and the instrument panel display can change to reflect them)  and I still love Ford's Sync interface, though it's getting a tad slow in comparison with some newer systems.
Controls are straightforward and easy to find and use.
What I didn't love as much were the Recaro seats. This has nothing to do with the seats themselves but rather is a reflection on the size of my paunch and buttocks, and the overall lowness of the car. Getting in wasn't too bad, but once my prodigious posterior was perched I had the dickens of a time getting back out again. This isn't unique to the Mustang, of course; I had the same issues in the Hyundai Veloster N I drove recently and with just about any Porsche sports car I've driven.
So, take that as a cautionary tale for those potential buyers who are old, short and fat!
And naturally, the rear seat is tight as can be – but since you'll probably spend your time in the driver's seat, who really cares?
Other than the issue with the tires, the Mustang was an absolute joy to drive. It's fast, handles well, and is guaranteed to put a smile on your face if you're a car nut.  Thanks to this generation's independent rear suspension, the car handles like a modern vehicle should, and the steering feel – and that of the Brembo brakes – are just fine as well.
Yeah, I'd probably never actually buy a Mustang, but I sure do love it when I get to spend some time in one. I wish this one had had more real-world tires for this area of the world and this time of year – but I still managed to come away from my time with the Stallion loving the car and wanting more.
And isn't that the way it should be with a car that's designed chiefly for fun?
Copyright 2019 Jim Bray
TechnoFile.com
Jim Bray is a member of the Automobile Journalists Association of Canada. His columns are available through the TechnoFile Syndicate.