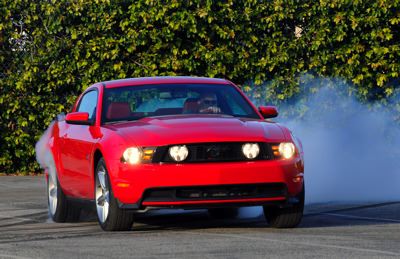 2010 Mustang Freshened, but Still Packs Muscle
By Jim Bray
October 1, 2009
The original muscle car finds itself facing serious competition from the government-controlled domestic car industry as the Dodge Challenger and Chevy Camaro vie for a slice of the Pony car market the Mustang once had to itself.
Perhaps that's why, for 2010, the Mustang has been freshened somewhat, though not enough to be considered a major redesign.
And that's okay. Other than a rear end that should have been left in the 1960's, it's a car that doesn't need a lot of refining. Besides, this market segment isn't all about refinement, it's about muscle and fun – and in that regard the 2010 Mustang does a fine job. It isn't a car that I would buy, for a variety of reasons, but I sure had a good time blasting around the foothills of the Rocky Mountains in it.
Ford says that the 2010 the Mustang features a new exterior design, a new interior with updated technology, more horsepower from its V8 and "an even throatier signature Mustang exhaust sound."
And it does sound glorious. One of my favorite things about this car is the rumble that starts when you turn the key and that gets even more interesting when you tromp on the gas. It's guaranteed to put a smile on your face – as well as get attention – and makes a long day feel somehow a little more worthwhile.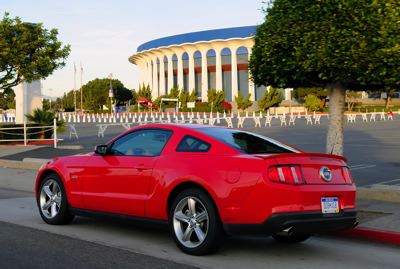 Getting noticed is a doubled edged sword, of course. During my week of riding the wild stallion some guy in a Chrysler 300 SRT pulled up beside me at least twice, obviously wanting to race. I don't know who would have won if I had been silly enough to submit to his plaintive "Vroom, vroom, vroom" entreaties, but I have enough speeding tickets, thank you very much.
Speaking of which, "the People in Blue" are another reason not to be noticed when you have a car like this…
Which brings me to the car's outrageously bright "Grabber Blue" paint job, a shade that makes one think of hot Mustangs of old. You'll want sunglasses near it.
The new exterior is more evolutionary than revolutionary and that suits me. The current Mustang is the best looking ever, with the 1967-68 style a close second. I'm of two minds about the 2010 freshening, which is a baby step in the wrong direction, but I suppose Ford had to do something to keep the car current considering the muscle car wars in which it finds itself.  
The thing I like best about the new look is the sequentially-firing signal lights on the Mustang's rump, which take the retrocar wayback machine right back to Fords of the 1960's. I don't think the Mustang ever offered that (though maybe it was a custom option), but I remember it well from the original Mercury Cougar and some Thunderbirds. It's very cool.
Ford has also given the steed a new Mustang emblem this year, the first time since the car's introduction 46 years ago, they say. Despite that, it still looks like a horizontally-inverted Calgary Stampeders football team logo.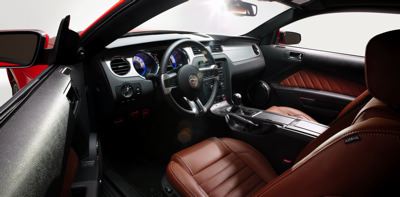 You can order your Mustang with either a four liter V6 that puts out 210 horses @ 5300 rpm and 240 lb.-ft. of torque @ 3500 revs. That doesn't sound like a lot when your goal is to blow the doors off something wearing a SRT badge, so if you're looking for the most Mustang you'll probably opt for the 4.6 liter V8 and its bumped up 315 horses @ 6000 rpm and 325 lb.-ft. of torque a 4250. That's what my test unit had and, while even those specs don't point to an outrageous amount of oomph these days, it's intoxicating nonetheless.
Mustang's springs, stabilizer bars and shocks have been tweaked for 2010, too, which the company says results in a more engaging driving experience. It's definitely engaging, but I wish they'd have used a better suspension on its haunches so they wouldn't slide sideways like a pickup truck when you go over frost heaves, expansion joints etc.
Still, the Mustang is definitely a hoot.
My test unit came with the five speed manual transmission that should really be a six speed in this day and age – though on the other hand, you can nearly treat fifth gear as overdrive since you'll find yourself exceeding the legal limit nearly by the time you let out the slightly heavy clutch and goose the gas.
Brakes are discs all around with ABS and they stop the car confidently.
Slip into the driver's seat and you're met with a cabin that looks and feels just like a Mustang should, yet with enough technology to please the modern consumer. You get Sync, of course; my test car's played DVD-Audio discs (though as with Lexus' audio system, it stripped the lead vocals from my Tommy DVD-A). There was also a navigation system and rear view camera.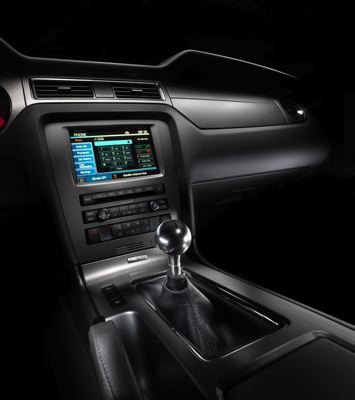 What I really loved about the interior was the (optional) glass roof of my test unit. While I wish it opened, or at least tilted to let in some fresh air, its huge glass panel makes the car feel almost like a convertible, without the wind noise and the sun beating down excessively on your head. It's marvelous.
A manually deployed shade will cover it over for privacy, security or just to keep the interior from getting too darn hot.
We had some particularly blistering days while I had the Mustang and I learned to hate the chrome accent on the steering wheel, which gets so hot you can hardly hold the wheel at first.
And speaking of windows, the rear window really needs a wiper. I drove it on a couple of horribly wet days and had trouble seeing out the back until the air rushing by finally blew the droplets off – presumably onto the car behind. I could see headlights and shapes behind when the window was really wet, but could easily have missed important details – like a police logo on the car behind.  
There's plenty of nifty and handy illumination inside, including the "Mustang" on the door jambs, the  lighting underneath the dashboard – and there's even a little blue entry light to help you get into the back seat. It's kind of cool.
That back seat is better than I expected, at least when there's someone relatively short in the front seats. They're deep, with reasonable knee room and they hold you in better for cornering than the front seats do because the front seats aren't bolstered enough on the sides.
The instrumentation is well laid out and easy to read, and the Shaker audio system rocks quite well. Both windows feature one touch up/down and they go down and up a bit, in a decidedly Porschelike manner, when you open and close the doors.
Ford put a 12 volt power supply near the top of the dash, between the vents, where it's handy if you have a radar detector.
The tilt/telescoping steering wheel has all the redundant controls you need and it feels good in the hands. The driving position is great.
My test unit also featured 19 inch wheels wearing P245/45 series tires and six months of SIRIUS Satellite radio, both of which were welcome.
I nearly bought a Mustang longer ago than I care to remember and I probably would've enjoyed the heck out of it. And while it's true my personal auto lust lies elsewhere these days, it's easy to understand why people still love and buy Mustangs: they're fast, pleasant, and a whole lot of fun.
The 2010 Ford Mustang starts at $20,995 U.S./$23,089 Canadian. The GT V8 starts at $28,845 U.S./$37,499 Canadian.
Copyright 2009 Jim Bray
TechnoFile.com