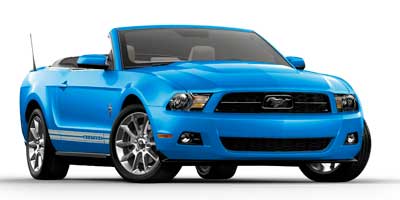 Ford Mustang V6 Convertible – Ponying Up Topless Fun
By Jim Bray
November 27, 2010
When it comes to having fun in a Mustang, you don't absolutely need a V8 engine.
Okay, an "eight banger" does up the oomph ante substantially, but with today's six cylinder engines now putting out power that was once reserved for eight or more cylinders, it's amazing to see just how quickly you can go from zero to "Oops, sorry Officer" in a V6.
Six cylinders also offer the advantage of generally using less gasoline than eight, so there's not only the initial savings you can achieve by buying the more "entry level" engine, but the ongoing costs at the pump.
This, at least, was the impression I got after a week in a 2011 Ford Mustang V6 convertible, a terrific blast from the past that's modern enough to compete on today's playing field.
As Porsche has done with its 911 – a car that has also been around since the 1960's – Ford continues to update and upgrade the Mustang.  I happen to think that, stylistically, the current generation of Mustang is the best ever and I hope they can resist the urge to mess with it. Perhaps the Ford folk will look at the 911's evolution for hints so they can avoid a repeat of such things as the mid-1970's Mustang II...
Anyway, that constant upgrading means that for 2011 there is a bunch of new tweaks and features, and chief among them in my test car was the new, all-aluminum 3.7-liter Ti-VCT V6 engine that cranks out a healthy 305 horsepower @ 6,500 rpm and 280 lb.-ft. of torque @ 4,250 rpm – while still, Ford claims, achieving up to 29 mpg on the highway (31 for the coupe). Ford says it's the first production car ever to produce more than 300 horsepower and more than 30 mpg highway.
It achieves all that with a wonderful rumble from the engine that, while not as juicy to the ears as a real V8, is a reasonable substitute.
Also new for 2011 are a die-cast aluminum deep-sump oil pan the company says allows 10,000-miles between oil changes, a fresh front fascia, underbody shields and other aerodynamic improvements, changes to the chassis and better soundproofing, though the latter seemed a little irrelevant in the convertible.
Ford has also introduced electric power-assisted steering with "pull-drift compensation and active nibble control", which sounds like it means you can't snack while driving but I can testify that isn't the case.
My test car's V6 was mated to a six speed manual transmission (a six speed automatic is also available) with a nice, light clutch. The transmission shifts very well, mostly – though I sometimes would miss fourth gear and head straight toward second while downshifting, much to my and the car's embarrassment.
Other than that, the Mustang is a blast to drive. Most of my time behind the wheel was spent, unfortunately, on multi-lane freeway with few interesting curves, but I managed a few hours on some delicious back roads where the heart of a sports car beats best and had a simply marvelous time.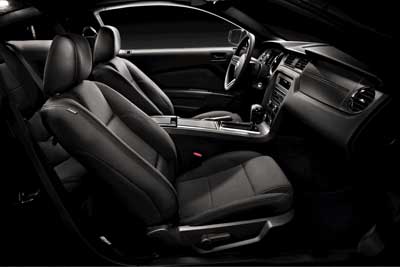 Mustang's suspension is a reverse-L independent MacPherson strut type up front, and the rear uses a three link solid (limited slip) axle with coil springs. This rear end is comparable to a neurosurgeon operating with stone knives and bear skin, but if nothing else it gives the Mustang a connection to its roots. There are also stabilizer bars front and rear. Road feel is sporty but not ultra-rough.
Brakes are power discs all around, with four-sensor, four-channel ABS. Stopping power is very good and the pedal feels right. My tester wore attractive 19 inch wheels with P235/50 series all-season tires.
Steering is electric power-assist rack and pinion and it also feels right. In fact, driving the Mustang feels just like it should – a historic pony car that's been kept fresh. Now, I never drove the old Mustangs, though I nearly bought one once, but somehow this new version just feels like I imagined it should.
For the most part, anyway. I did find the driver's seat getting to me after spending about six hours straight in it, but it wasn't by any means the worst I've experienced (and maybe they've always been like this). The seat features power adjustment for your buttocks, though the back adjusts manually and it's a long reach back to find the handle.
Speaking of handles, lowering the convertible top requires you to release two of them, one on each side of the windshield's top frame, but it isn't a big deal. Alas, it was too darn cold during my week with the Pony car for me to do more than lower it to test that it worked – if I'd driven any distance with the top down I might have contracted pneumonia. At least, that's what my Mom used to tell me.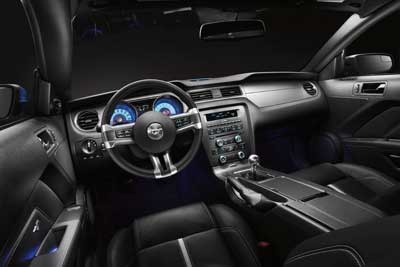 The Mustang interior looks right as well, with straightforward instrumentation that's easy to see and to use. My test car didn't have a big LCD screen for such stuff as touch screen operation, navigation system and the like, but its more minimalist instrumentation worked well anyway and was still easy to figure out. I did find it a challenge to pair my phone with the car's Bluetooth, but figured it out after a couple of minutes.
A nice touch is the auxiliary power outlet on the dash, right between the upper vents in the middle, which is a really handy place to plug in your radar detector, aftermarket GPS or whatever.
Outward visibility is, not surprisingly, coupe-like, and it does appear that you lose a little of the view thanks to a slightly smaller rear window. It isn't a big deal, though, and Ford has stuck a decidedly low-tech but very functional blind spot elimination system onto the Mustang via small convex mirrors on the upper/outer corners of the exterior mirrors.
Rear seats are okay, and entry to them is tight but that's to be expected in a car such as this.
Options on my sample Mustang included an upgraded interior that featured a Shaker 500 watt audio system with SIRIUS Satellite radio activated for six months, a wheel locking kit and active anti-theft system, HID headlights and a boot cover for the convertible top (which occupied quite a bit of the otherwise-reasonable trunk space).
Oh yeah, I love the sequential rear turn signals that remind me of the original Mercury Cougar as well as T-Birds from the mid-1960's.
Purists might not want to take the Mustang V6 seriously, but I liked it a lot. Sure, if I had my druthers I'd probably really go for the gusto and get a V8 version, which I've also driven. In fact, during the week that I had the V6 I also got a chance for about 45 minutes of seat time in the new Shelby and it was a wonderful experience – and its V8 rumble is the stuff that dreams are made of.
But if you don't need the extra oomph, aren't worried about impressing your friends and neighbors, can't afford the extra dough, or don't want to buy any more gas than necessary, the V6 has a lot going for it. And the convertible version is very cool, indeed. Especially if you drop the top during the winter!
The 2011 Ford Mustang V6 starts at about $23,000 U.S. and Canadian. The V6 Convertible starts at $27,995 U.S./$31,400 Canadian.
Copyright 2010 Jim Bray
TechnoFile.com