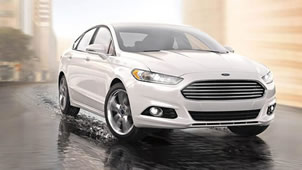 Ford Fusion hybrid wears its green colors proudly - and well
By Jim Bray
August 28, 2014
It may look like a James Bond-mobile when you first see it coming at you on the road, but don't confuse Ford's Fusion with high end sports cars. Fusion, in all of its guises, is a decidedly mainstream vehicle - almost pedestrian, if you can say that about a car.
And in its hybrid suit of clothes it's even less sporty, but could save you some money at the gas pump. (Click here or on the image to open a slide show)
That saving, of course, is after you pay the initial "hybrid tax" in the way of a higher sticker price than its gas siblings, but it may pay for itself if you keep the Fusion long enough and in the meantime, you'll be driving a very nice family sedan that's full of today's technology - for better and for worse.
That "for better" is a full suite of safety features, as well as plenty of gee whiz stuff like navigation and, of course, Bluetooth for your phone and tunes. The "for worse" part is the MyFord Touch interface, which continues to be a great idea whose execution leaves something to be desired. More whining about that later (and I bet you can't wait!).
For 2014, Ford says the Fusion gets an EPA-estimated 47 miles per gallon city/highway/combined, which is nothing to sneeze at. I never get the EPA estimates but filling the hybrid did cost me quite a bit less than what I'd expect to spend after a week with a non-hybrid Fusion or its competitors.
An "S" trim level is now available for the Fusion hybrid, and Ford says two new paint colors are also on offer: Dark Side and Sunset, which replace the now-defunct Ginger Ale and Bordeaux Reserve. Perhaps Fusion owners prefer nature to drinking.
Ford of Canada's sample Fusion hybrid was of the SE variety, which is the mid-range model (S is the lowest and Titanium is the highest). It was equipped well and other than the typically loud and whiny CVT (continuously variable transmission, and this isn't specifically a Ford issue) it drives well and you'd really never know it was a hybrid. Well, except for all the leaves and stuff on the dashboard displays…
The Fusion hybrid gets its power - and it's quite adequate for most driving conditions - from a two liter Atkinson-cycle four cylinder engine and, of course, an electric motor.  Ford says the combination puts out 188 "Net" horsepower and 129 lb.-ft. of torque. That seems pretty low, but in my driving of the Fusion hybrid it actually felt like there was more than that.
In fact, I didn't find the car underpowered at all - though I didn't have a chance to take it into the mountains and so can't comment on its hill climbing abilities. But it's probably fine for most applications; heck, I once took the first "kind of mainstream" hybrid up to the Columbia Icefields in the Canadian Rockies, and even that underpowered squashed insect of a car made it (though it was pretty uninspiring on the last, steepest bit!).
This Ford hybrid is very driveable and nice to live with. Ford's sample came with the SE hybrid Luxury package, which included stuff like heated and powered leather front seats that added $2100 to the Fusion's $29,999 entry price. It wasn't the only option package, either. Ford had also seen fit to toss in the Driver Assist Package, which includes annoying stuff like blind spot and lane departure warnings, auto high beams, and rain sensing wipers. Add $1500 for that. 
Ford's sample also had the company's park assist feature, a $600 techno-wizard that really can parallel park the car if you're one of those people who simply refuses to learn to drive. I forgot to try it with this Fusion, but I've used it before and it works surprisingly well. I remember trying it with a big Lincoln MKT a few years ago and - I say this as one who's proud of his parallel parking prowess - it put that behemoth into a space I wouldn't have tried on my own. It was impressive and depressing at the same time!
Also included in the Fusion hybrid SE's $38,039 total price was the above-whined-about MyFord Touch package, which at least is priced well at $700. That's a box I wouldn't tick, however. The LCD screen is fine, and works well (though a bit of a long reach for me), but the on-wheel cascading menu system is still confusing and difficult to navigate while you're driving. The basic Sync system works well, though, and the voice recognition is pretty good. The LCD screen is laid out in four quadrants, for phone, audio, navigation and HVAC control and you can zoom any of them to full screen status for better control of that particular parameter.
The seats are comfortable, and thanks to the tilt/telescope wheel and power driver's seat, it was easy to find the optimal driving position. Even the rear seat's pretty comfy; we managed to get three adults back there, with my generous butt in the middle (I was taking one for the team!) and it was tolerable for a trip across the city. My rear seatmates were glad I'd worn deodorant, though.
The Fusion hybrid is a decent car to drive. Sure, it's not an apex carver like a BMW 5 series, but that isn't its mandate (er, persondate). But as a family car competing in a crowded niche against such vehicles as the Toyota Camry, Kia Optima, Hyundai Sonata, VW Passat and the like (which also offer hybrid or diesel versions), it fares well. Gil Portalatin, chief program engineer for electrified programs and integration (whatever that means!), calls the Fusion hybrid a driver's car, saying it's "even more fun to drive, with specially tuned electric power-assisted steering, a MacPherson strut front suspension and a new premium-level multilink rear suspension – comparable to Audi and BMW configurations."
Well, I might have stopped that sentence after "rear suspension," because while the Fusion's underpinnings may be similar, the car doesn't feel at all like an Audi or BMW - both of which are premium cars (maybe Portalatin should be talking about Lincoln's version?). Still, I understand his enthusiasm for what is a very good car. I think some of the interior plastics could be a tad richer looking and feeling, but overall that's merely a quibble - and a common one at this level of the market.
Steering and braking feel are fine, with the caveat that hybrids' regenerative braking does make the pedal feel a tad weird till you get used to it. And of course you get the usual aids such as ABS, stability control and the like.
The Ford Fusion hybrid is a good choice if you're looking for this type of vehicle. Like most hybrids it'll cost you extra up front (though hybrids generally come with more stuff on them as well), but if you drive it right it could save you money on gasoline over the long term. Power and performance are competitive in this niche as is the design and build quality.
If only it didn't have the mouth of an Aston Martin!
Copyright 2014 Jim Bray
TechnoFile.com