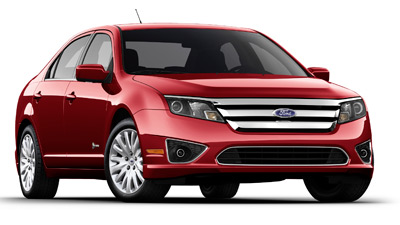 Ford Fusion Hybrid Seductive Temptation for the Hybrid-averse
By Jim Bray
September 8, 2011
Ford's Fusion Hybrid manages to toe the line between green and "GO!" extremely well. It's a high mileage-achieving mid-size sedan that still manages to be a compelling vehicle to drive, something that can't be said for most hybrids I've driven.
I'll admit right now that I don't really care for most hybrids. It isn't that I have anything against efficiency or saving money on fuel, but I love the act of driving for its own sake and most hybrids in which I've had seat time replace the joy of the road with a healthy dose of tedium. Besides, as what some might deride as a "Global Warming Denier," the whole "Save Gaia" shtick rubs me the wrong way: if I were a betting man, I'd put my money on Gaia being a heckuva lot stronger than we give him/her/it credit for.
All of which led me to be very pleasantly surprised by the 2011 Ford Fusion Hybrid with which I spent a week recently. Not only is it a very nice car to be in, and to drive, I even got what I would consider excellent gas mileage considering my lead footed driving style.   
Let's get that out of the way first. Refusing to get with the program, since I've tried that before with other hybrids and never did come close to the manufacturers' posted mileage claims, I drove the Fusion as if it were a Mustang, in mostly urban areas – yet I still managed to get more than 36 mpg out of the Fusion while having a good time doing it. Hats off to Ford for that!
The car looks pretty much like a regular Fusion from the outside, except for the badging, but it wears its green credentials inside via a display of leaves on the right hand LCD screen on the instrument panel. No big deal.
Fusion isn't the most stunning-looking vehicle in this class, inside or out, but it's attractive enough. My biggest complaint about it was that its seats are the kind of pet hair magnets that would drive me nuts if I had to vacuum them often, and that's a pretty minor whine. Besides, you can order leather if you want.
Other than that there's little to criticize – so if you're looking for a Fusion-bashing article you might as well stop reading now.
Fusion hybrids are powered by a 2.5 liter Atkinson cycle four cylinder gas engine, to which the electrical stuff has been attached. Despite the hybrid's mere 156 horsepower and 136 lb.-ft. of torque (as compared with the "regular" four cylinder Fusion's 175 horses and 172 lb.-ft. of torque), power delivery feels almost non-hybrid-like, with smooth acceleration and decent torque (thanks to its low, 2,250 rpm peak). Even the electronically-controlled continuously variable transmission has been trained to keep quiet and not suck the fun out of the drive, though it still feels weird to have a vehicle that doesn't shift!
Ford says the hybrid Fusion can travel up to 47 miles per hour on electric power alone, at "light to normal acceleration," with no gasoline used, and claims the combined gas/electric power train delivers up to 191 net horsepower. It definitely feels like it has that much power.
The suspension is independent all around, with stabilizer bars fore and aft, and it toes the line between fun and comfort better than I had expected. Couple that to a decent, speed-sensitive power assist to the car's rack and pinion steering and you have a nicely handling vehicle. It's actually one of the more interesting vehicles in this market niche to drive, even in its non-hybrid versions, with  a good turning circle, very nice handling, and a suspension that lets enough road feel through to prevent the car from floating along like a ferry boat.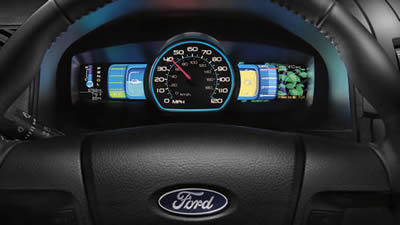 Regenerative disc brakes are featured all around, of course, with ABS and the other usual aids, and there's good pedal feel and stopping power.
Inside, you're featured to stuff like dual zone automatic HVAC, and my sample also came with the "Driver's Vision Group" that added such niceties as Blind Spot Detection, a rear view camera and rain-sensing windshield wipers. The "Moon and Tune" package includes an upgraded Sony 12 speaker audio system and a power moonroof.  My sample also had the navigation system, which my wife found frustrating when she told me to get lost and I couldn't.
The abovementioned green leaf display adds leaves if you're driving like the car thinks you should. I didn't see a lot of them, but Ford says they're there.
The front wheel drive Fusion hybrid is roomy and comfortable for four – five if you have to – and sweetening the interior are power-adjustable seats up front. The tilt/telescope steering wheel helps drivers find a perfect driving position.
Instrumentation is clear and efficient, and my test Fusion hybrid didn't come with the MyFord Touch interface, opting instead for the more basic (and in my opinion superior) SYNC system of voice and touch screen control, augmented by steering wheel-mounted "piano key-like" buttons. The system's easier to use than the more sophisticated MyFord Touch and I prefer it.
Fusion hybrid owners have to live without a split/fold rear seat in the hybrid, though the other Fusion models offer it. That said, the car has a fairly cavernous trunk, so most everyday hauling – groceries and the like – should be handled just fine.
Another handy feature is automatic headlights, which are standard equipment on the hybrid. The car also features Ford's standard Easy Fuel capless fuel filler that means you can simply insert the fuel nozzle into the tank opening instead of having to wrestle with a conventional cap. Twisting off a gas cap is probably the only exercise I get, so I kind of miss this…
Ford says the Easy Fuel concept leads to fewer evaporative emissions being released into the environment. We're saved!
All Fusions have power windows with one-touch up/down driver's window. The Hybrid ups this ante (as do the SEL and Sport models) by giving the one-touch up/down treatment to the front passenger's window as well.
Hybrid models also get unique, 17 inch, eight-spoke wheels and Ford proclaims proudly that its eco-friendly pet-unfriendly seat fabric is made from "Postindustrial 100 percent recycled materials," so all is well with the world here, too.
It shouldn't surprise you to find that the Fusion hybrid comes with such safety features as AdvanceTrac, with Electronic Stability Control, dual front airbags, front seat-mounted side airbags and side air curtains, seat position and crash severity sensing, tire pressure monitoring and even a Post-Crash Alert System that flashes the signal lights and honks the horn after a collision.
My sample even had a remote starter. Gee, the way technology is marching onward, how far away can it be that the car will not only start itself but, using its GPS and other gadgets, run an errand for you?
The Fusion hybrid starts at $29,395 U.S./ $31,684 Canadian. That compares with the gasoline-powered SEL four cylinder model's 2012 kickoff cost of $26,095 U.S./$24,469 Canadian.
The hybrid comes with more features than its gas-powered sister (above and beyond the hybrid stuff), so it's tough to get a completely fair "apples to apples" comparison between them. That also makes it difficult to figure if you'll save enough gas over your years of ownership to justify the higher price.
But if you justify it in your own mind, you'll have a gas sipping, Gaia-friendly car that's still a good vehicle to drive.
Copyright 2011 Jim Bray
TechnoFile.com