Ford's Focus is sharp in SE trim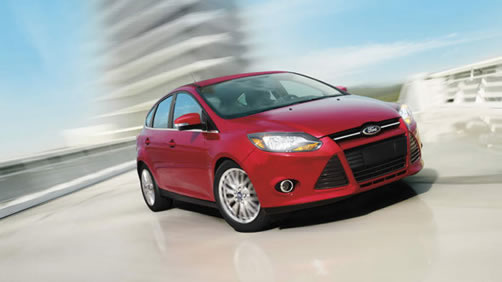 By Jim Bray
July 11, 2014
Ford is making a decent reputation for building quality vehicles these days - a far cry from when the domestics were fairly or unfairly accused of making junk - and a prime example why is the Focus. (click here or on the image to open a slide show in a new window).
This "bread and butter car" competes in a very crowded market niche - everything but the kitchen sink, including the VW Jetta, the Hyundai Elantra, Kia Forte, Toyota Corolla, Honda Civic and many more - and it goes head to head with some pretty fine vehicles. Obviously, Ford's work is cut out for it to get this car noticed in such as rapidly improving throng.
Fortunately, Ford seems to be up to the task because the 2014 Focus SE Ford of Canada supplied as a test vehicle was a nice car to drive, handsome, equipped well, and priced competitively. Sounds like a winner - and from the number of Foci I see on the streets wherever I go, people must be noticing.
Ford's sample was the Focus five door hatchback SE, which in my never humble opinion is the body style to get. The sedan's nice, too, but I like the flexibility of wagons and hatchbacks and if they're done right, they can be even more handsome than their sedan versions. Such is the case with the Focus. And you can get into one for less than 20 grand Canadian - though there are plenty of options you might want as well: the sample had just shy of seven grand worth of extras and I can't think of many I'd like to live without. Of course, that's just me.
The company describes the Focus' attractive and interesting exterior as "kinetic styling" which they say emphasizes the car's "athletic stance." I think it works, especially in wagon/hatchback form. The interior is no slouch either, despite some plastic surfaces that could look a little richer. But it's laid out well and everything functions mostly as it should.
Foci - except for the hottest ST version - get their power to the front wheels thanks to a directly injected two liter inline four cylinder engine that puts out a reasonable 160 horsepower @ 6,500 rpm with 146 lb.-ft. of torque @ 4,450 rpm. It won't set the world on fire, but it's fine. If you do want to set the world on fire, you'll probably like the ST, whose turbocharged four puts out a screaming 252/270 horses/torque. I haven't driven it, but I salivate in anticipation!
The standard transmission is a five speed manual (six speed on the ST), but Ford's sample SE had the six speed automatic that comes with an unsatisfactory sport mode you operate via a rocker switch on the selector lever. The transmission works fine, but I missed paddles and even a conventional manual mode (forward/backward shifting via the gear selector lever); the rocker switch shifting doesn't give any real kind of sporty feel.
Brakes are power-assisted front disc and rear drums, with four sensor, four channel ABS and AdvanceTrac electronic stability control. Pedal feel and performance are fine. Fifteen inch wheels are standard on the base Focus, but the SE gets 16's - and Ford's sample SE had the optional 17 inch alloys, which are quite nice.
Suspension is independent front and rear, with struts up front and a multi-link buttock - and there are stabilizer bars fore and aft. The ride is very nice, not too jarring and not in the least bit sloppy. Steering is rack-and-pinion with electric power-assisted steering (EPAS), and it offers good feel and performance as well.
Ford has added a "new for 2014" Sport Appearance Package for the Focus SE and it ups the tech ante quite a bit, adding stuff like the most current version of the SYNC system with MyFord Touch, with stuff like Wi-Fi capability, text-to-voice, HD Radio with iTunes Tagging and voice-activated navigation.
The sample SE also had Ford's active park assist, which can identify a parallel parking space and maneuver the car into it with minimal input from the driver. It works well, though I had a couple of times when I just couldn't let the car continue the parking job because I didn't trust it enough in the close confines of a couple of places I tried it. And that's the hardest thing about such systems: trusting the car enough to keep your grubby hands off the steering wheel!
To be fair, I've tried Ford's system in the past and it worked well. The most blatant example was in a bit Lincoln SUV, when the system put the beast into parking spaces easily that I wouldn't have tried manually - and I can parallel park. So maybe my issue with the Focus was more a failure of imagination on the driver's part than this particular example not working as well as the others I've tried.
Ford's sample SE also came with the SE Plus package, a $1600 option that included fog lamps, ambient interior lighting, a leather-wrapped steering wheel and shift knob, perimeter alarm and satellite radio (subscription required). There's also a cute little spoiler. The Sony audio and MyFord Touch option added $1300, the heated seats and power/heated outside mirrors added $350 and the self-parking system jacked the price up another $900 (it includes a back up camera and park aid sensor, too). "My" Focus also featured remote starting ($300) and $800 worth of navigation system. Oh, and the automatic adds $1450.
Safety equipment includes the usual bags and belts, and you get Ford's AdvanceTrac traction control with electronic stability control.
Driving the Focus is quite a pleasant experience as long as you're not the poor unfortunate soul in the middle of the split/fold back seat. The seating positions are great, the steering wheel tilts and telescopes and there are redundant controls on it. The LCD screen is a bit of a reach, but the voice control has come a long way and you can use it to help keep your hands on the wheel. Time was when the MyFord Touch system really rubbed me the wrong way, but it didn't this time so either it's getting better, I'm getting more used to it or, the least likely scenario, I'm getting more tolerant.
Ford's sample SE started life at $19,699 before options and ended up tallying a total of $26,599, which seems like a pretty reasonable price for what you get. Base Foci (the S Sedan) start at $12,679 and the top-line Platinum version starts at $22,319 (sedan) or $23,120 (hatchback). The hot ST starts at $26,769 (hatchback) and there's also an electric Focus for those who don't like straying more than a few miles from home at a time. Its price starts at $32,742 and though you'll have to stay within range of a charger you won't have to shell out for gasoline after that initial purchase - though the car will undoubtedly increase your utility bill unless you steal power from other people.
Ford has made a remarkable turnaround since its near death experience of several years ago, and the company did it without a bailout. This means that, when you buy a Ford (a non-subsidized electricity-burning one, at least) you're not forcing your friends, family and neighbors to pony up part of the cost via their tax dollars.
This is as it should be.
Copyright 2014 Jim Bray
TechnoFile.com