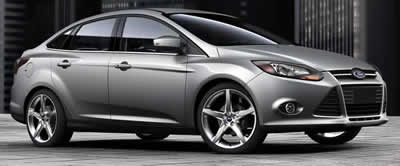 Ford Sharpens its Focus for 2012
By Jim Bray
November 25, 2011
Ford's newly designed Focus takes a previously dumpy-looking but otherwise good car and brings it more in line with the competitive models the company hopes buyers won't choose.
And judging by the number of new Foci I've seen on my local roads already, in the short time it's been available, the new model appears to be doing the job. Why not? It's a good car, modern, equipped very well and – as a bonus – it's even fun to drive.
Ford says the new Focus is a "world car," meaning that it's supposedly virtually the same regardless of where it's sold – as opposed to previous versions that saw a North American-only model that, according to various pundits, was inferior to the global one. Here's how Ford describes it: "Under the company's One Ford strategy…The new Focus demonstrates how Ford can scale to meet the universal needs of worldwide customers, while fine-tuning to suit regional preferences."  
Ford also says the new Focus brings "Expressive Design, Refined Driving Dynamics, High Technology" and "Delivers up to 40 mpg," all of which, if true, make it a compelling choice in a crowded niche that includes such staples as the Toyota Corolla, Honda Civic, Volkswagen Jetta and Hyundai Elantra.
Foci are available in hatchback or sedan model, in S, SE, SEL and Titanium trim levels. My test sample was an SEL sedan, which I have to admit isn't as compelling as the hatchback model to these eyes; I have a soft spot for "wagons" because of their additional storage space, and the Focus hatchback is really a wagon in all but name.
I also have a soft spot for the hatchback because I found the sedan's trunk opening a tad small when I tried to stuff a "home theater in a box" into it – a problem made worse by the presence of a largish subwoofer mounted in the trunk.
Even in sedan form, the car is a real looker – though I think the hatchback is more compelling here as well because it looks more "complete" than the sedan, whose rear end looks like the designers ran out of virtual ink in their digital pens once they got past the rear doors.
Beauty, of course, is in the eye of the beholder; my wife, for example, prefers the sedan because, she says, the hatchback's rear window is too small – though when I drove it I had no problem seeing out of it via the rear view mirror.
Foci are powered by a "completely new" two liter DOHC four cylinder engine that features direct injection and twin independent variable camshaft timing. It cranks out a very decent 160 horsepower @ 6,500 rpm and 146 lb.-ft. of torque @ 4,450 rpm, up 20 horses from the Focus' previous two liter engine. Ford says it's "more than 10 percent" less thirsty as well.
It's a smooth engine that revs nicely, yet is still quiet (well, I'm sure the car's sound deadening also helps here). It's mated to either a five speed manual or a very nice six-speed "PowerShift" automatic transmission Ford says it's a "High-efficiency dual dry-clutch design" that features "SelectShift Automatic" functionality that in English means has a manual mode that lets drivers control the gear selection, for better control and more enjoyment.
The latter is what my sample had, and it's a very nice transmission, but I wish Ford would dump the "plus/minus" button on the shift lever for manual operation and either add a real front/back manual shift mode or, even better, paddles.
The car's independent suspension features MacPherson struts with a 23.5 mm stabilizer bar up front and Control Blade multilink with a 19 mm stabilizer bar in the rear. It toes the line between soft and sporty very nicely, tilting a bit toward sporty, which is just fine with me.
That doesn't mean the Focus' ride is jarring, just that it lets you actually feel the road surface the way you should be able to, without shaking out your kidneys should you hit a pothole or frost heave. It's a fine balancing act and Ford has done a nice job.
Handling is enhanced by a torque vectoring control system that Ford says "Behaves like a limited-slip differential to constantly balance distribution of torque between the driven front wheels. This results in reduced understeer, improved traction and better turn-in." It's kind of analogous to Honda's "Super Handling All Wheel Drive," except that the Focus is only front wheel drive.
Stopping the basic Focus are power-assisted front disc and rear drum brakes, with four-sensor, four-channel ABS. The Titanium, SEL and SE Sport Package models get discs all around. Brake performance and feel is just fine.
Inside the Focus, you're greeted by an attractive and comfortable cabin bristling with technology. The audio system of my SEL sample was a decent, 10 speaker Sony system and it also featured the SYNC system with MyFord Touch, about which I've complained in the past.
SYNC works well, and the idea behind MyFord Touch is terrific: replace traditional buttons, knobs and gauges with clear, colorful LCD screens and five-way "cursor control" buttons on the steering wheel. The LCD screens can be personalized to show information the owner thinks is relevant, and the system is backed up by voice control and/or touch screen operation.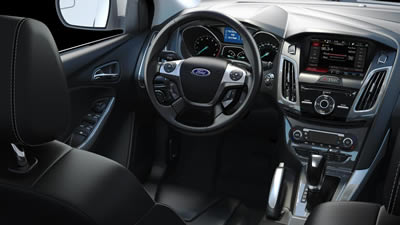 The five-way buttons can take you through a series of cascading menus that force you to take your eyes off the road – undoubtedly the opposite of what's intended – making me prefer using the central touch screen, which is mounted nicely at hand.
I noticed some bugs in a couple of Ford Edges I reviewed earlier this year, causing me some angst on the road and requiring a reboot – shutting down the vehicle completely and letting it contemplate the error of its ways for a few minutes. The system in the Focus was less buggy, but it did seize up once, prompting the same reboot process on my part. I also find the center stack-mounted LCD interface busy and sometimes you nearly have to hammer on it to get it to accept your touch input.
On the upside, it appears that Ford has been listening because they've announced a major upgrade to the system for 2013 models which can be retrofitted for free on existing units via a USB key. I watched an online movie showing the new interface and like it a lot; between it and any bug fixes that might be in there, it should ease my angst about the system.
My Focus also included Bluetooth (as all cars should, but don't), innumerable I/O ports, customizable ambient lighting colors (in case anyone cares), a rear view camera, push button start/stop and even Ford's Active Park Assist.
The latter is a really nifty system for amazing and delighting your friends, though in my never humble opinion if you can't parallel park you shouldn't be driving. It's amazing to experience, however, actually backing the car into a parking spot by itself. All you have to do is activate the system via a button and follow its instructions.

The system tells you to pull forward while it searches for a space then, once it sees one, tells you to stop the car, put it into reverse and take your hands off the steering wheel (if you touch the wheel the system shuts off, undoubtedly a wise safety feature). From that point you only have to control the gas and brake pedals and watch wide-eyed as the car zips into the parking space.
My only issue with the Active Park Assist is keeping my grubby paws off the steering wheel and letting the car do its business. It feels really alien and I had trouble trusting the vehicle's robot to do it – yet it does, and in fact it once parked the Focus into a spot I wouldn't have tried on my own, and I pride myself on my parallel parking. It's an amazing system.
Whiz bang technology aside, as welcome and cool as it is, the Focus is a fine car, a great new addition to Ford's lineup. It's the most fun to drive of any model in this segment that I've driven and should serve its customers well.
The Ford Focus starts at about $16,500 U.S./$16,000 Canadian. The SEL trim level starts at about $20,500 U.S./$21,500 Canadian. Taxes, options and other such charges will be extra, of course.
Copyright 2011 Jim Bray
TechnoFile.com