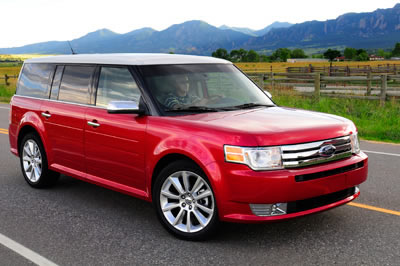 Ford Flex Gets an Eco-Boost for 2010
By Jim Bray
June 18, 2010
Ford's Flex has a new heart this year, new motivation for both the vehicle and perhaps for those interested in buying it.
It's Ford's Ecoboost technology, which includes the company's new twin turbo 3.5 liter V6 that Ford says delivers V8 power with V6 fuel economy. It's a peach of a system and it produces 355 horsepower, which Ford says is 35 percent more than that of the base Flex's V6, and 350 ft.-lb. of torque, up 41 percent.
The engine is connected to a six speed "SelectShift" automatic transmission with a manual mode that includes paddle shifters that let you take control over the shifting, even to it providing rev-matching downshifts – which comes in handy, both when the open road beckons and in more mundane circumstances such as going down hills where you want to take advantage of engine braking.
Ford says the transmission was developed to "Specifically respond to the increased torque demands of the EcoBoost V-6 engine" through upgrades to its "Friction material in response to the higher shift energies" while its new torque converter has been "Optimized for performance and fuel economy." And that's where my eyes started glazing over.
The EcoBoost driveline also includes a torque-sensing all-wheel drive system.
Ford says the EcoBoost's water-cooled turbochargers eliminate turbo lag by using both turbochargers together, and coupling them with the direct-injection of fuel into the engine. However they manage it, it seems to work.  
My only gripe about the system is that the buttons for downshifting, which peek over the steering wheel spokes, are a long stretch away for my thumbs. Other than that, this is an excellent drive train that offers oodles of oomph and more driving pleasure than you might expect, given the Flex's rather staid appearance and relatively large size.
I refer to the Flex jokingly as the "Maxi-Cooper" because its rather boxy shape reminds me of a  Mini Cooper expanded to about three times its size. This isn't meant as a put down, however, because the Flex is actually a pretty nifty vehicle and its boxiness can come in handy when you're trying to fill it.
It's kind of interesting when approaching the vehicle and, from a distance, it looks really big – then when you come up near it the bulk seems to go away (not that you'll ever confuse this with a true Mini). Then, when you get inside the vehicle, it seems to grow in size again, so roomy is the interior.
My test unit also had the very interesting Active Park Assist (APA) feature, which uses ultrasonic sensors coupled with the car's electric power steering system to actually parallel park the vehicle in slots smaller than I would've tried it on my own. It's very slick and is sure to grab the attention of onlookers – and I speak from experience.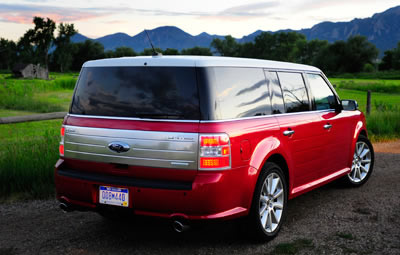 The system is child's play to use. The hardest part is relinquishing control to the vehicle when your gut is screaming for you to grab the steering wheel before something awful happens. All you have to do is press a button on the center console to activate the system, then follow the prompts on the dashboard screen.
Those prompts tell you to drive ahead then, when the robot brain finds an appropriate parking space, you're told to stop and "accept the system assistance" to park. From that point on, all you have to do is shift and operate the gas and brake pedals while the Flex does the steering. Touch the steering wheel and the system shuts off immediately, which is probably a good thing.
On the other hand, you could just learn rudimentary driving skills…
Options on my "Limited" trim level test unit also included 20 inch wheels, rubber floor mats, 40/40 split and autofold second row seats with a big console between them, a huge panoramic roof that was great for visibility from all three rows of seats when we took it into the Rocky Mountains. It was also equipped with a navigation system, remote starting and a white, two tone roof that looks cool but not cool enough to pay the premium Ford wants for it.
The Flex is as utilitarian as it looks, but that doesn't mean it isn't good to drive. I'd have liked to see some more side bolstering on the front seats, because I tended to slide around a bit in anything approaching serious cornering, but it wasn't a really big deal. On the whole, it's a pretty decent vehicle to drive, especially with the EcoBoost system.
The second row of seats is very comfortable, and they move out of the way nicely for those times you want to inflict the third row on passengers. I don't mean to berate the third row excessively – it's no worse than many others I've tried – and it folds down nicely for extra storage space for when you want the Flex-iblity to haul long objects like bicycles, big screen TV's or jumbo jets.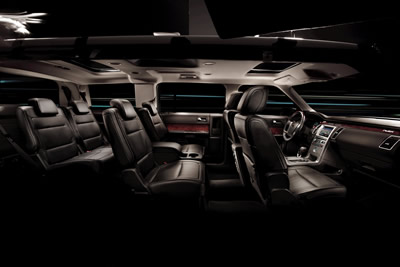 Ford claims there are some 32 different seating combinations available for the Flex, which should make it good for just about everything from hauling up to seven people to hauling packages home from the mall. Heck, depending on your needs you could even use it as a delivery van.
Ford's interiors are generally a bit plain, but very functional and easy to figure out. The Flex is no different. The instruments are easy to see and figure out, and while the center stack is full of controls for everything from the audio and HVAC systems to the LCD touch screen display, it's all well laid out and simple to use.
There are plenty of storage spaces inside the Flex, too, enough that most people who don't operate delivery companies should be quite happy with the arrangement.  
The Sony audio system is surprisingly good. I've been a fan of Sony video for many years, but it's been a long time since I sang the praises of their audio equipment – which is funny for a company whose name is inspired by the word "sound". But this one's pretty good, with decent amplification and speakers, and it includes all the features most people would want, including SIRIUS satellite radio, USB and auxiliary jacks.  It plays DVD-Audio discs, too, though SACD's come through as regular CD's; I have yet to find a car audio system that plays SACD discs properly.
Convenience and safety features include Bluetooth, automatic headlights, outside mirror controls that are placed close at hand, and windshield washers with a nice wide spray that does a great job of hosing down the glass.
Safety features include traction control with roll stability control, adjustable head restraints, a good complement of air bags, safety belt pretensioners and the like. Naturally, you get disc brakes with ABS.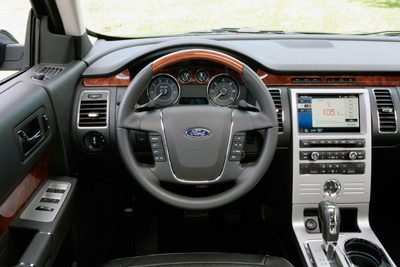 Also included is Ford's MyKey system, which is kind of a "Big Brother-like" innovation that gives parents some control over how the kids use their vehicle. With it, you can limit the maximum speed that the chips off the old block can reach as well as capping the volume of the stereo to not only encourage the kid to drive more safely but perhaps to save his or her hearing as well.
You can also use it to give a low fuel warning earlier than normal (because kids just don't pay attention!) and to holler with alarm, via chimes, at 45, 55 and 65 miles per hour (75, 90 and 105 km per hour) to let them know they're going to be in a heap of trouble if they don't ease off the fun pedal.
Couple that with such devices as the Car Chip (not a Ford product), which can give you a printout of how the vehicle has been driven, and you can really hold a sword of Damocles over the kids' heads!
I still think the Flex is a tad stylistically challenged, but I'm also seeing more and more of them on the road, which just goes to show how well my finger taps the pulse of the marketplace. Or perhaps, since once you're inside the vehicle you can't see the exterior, people are judging the Flex based on its inner beauty, comfort and efficiency, of which there's plenty.
And for someone seeking a Flex-ible vehicle that still offers some pleasure behind the wheel, this isn't a bad place to look.
The Ford Flex starts at $29,850 U.S./ $32,699 Canadian.  
Copyright 2010 Jim Bray
TechnoFile.com