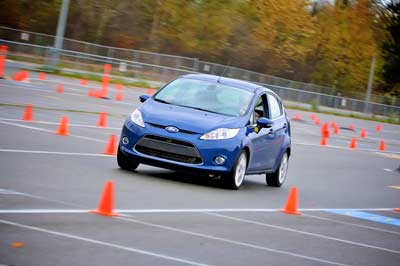 Ford Previews Small Car at Vancouver Fiesta
By Jim Bray
November 11, 2009
Europe has it already, and now Ford's terrific little Fiesta subcompact is getting ready to tackle the North American market.
The Fiesta is meant to go head to head with competitors such as the Honda Fit, Toyota Yaris and Nissan Versa, and Ford is so excited about its potential that it flew a group of writers to Vancouver, British Columbia, to sample the version on sale currently in Europe and, undoubtedly, whet our appetites for the car.
And whet it they did. I liked the little Fiesta nearly from the instant I parked my posterior into its pocket-sized but practically posh passenger place. It's cute as a bug's ear, very nicely appointed, and offers a driving experience better than you might expect from such an entry level vehicle. If Ford can sell it for the same price as the competition mentioned above it would make for a compelling buy.
If Ford does match the price, that would put the Fiesta anywhere from just over ten grand American to pushing about $20,000.  That's quite a range and undoubtedly covers a lot of options and packages, so it's hard to deduce what the eventual price will be other than to say that, judging by our demo Euro Fiestas' accoutrements, I'd guess it'll be closer to the top end of the range.  
We pulled out of a Vancouver hotel on a morning that threatened rain, nine Fiestas of different shades (ours was a pretty blue) sallying forth through rush hour downtown traffic, eventually hitting the freeway just in time for the precipitation to add its participation.  Despite the unpleasant conditions, the Fiesta remained quiet, stable and pleasant to drive, with a good greenhouse that helped us see and avoid downpour-challenged drivers who were oblivious to other traffic in the reduced visibility.
The organizers set up a short, tight handling course on a large parking lot by an regional airport in the area, and this gave us a chance to drive the Fiesta, Yaris, Fit and Versa back to back for comparison. The Fiesta wore better rubber than the other cars and this undoubtedly had some effect on the outcome – which means anyone who buys a Yaris, Fit or Versa should upgrade the standard rubber if they want to maximize their car's potential – and the Fiesta was definitely the best through the course, with tighter turning and better steering wheel feel. It also cornered flatter than the others and was just all around nicer to drive through the cones. Nicer to be inside, too, thanks to its efficient design and quality of materials.
About the only thing missing was a rear seat that folds flat completely, or sings and dances like the Fit's, but when all is said and done the folded Fiesta rear seat still opens up a pretty good storage area.
Ford says the five door Fiesta (a sedan will also be available) is "the first major product of Ford's new global product development process" and keeps alive "a name synonymous with more than 30 years of success and strong driving dynamics in Europe". A Fiesta was offered in the U.S. and Canada from 1978 to 1980, so if you remember the car's name that's probably from where.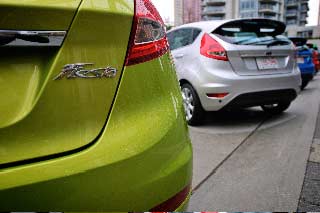 Our route also took us along some mildly winding and hilly mountain roads that helped us gauge the car's mettle from a real world handling environment. It didn't really stretch the cars' legs, but it was scenic, pleasant and representative of a nice variety of roads. And the Fiesta did just fine.
One thing I found less than "gushable about" was the Fiesta's clutch, which was a little spongy and had a lot of play, but the brakes (disc front, drum rear) were fine and the car steered and handled like it was optimized for fun. Could it be that a little of Mazda's (another Ford family member) famed "Zoom-Zoom" has crept into t5he Fiesta's DNA?
The interior is well-appointed, though how closely it'll resemble the North American Fiesta is apparently a secret guarded closely – nor could I tell what was standard equipment and what was optional. Ford's SYNC system should be offered and that's a good thing. The steering wheel looked very Honda-ish (I'd bet on this being part of the 10 per cent worth of changes from "Euro" to "Amero") and had redundant audio/cruise controls that were small but very usable – nicer in some ways than Ford's usual gaggle of buttons.
There was speculation among the assembled media that Ford might also give the exterior that more Ford-ish "Fusion razor" grille that appears on some of its vehicles. That would be a shame because its present proboscis is perfectly peachy.
Ford says the Fiesta, which was developed by the European arm of Ford's global product development team, represents "the blueprint for future global product development efforts at Ford and will be tailored to meet customer preferences for interior features, exterior colors, body styles and other options in each region of the world." On sale in Europe since late 2008, it will invade the North American market in "early summer 2010".
Good! I wish it well. Ford's making some interesting vehicles and, though in my never humble opinion they need to work on their exterior styling, the Fiesta is an attractive and modern little car and I hope it doesn't get lost in the translation.
The Fiesta isn't the only thing new from Ford, which has a bunch of stuff in the pipeline, one example of which I got a chance to try during our lunch break on the Fiesta fiesta. "Active Park Assist" is a doohickey that means people who are unable to learn the simple task of parallel parking will be allowed on the public roads.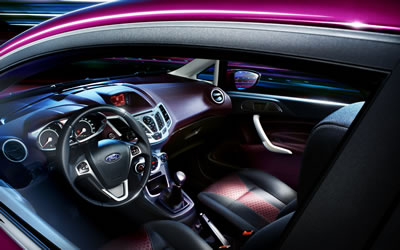 Oh, wait. That's already the case. Okay, it's a way for the "parking challenged" to be encouraged to function in a modern, technological society and is therefore a giant blow for inclusiveness.
Regardless of my feelings about the need for such a device, it's a pretty neat system and is available as an option on Ford Escape, Flex (with EcoBoost), Lincoln MKS sedan and the new Lincoln MKT crossover. I tried it in the MKT, which under normal circumstances would be very much like parking a school bus but which the Park Assist droid pulled off as if born to do such things, which of course it was.
Ford says the system uses an ultrasonic-based sensing system and Electric Power Steering (EPS) to position the vehicle for parking, calculate the optimal steering angle and steer the vehicle into a parking spot. On a side note, Ford also says EPS improves fuel economy by up to five per cent while reducing carbon dioxide emissions (and thereby threatening the extinction of our forests!) and enhancing performance.
I stopped the MKT next to a vehicle parked for just that purpose, engaged the system and then merely had to control the transmission, gas and brake pedals. Hands off the steering wheel! Touch it while Mother has control and you're kicked out of the system as if unworthy of using it. That's probably a good thing.  
I wish more driving test examiners were like that.
Ford says the technology is a major leap forward in speed and ease of use compared with other such systems, (such as the one from Lexus which, alas, I haven't tried). Ford says its system requires "less driver interface" and "reduces the risk of selecting a parking spot that is too tight".
Can you imagine how embarrassing it would be to turn control over to the robot and still not be able to park the vehicle properly?  Perhaps this will lead to a golden age of commerce for companies that install privacy glass.
Ford has also announced a type of inflatable seat belts for the rear passengers, saying the system combines traditional seat belt and air bag technologies to provide better crash safety protection for rear seat occupants. The system is designed "to help reduce head, neck and chest injuries for rear seat passengers, often children and older passengers who can be more vulnerable to such injuries".
Maybe they'll also help the car stay afloat if you drive it off a bridge. Teddy Kennedy would have been pleased. Or would he?
Copyright 2009 Jim Bray
TechnoFile.com