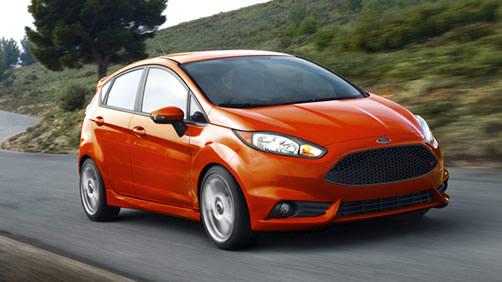 Ford Fiesta ST and Honda Civic Coupe: small cars of varying fun factor
By Jim Bray
November 28, 2013
Small cars are practical and efficient, usually, but many people like a sense of fun in their wheels as well. This led to the "hot hatch" category, as well as a number of sporty cars that weld shut the rear doors in the hope of adding some of that elusive fun.
So we have the subjects of this piece, Ford's little hot hatch Fiesta ST and Honda's reasonably fun little two door Civic - one coupe and one sedan - and despite two doors sometimes translating into more fun than four, it's the most-portaled car that's the hotter of the two. More doors to adore, as it were!
Hot hatch incarnate…
Ford's Fiesta (click on the image to open a slide show) is a nifty little car that's been available in hot hatch form in Europe for a while now and it's as close to being a beast as you can find in the small car segment.
It also feels faster than the specifications of its direct injected 1.6 liter EcoBoost engine might suggest. Part of the reason is the turbocharging, which as usual tends to add a cool "whoosh" factor to acceleration once it kicks in. And when it does kick in, you get to take advantage of the Fiesta ST's 197 horses @ 6,350 rpm and 202 lb.-ft. of torque @ 4,200 rpm. It isn't as exhilarating as a turbo V8, obviously (or even a six), but it's more than enough to widen your smile.
You control those ponies with a six-speed manual transmission that shifts with excellent feel and performance. There's also a tuned suspension that definitely lands on the sporty side of the comfort/sport equation and it also feels delightful - until you come across speed bumps, which are exacerbated by the car's short wheelbase. But you can't blame the Fiesta ST alone for that; it's a common situation with cars in this size range.
Heck, I remember hitting a speed bump in a Smart fortwo once and thought it was going to flip over on its nose.
Ford wants you to compare the Fiesta ST's power compared to the competition, and compares it with the Mini Cooper S (181 horsepower and 177 lb.-ft.) and the Chevrolet Sonic RS (138 horsepower and 148 lb.-ft.) in its media materials. Ford didn't cite the VW GTI, however, perhaps because it offers 200/207 hp/torque, but it's arguably the closest competitor to the Fiesta ST.
Of course there are other factors at play, including overall weight, and since the Fiesta is about 100 kilograms lighter than the GTI, it would be interesting to run them in a drag race.
The ST sports a unique grille and chin spoiler, as well as new rear diffuser and fascia extensions. You also get bright tipped dual-exhaust and unique 17 inch wheels with tires of such low profile it almost looks as if someone just painted black around the edges of the rims.
Ford says the steering is more direct and responsive than on the base model and, though it's been a while since I drove the entry level Fiesta, I have no reason to think they're telling a whopper. The car has also been lowered, with a body 15 millimeters closer to the ground than the base Fiesta.
Other tweaks include electronic Torque Vectoring Control (to reduce under steer during hard cornering maneuvers, and it might also help with the car's comparative lack of torque steer), and the three mode electronic stability control – standard, sport or off – helps let you dial in the amount of fun you want.
The Fiesta ST has a typical Ford cabin, which means it's pleasant and comfortable and efficient. Ford's sample ST had Ford Sync and its four quadrant LCD, but eschewed the fussy controllers on the steering wheel and the confusing cascading menus on the instrument panel of other models. I prefer it this way; it's easier to use and even if you have to reach over to the LCD to adjust something, it's pretty close at hand in this little car.
The Fiesta ST is definitely fast enough for most mainstream applications, and it's definitely a good way to have a lot of fun on a budget. It's cool in other ways, too, including the addition of Recaro sport seats that do an excellent job of keeping you from flopping around inside the cabin when the roads get twisty. Alas, I noticed that my middle aged bottom had trouble getting in and out over the high bolstering on the seat bottom. I think I'm not the target demographic anyway, though, which is probably just as well.
And if you're more concerned about mileage than smileage, you get a Ford-claimed 26 mpg city, 35 mpg highway and 29 mpg combined.
The Ford Fiesta is a nice car in its own right, but the ST really ups the sportiness ante appreciably, the result being a small economy car that's more fun to drive than you might expect. How can that be a bad thing? Heck, you even get a surprisingly large and functional hatch. 
According to Ford's Canadian website, the Fiesta ST starts at $24,999. That's nearly 10 grand more than the base Fiesta, but you get a lot of extra driving enjoyment for that additional investment.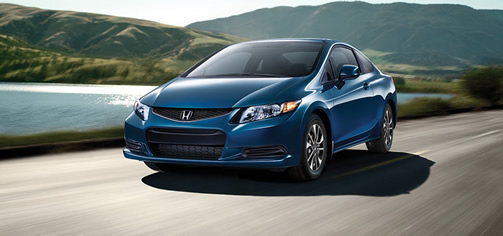 Civic pride…
No, the Civic isn't coming out of the closet, nor does it need to. It's a car that has proven itself over four decades in North America and Honda has nothing to apologize for, even though this latest generation may still be playing catch up with some of the competition.
And while Honda doesn't make a hot hatch right now, you can still get the Civic (click on the image to open a slide show) as a hot sedan or a hot coupe by opting for the Si or the lowered and more aero HFP versions. Those models will give you horsepower in the Fiesta ST range: 201 horses @ 7000 rpm, though only 170 lb.-ft. of torque (at 4400).
Alas, the Civic coupe Honda Canada sent for review was the garden variety, so while it was as fun to drive as any Civic (that's meant as a compliment), it certainly can't be called hot. Its 1.8 liter four cylinder i-VTEC engine oozes out a mere 140 horsepower @ 6500 rmp, and 128 torquey things @ 4300 rpm. That obviously pales in comparison with the Fiesta ST, but it's actually pretty good compared apples-to-apples with the base Fiesta and its 120 ponies @ 6350 revs and 120 torques @ 5000.
So is the Civic coupe as much fun as a base Fiesta? Probably, but I'd guess that's only if you buy it with the available five speed manual transmission. Unfortunately, Honda's sample had the five speed automatic and it felt like it belonged in a car several years older. There was no manual mode, no paddle shifters, just a five speed slushbox that feels more like a four speed in a market where six speeds is now common.  
If it weren't for the boring transmission, this Civic would be a really nice car to drive. That's another reason enthusiasts should opt for the hot Si: you can get a six speed manual, and if it's like Honda's other manuals, it's a peach.
That doesn't mean the base coupe isn't a great car! I have yet to drive a Civic I didn't like. Full disclosure: I owned a new 1976 Civic hatchback and it was a wonderful car except for rusting out, a problem Honda addressed years ago. So while this Civic isn't my favorite, it's hardly a slug.
Inside the Civic are features such as "standard text message functionality," a welcome rear view camera and heated front seats. You still get Honda's weird, two storey instrument panel with its digital speedometer on top and tachometer etc. below. I still have issues with this configuration, but it works fine, and it sure beats an intrusive heads up display!
My sample also came with Bluetooth for phone and audio, though as is so often the case with cars these days, the voice recognition wasn't great. I tried making a couple of phone calls via voice command, but ended up pulling over to the side of the road and using the touch screen instead, in frustration. That kind of makes the Bluetooth/voice control more of a bug than a feature.
This is not a thing that's unique to Honda, however; I have similar issues with plenty of cars.
The Civic coupe's ride comes down on the comfort side more than the Fiesta ST's, but don't take that to mean it wallows; it's a very nice ride, comfortable yet still responsive and nicely tight. The "Motion-Adaptive Electric Power-Assisted Rack-and-Pinion-Steering" has very nice feel, too. It actually rides more sportily than the transmission allows otherwise.
This, of course, is an economy car, but as with other Hondas you can partake of its ECON button and the Civic automatically adjusts the engine and other "non-essential functions" (as if the engine's non-essential!) into a "super-efficient" mode and there's an "Eco Assist feature that uses blue, white and green bars on either side of the speedometer to let you track how efficiently you're driving. Keep it on green and Gaia will supposedly smile on you.
The Honda Civic coupe starts at $18,773. The EX trim level raises that ante to $25,423, while the EX Navi is priced at $25,423.
Opt for the top line Si HFP with the maximum fun quotient and you'll be spending more like $29,018. But you'll definitely enjoy the ride more.
Copyright 2013 Jim Bray
TechnoFile.com