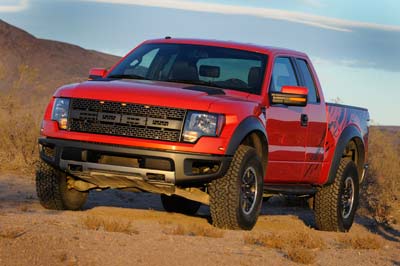 Ford F-150 Raptor a Real Attention Getter
By Jim Bray
February 25, 2010
Judging by the reception I got during my week with Ford's outrageous SVT pickup truck, the company is causing much lust among truckophiles.
I kid you not; of all the vehicles I've driven over the past decade or so, none got as much attention from neighbors, strangers and passersby as the Molten Orange (which looks like red to me) Raptor. Not Porsche, not Mercedes Benz, not Lexus; none of them had people gather in front of my house or in parking lots or on the streets, peeking into the Raptor like kids pressing their faces against a candy store window.
I have to hand it to Ford. They've certainly created a show stopper.
At heart it's a Ford F-150, an extremely popular truck, but Ford unleashed its Special Vehicle Team on it and even if you aren't a truck guy it's hard to deny what they've accomplished. Not only is the Raptor a real looker as far as trucks are concerned, they say it's also able to, er, (with apologies to Rodgers and Hammerstein) "Climb Ev'ry Mountain" and (arrhg!) "Ford every stream".
I neither climbed nor forded (well, I Forded), but I did slip into the Raptor for a road trip during some particularly vile winter weather that made me very happy for its prodigious four wheel drive capabilities, which took what would have been an ordeal and made it a very pleasant experience. Of course it isn't only the truck's stability that makes driving it great. The Super Cab is very comfortable and well-equipped, its front buckets nice enough to be in my home theater.
Ford describes the SVT Raptor as a "purpose-built, high-performance off-road truck versatile enough to take on the most challenging desert adventures as well as the everyday commute." Derrick Kuzak, Ford's group vice president for Global Product Development, says that "Like its fighter jet and dinosaur namesakes, the F-150 SVT Raptor is tough, fast, aggressive, and built with the off-road enthusiast in mind."  
I've never thought of the F-22 as an off-road vehicle before, but I guess it is in a way n- though it does need a nice, flat drag strip for the beginning and end of its off-road adventure.

The SVT Raptor is discernable immediately from garden variety F-150's, starting with a distinctive grille with "Ford" carved into it, a different front bumper, vented hood and functional hood and fender extractors (instead of stuck on appliqués), and FOX Racing Shox.
Ford has integrated distinctive marker lamps into the front end of the truck and you can get an optional paint treatment – which my test unit had – that makes it look as if someone has flung mud at the 5.5 foot box's flanks (or, alternatively, as if a velociraptor had clawed it). That's right: you can actually pay to make your SVT Raptor look as if its paint has been all messed up, that your daily driver has been to the ends of the earth and back.

It does look cool, though.
The SVT Raptor is more than seven inches wider than the base F-150, which helped make it a real treat to angle park in a mall parking lot. But it also means there's plenty of elbow room inside, especially up front but also in the rear bench, which is accessible via rear-hinged "suicide doors".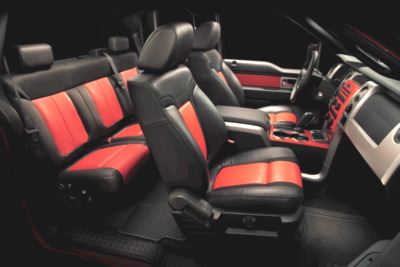 There's a removable tailgate and four tie-down hooks, too. A tailgate step is optional; I wish my sample had been equipped with that 'cause I had trouble getting into the box (I'm no longer the gazelle I was once!). Fortunately, there were "cast aluminum" running boards along the side of the cab; otherwise, I would have needed a boost.
Powering the SVT Raptor is Ford's 5.4 liter Triton V8 three-valve engine, rated at 320 horsepower and 390 lb.-ft. of torque.  That doesn't seem like a lot when you can get about 45 horses more with the Taurus SHO's EcoBoost twin turbo V6, but the truck didn't seem lacking in lunging ability. Ford says a new open-valve fuel injection strategy allows for greater spark advance at higher loads and engine speeds, resulting in more horsepower during towing and higher rpm operations, as well as lowering emissions and using fuel more efficiently.
If that power plant isn't enough for you, Ford says you'll be able to order a new 6.2 liter V8 designed specifically for "robustness in a truck application".
An off road truck isn't all about oomph, of course; it's also about the suspension. The SVT Raptor features 11.2 inches of usable travel in the front and 13.4 inches in the rear, new upper and lower A arms, tie rod and half-shaft joints. Ford says the truck's wider track and softer suspension (softer compared to other truck suspensions, perhaps; you won't confuse this vehicle with a limo) mean "it will comparatively glide over obstacles."
Pedestrians should take note.
There's also a big skid plate to protect the engine and front underbody, in case that glide doesn't quite work out for you.
SVT Raptor also features electronic-shift-on-the-fly, an electronic locking rear differential, an upgraded axle and AdvanceTrac traction control system with Roll Stability Control. Ford says it's the only system available with a roll motion sensor.  A standard Trailer Sway Control "detects trailer sway by the yaw motion of the truck and takes counter measures to help bring truck and trailer under control." I didn't haul a trailer.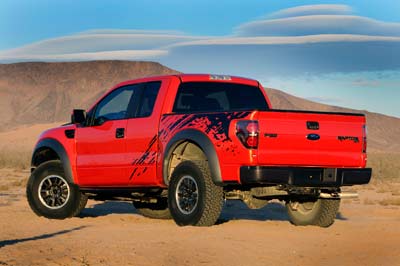 Hill Descent Control, Ford's first application of such technology, uses the ABS to help control the truck going downhill, without riding the brakes. There's also a special Off Road Mode.
And get this: Ford throws in (well, includes in the price) a prewired Auxiliary Switch Board on the center console for easy aftermarket customization.
The steering wheel is wrapped in black leather with a "molten orange" leather strip at the 12 o'clock position. Ford says this serves as a "centering sight line" that's especially useful "in extreme driving maneuvers that can often cause the driver to lose perspective of the steering wheel's center point." I prefer a good hood ornament with which I can aim the vehicle.
It's an attractive interior and I loved the cloth-trimmed leather front seats (complete with SVT logo), which are separated by a large flow-through center console that's big enough to use as a mobile desk and filing cabinet. I had to cool my heels in the truck for a couple of hours on my road trip and my netbook computer fit there really well, perching happily on the console while I typed away.
The steering wheel tilts and, though it doesn't telescope this wasn't a big deal because the pedals are power adjustable. Between them, the six way power adjustment of the driver's seat and the steering wheel's tilt, it's easy to find your best driving position.  I missed having a left foot rest, though.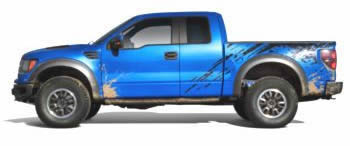 Controls are laid out well and very legible. My sample SVT Raptor also came with an optional rear view camera that was extremely handy on a vehicle with a big, far-off butt. There was also the optional Sony Premium Audio System with its in-dash six disc changer (with MP3), audio input jack and 10 speakers (with a subwoofer under the back seat to ensure passengers there stay regular). It's a good system, and mine had SIRIUS Satellite radio activated. It didn't play my torture test DVD-Audio disc properly, however, stripping out the center channel. I doubt that's a deal breaker.
The Ford SVT Raptor is a cool truck.  It starts at $38,020 U.S./$48,299 Canadian.
Copyright 2010 Jim Bray
TechnoFile.com