New Engines Power Ford's Line of F-150 Trucks
By Jim Bray
April 1, 2011
Calgary, Alberta - Ford's iconic F-150 pickup truck enters the second decade of the second millennium bristling with new power choices and features the company hopes will keep it at the top end of the best selling truck list.
And if the demonstration they set up for us holds true in the real world, they probably will.
I must admit up front that I'm not a truck guy and therefore probably not the most knowledgeable or experienced in the field. But I was there, and I did drive all these vehicles back to back, and the trucks did perform as I outline here.
We gathered at Race City Motorsports Park in Calgary, Alberta, Canada, on a chilly and snowy supposedly-spring day to put the F-150 and two of its chief competitors through their paces under a variety of conditions, from heavy (well, heavy to me!) hauling to acceleration and handling tests on a tight, twisty road course.
Part of the reason Ford held these cross-country events is to introduce the public to its new line of truck engines, which range from the entry level 3.7 liter V6 to the hefty 6.2 liter V8. In between are a five liter V8 and, the pièce de résistance that was the heart of the demonstrations, the 3.5 liter, twin turbo EcoBoost V6 that, like its stablemate on the passenger car side of the Ford and Lincoln ledger, is claimed to give V8 performance with V6 economy.
Here's a quick list of what Ford wants you to know about each of the new engines:
3.7-litre four-valve Ti-VCT V6
Best-in-class 302 horsepower at 6,500 rpm vs. V6 competitors
Unsurpassed 278 lb.-ft of torque at 4,000 rpm vs. V6 competitors
Projected best-in-class fuel economy       
Best-in-class 2667 kg (6,100 pounds) maximum trailer tow vs. V6 competitors
5.0-litre four-valve dual-overhead camshaft Ti-VCT V8
Best-in-class 360 horsepower at 5,500 rpm vs. standard V8 competitors
Best-in class  380 lb.-ft. of torque at 4,250 rpm vs. standard V8 competitors
Best-in-class 4500 kg (10,000 pounds) maximum trailer tow vs. standard V8 competitors
6.2-litre two-valve single-overhead-camshaft V8
Best-in-class 411 horsepower at 5,500 rpm vs. all competitors
Best-in-class 434 lb.-ft. of torque at 4,500 rpm vs. all competitors
Best-in-class 5126 kg (11,300 pounds) maximum trailer tow vs. all competitors
3.5-litre Ti-VCT EcoBoost
365 horsepower at 5,000 rpm on regular fuel
Best-in-class 420 lb.-ft. of torque at 2,500 rpm vs. premium V8 competitors
Best-in-class 5126 kg (11,300 pounds) maximum trailer tow vs. all competitors
Up to 90 percent of peak torque available from 1,700 rpm to 5,000 rpm
Best-in-class 3,060 pounds payload vs. all competitors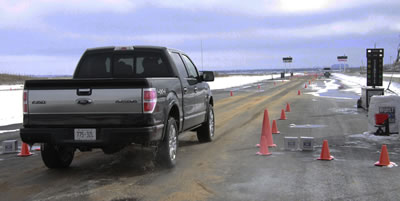 Ford's travelling road show kicked off with a short presentation about the power trains – all the engines and the new, six speed automatic transmission Ford offers on the line – before we climbed aboard the demo pickups and headed convoy fashion onto some rural highways. The route we took was great for hauling the big trailers they assured us were weighted equally at about 6000 pounds regardless of whether we were pulling them with the V6 EcoBoost-equipped Ford, a V8 powered Chevy or a Dodge Ram Hemi V8.
Other than the power trains, I have no idea how "apples to apples" the three competitors were tricked out – whether they were similar trim levels, options, etc. So while I, not surprisingly considering where I was, preferred the F-150's interior, driving position and convenience features, you may be able to configure a Chevy and/or Dodge similarly.
On the other hand, since the Ford is supposedly "all-new" and the others are well into their model cycles, you may not.
But the day was more about performance and towing than creature comforts, so I'll concentrate on that.
The company says the new F-150 offers class leading towing performance of up to 11,300 pounds, so our three ton loads shouldn't have been much of a challenge. And as it turned out, the EcoBoost F-150 was head and shoulders better than the competition – especially the Chevy – in the pulling department, not only making the process seem relatively effortless at speeds anywhere from a standing start to beyond the highway speed limit (I kind of forgot to check the speedometer!), but also offering the best driving stability – in that the trailer behind the truck was best behaved with the F-150.
This was thanks, undoubtedly at least in part, to Ford's Trailer Sway Control, which uses a yaw motion sensor in conjunction with the AdvanceTrac and Roll Stability Control to modulate the brakes and reduce engine torque and keep the trailer disciplined. It's seamless, too; I never noticed any intervention from the onboard nannies.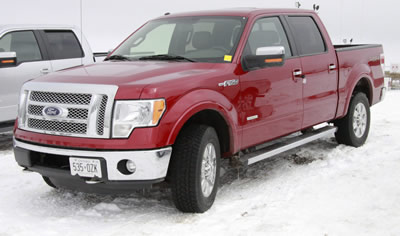 I expected the Ford to do the best, of course. Why else would we be there? But it was still quite something to experience a V6, albeit a turbocharged one, knocking off a couple of worthy and popular V8 competitors.
Then again, I've driven the passenger car version of the 3.5 liter EcoBoost and it's also a little rocket…
Ford says the introduction of the new engine line is the most extensive power train overhaul in the 62 year history of the Ford F-Series. They also say a six speed automatic transmission is the first to be offered as standard equipment on an entire line of full-size pickups.
It's a smooth transmission, and it works well. And the truck to which it's attached can be programmed to ignore particular gears for more efficient and safer hauling (such as when pulling a load down a steep hill) and even be configured to remember settings for a variety of trailers, similar in basic concept (if not in actual fact) to pairing multiple cell phones to a vehicle via Bluetooth.
Once we'd hauled our butts across the countryside, laden and unladen (the trucks, not our butts), we returned to the Race City complex – a really nice facility that, unfortunately, is living under a death sentence thanks to city fathers and mothers who want to bulldoze it in favor of a landfill.
This is where we did the handling and acceleration tests: the fun stuff! The Ford folk had laid out cones on part of the two mile road course, starting us off with a sprint from a standing start and taking us through some very tight serpentines before we hit an icy section on the very tight curves before the start/finish line.
I got to drive the pants off of each of the four Ford engines as well as the V8-powered North American competition, though I only did one lap in each of the trucks. I didn't record my sprint times, either (someone did, but they didn't tell me what they were, so they must have sucked!) but once again I was impressed mightily by the EcoBoost's performance.

The Ford's handling was also the most confidence-inspiring of the three brands, straightening the twisty bits of the road course nicely. This is undoubtedly due at least in part to the new, "class-exclusive" electric power-assisted steering (EPAS) system, which not only imparted the best steering feel of the trio but which Ford say also lets the engine work a little less hard than conventional hydraulic power steering systems do, improving fuel economy in the process.
The Ford's interior also earned top marks from me ("Mr. Pickup Truck"). I thought it had the most comfortable driver's seat and driving position of the trucks provided, and I've always liked Ford's SYNC system and interface. As mentioned, I'm not sure the test units provided a true "apples to apples" comparison of the interiors, since any of these trucks can be configured in a number of ways, but such is life when on a company-sponsored event.
To be fair, I have no reason to think Ford stacked things in its favor; I just want to be sure I'm fair and honest in giving you my impressions.
Ford also stuck a 4.2-inch LCD message centre on the dashboard of the new F-150 and an in-mirror rear view camera screen, the latter of which comes in especially handy with a pickup truck whose buttock seems like a gigantic blind spot a million miles away.
Ford offers an abundance of F-150 models and trim levels, from regular cab two wheel drive to something that'll carry the whole gang just about anywhere except up the side of a rock face and comes with a bed large enough for the Three Bears and Goldilocks to sleep in at once.
And Ford obviously hopes a lot of people will find it "just right" for their pickup truck needs.
Copyright 2011 Jim Bray
TechnoFile.com