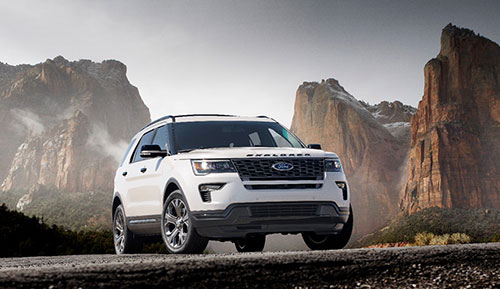 Ford's Explorer makes visiting Canada's capital less unpleasant
By Jim Bray
October 18, 2018
Ford's "fuller sized" SUV/Crossover, the Explorer, continues to be a compelling vehicle for people looking for a well-appointed ride that can handle up to seven people.
The Explorer, which was really one of the first so-called SUV's, isn't all-new for 2018, but it soldiers on as a solid and capable vehicle that also offers good off-road performance, as well as most, if not all, of today's popular vehicle/connectivity/entertainment technology.
Click on the image to open an slideshow.
Ford of Canada was kind enough to lend me a Platinum trim level Explorer for the week and a half my wife and I were sentenced to spend in Ontario a few weeks ago. I'd driven the Explorer a few times before and liked it, though it's a larger vehicle than I prefer, and this time helped cement its basic goodness into my psyche as we visited my elderly Dad and tooled around the area between Ottawa and Trenton, Ontario.
I've said before that I hate driving in Ontario, and this time was no different. When I lived in British Columbia, we used to lampoon Alberta drivers but in the 30-plus years I've hung my hat in Wild Rose Country I've come to realize that that, while driving in Alberta means you have to dodge a lot of incompetence, in Ontario you get that incompetence leavened with a healthy dose (or overdose…) of assholiness, which makes paying attention even more important than normal.
Why, you'd almost think it's the centre of the universe there or something!
Anyway, I needed a three row SUV for the trip because my two of my wife's siblings and their spouses were also coming up to visit and, rather than try driving around in a convoy when the people around you are apparently doing their best pinball impressions, I thought it would be nice if we crammed 'em all into one car. What did I care if it was cramped? I was driving!
"Crammed" is a tad unfair because the three row Explorer is actually a reasonably roomy vehicle. The third row is best for kids, but works for adults in cases of emergency. Alas, this three-row capability actually bit me in the behind this trip, because Ford of Canada's Platinum trim level sample came with captain's chairs in the second row, which meant the vehicle as configured could only seat six. And we had seven bums for which we needed seats.
Fortunately, it was only for a day or so, and so I rented a three row, seven seat Ford Flex for that part of the trip. Sidebar: every time I drive a Flex I'm impressed by just what a great vehicle it is to drive, all things considered. Heck, I drove one a few years back from Qualicum Beach to Tofino, B.C. that had all three rows filled and it handled that wonderful, twisty road so well that all six passengers had passed out in fright by the time we got back.
Well, nearly.
I've read rumours online (and isn't everything online true?) that the Flex may be discontinued after the 2019 model year, which would be a shame because it really is a great vehicle. So, if you want one of these "Maxi Coopers", better get moving while you can.
But this piece is about the Explorer in the Ottawa area, so back to business.
The Explorer starts in its most basic trim at $34,899 and that still gets you a seven-passenger vehicle. You can also have it configured with front or all wheel drive, and with either a 3.5 litre V6 or Ford's optional 2.3 litre EcoBoost turbo four. Either engine is undoubtedly good enough, but by the time you reach the Platinum trim level (which starts at $60,699) you can tell Ford to install its terrific 3.5 litre EcoBoost twin turbo V6 into it, and that engine is an absolute peach.
Here are the various engine specs:
3.5 L Ti-VCT V6 (base engine): 290 horses @ 6500 rpm/ 255 lb.-ft. of torque @ 4000 rpm
2.3 L EcoBoost I-4: 280 hp @ 5600/ 310 lb.-ft. @ 3000
3.5 L EcoBoost V6: 365 hp @ 5500/ 350 lb.-ft. @ 3500
Yessirree, I really like that EcoBoost V6! It takes the 4458-pound vehicle (in base configuration) and makes it feel more like an Escape than an Explorer – other than the ugly effects that Newton's Laws of Motion have on such pedestrian things as cornering and braking (which aren't the engine's fault anyway).
Even here, though, the Explorer doesn't drive as big as it is (until you try parking it, and Ford even has that figured out thanks to its optional parking assist feature).
The EcoBoost's lovely power gets to the wheels (either the front or all four) via a very smooth six speed automatic transmission. No manual is offered, but that's not surprising, especially in a vehicle of this size – and while I'm a confirmed "stickaholic," were I to shop for a vehicle like this I'd eschew shifting for myself, as well.
Explorer gets its fine handling (all things considered) thanks to a good independent suspension that features MacPherson struts up front and a multilink rear. It's tight enough to be enjoyable, yet compliant enough to not be jarring for those who don't live and breathe boy racer (well, old fart racer) madness. It's a balance the Explorer handles well, no pun intended.
That power, transmission and suspension made our rural trips off the main freeways as enjoyable as they could be when one's spouse is in the car and you aren't driving something called Porsche. Some great twisty roads between Perth and Wheeler's Pancake house somewhere near Packenham put a nice smile on my face, as did the back road between Perth and Kingston. The power, handling and the manual mode activated with the paddle shifters made the Explorer very smileworthy.
The comfortable seats and top-line toys didn't hurt, either.
Heck, the only worry I had about taking those roads quickly in the big Explorer was the potential for "Imperial encounters" in a province which has ridiculously low highway speed limits and where they've removed your freedom to protect yourself with a radar detector.
On the other hand, there are a couple of things Ford could do to make the drive even more compelling. For example, there's no "dead pedal" footrest for the driver's left foot and I missed it on the serpentine back roads we took to avoid the dodgeball game on the major arteries.
Does Ford think people won't corner aggressively in an Explorer? Then why is there a sport mode and paddle shifters?
I also found the stitching on the otherwise very satisfactory steering wheel to be uncomfortable beneath my hands when I drove with them placed at nine and three o'clock. That's where the folks teaching the advanced driving courses I've taken over the years have trained me to keep my hands (better for control, closer to the steering wheel-mounted controls and supposedly safer if the air bag deploys). Yet if I returned to my "pre-advanced driving" manner of putting my hands at 10 and two o'clock the stitching didn't bother me at all. Go figure. Maybe Ford needs a "Stig" on their development team.
One of our day trips – Ottawa to Trenton (to visit the aviation museum at CFB Trenton, where they have a Halifax bomber similar to the ones my Dad flew in World War II) – took about 12 hours. A lot of that expedition (sorry, Ford!) was driven on minor highways that, unlike the really rural ones mentioned above, meandered along Lake Ontario and through a multitude of small towns where you couldn't stretch the vehicle's legs in the slightest. That added a boredom factor to the trip that Ford, in its high trim level wisdom, helped ameliorate with its heated/cooled and – best of all (though I never thought I'd say that!) – massaging front seats.
I fired up the massage feature a couple of times during that long day and it really did help. I can't imagine needing such a thing in normal driving and commuting, but it sure was a bum boon on the longer trip – no butts about it!
Visibility from inside the Explorer is very good from the front seat, except for the huge A pillar we see on so many vehicles these days. It isn't as good the farther back you get, but overall the greenhouse is still more than adequate.
Ford's Sync3 infotainment system is one of the best if you use the centre stack's touch screen. It's laid out well and logically, works just fine, and doesn't force you to use some weird pointing device/trackpad thingy. The steering wheel-mounted controls are a little harder to fathom, but they work well once you're onto them.
Our Trenton trip took place on a rainy and blustery day, and that gave me a chance to really sample the Explorer's moisture-sensing windshield wipers, which also work very well. Early generations of this technology (I'm not singling out Ford here) were pretty bad; they were obtrusive and inefficient enough that you were better off having someone ride on the roof with a squeegee – or just using the old-fashioned settings on the wiper stalk. Fortunately, as with early generations of ABS and traction control, automatic wipers have come a long way, baby.
And here's something I hadn't noticed on any other vehicle I've driven (or have forgotten about…): the rear-view camera has its own washer! This came in really handy!
Even though we didn't use it for the visiting in-laws, I checked out the third row enough to discover that it's actually pretty good (not that I'm particularly tall…) and access to the cheap seats is pretty easy thanks to a well-designed second row. The third row also folds flat for those times you need storage more than Steerage.
Ford's sample also included front seatback-mounted video screens for the second-row folks. We didn't have a chance to try them, but I've tried such systems in the past and they can be really nice on long trips, especially if the ankle biters haven't taken their ADD medication or whatever it is they give kids these days to settle them down in the back seat (when my kids were small, we used chains, barbed wire and a cat o' nine tails!).
Bottom line? While larger than I like (and isn't everything about ME?), the Ford Explorer is a very capable vehicle that offers a lot of goodness. It can go practically anywhere, thanks to its optional all wheel drive and off-road modes we didn't even come close to needing on this trip, and it'll carry you in style and comfort.
If you're shopping in this market niche, it definitely deserves to be checked out.
Copyright 2018 Jim Bray
TechnoFile.com
Jim Bray is a member of the Automobile Journalists Association of Canada. His columns are available through the TechnoFile Syndicate.