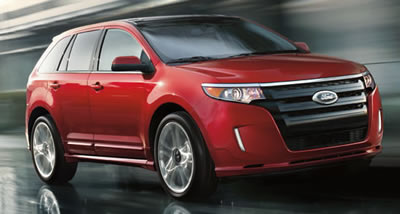 Ford Hones its Edge for 2011
By Jim Bray
September 22, 2011
Talk about living on the Edge!
I recently got to spend more than two weeks in a pair of Ford Edges, putting some serious seat time behind me both in my neck of the woods and on a working vacation road trip. It was the first serious seat time I'd had in the Edge, a vehicle I'd been looking forward to trying since it first came out a few years ago.
Ford's popular midsize SUV enters the 2011 model year with upgraded features and technology, including enough high tech gewgaws to be the stuff of geek dreams. As with so many things technological, however, the gadgetry proved it could be a tad problematic.
The front Edge, er, end of the vehicle also sports a new nose, one that gives it a more aggressive look than before. I don't like it as much as the old one, but no one asked me.
Ford did ask other people, however, claiming to have listened to its more than 400,000 Edge customers to ensure the 2011 incarnation delivered good driving dynamics, leading "edge" fuel economy and quietness along with a high quality of materials. Ford also says that, rather than having the 2011 model be a mere refresh of the earlier Edge, they reworked every element, including three new powertrains, two new transmissions and a completely new interior.  
My two samples were the Edge Sport and the Edge Limited, both of which also were equipped with all-wheel-drive and optioned up to include nearly everything but the proverbial kitchen sink. It had a sink of sorts, though, in the guise of Ford's Sync system, in both cases augmented by the MyFord Touch "driver connect technology" the company says "Will change how people interact with their vehicles."
It certainly changed how I interacted with it. More about that later.
The Limited came with the standard 3.5 liter V6, while the Sport sported the 3.7 liter V6, both of which use twin independent variable camshaft timing (Ti-VCT). The smaller V6 produces a healthy 285 horsepower and 253 lb.-ft. of torque while the 3.7 cranks out an even healthier 305 horses and 280 lb.-ft. of torque.
Both engines get their power to the wheels via a six speed automatic transmission. The SelectShift Automatic is standard on the Edge SEL and Limited series, with a manual mode activated by a silly little up-and-down button on the shift lever. The Sport model comes with "class-exclusive" paddles as standard equipment. Hooray!
I wish I'd had the vehicles in reverse order, because I drove the Sport close to home, in mostly urban driving, whereas my road trip in the Limited included a dash across Vancouver Island's Pacific Rim Highway, one of my all-time favorite roads. It's twisty and narrow and mountainous, a piece of asphalt heaven that cries out to be exploited by a fine sports car. And while the Limited, loaded with five people and their stuff, did a fine job and was very comfortable and enjoyable (for those up front, anyway), I longed for the Sport's extra horses and the paddles, the latter of which can be activated right from "Drive."
Edges come standard with 18 inch wheels, but my Limited sample had the optional, wider 20 inch ones, fitted with P245/50 R20 mud and snow tires. The Edge Sport comes with 22 inch wheels as standard equipment, which were very cool but which also made it a tad more difficult for my stubby little legs to get my not so stubby little butt up into the interior. I longed for a ladder…
Despite how big the Edges felt, they handled well – thanks, undoubtedly, to a retuned suspension that features shocks, springs and stabilizer bars tweaked to tighten the handling. The Limited took the twisty bits on the Pacific Rim highway in stride, offering a nice balance between comfort and apex carving. The Sport felt a tad tighter yet, which is what you'd expect.
One thing I noticed about driving the Sport versus the Limited was that the Sport's seats felt harder. The Sport also differs from "lesser" Edges via Tuxedo Black spoke accents on the 22 inch wheels, a Tuxedo Black grille, unique lamp treatment front and rear, body-color rocker moldings, chrome exhaust tips, body-color door cladding and revised body-color lower front and rear fascias.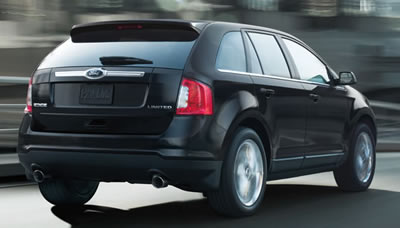 Inside, the Sport gets "Liquid Silver Smoke" appliqués that are echoed in the leather seat inserts. There are also aluminum pedals.
All Edges feature new four-wheel disc brakes with steel pistons, larger rear rotors, and revised friction materials and pedal ratios. Stopping power is awesome, and the pedal feel in both examples I drove was excellent.  The Edge also sports hill start assist, which came in handy in the mountains, trailer sway control and hydraulic brake assist.
The Edge is very comfortable for four, but the third person in split/folding rear bench – depending on his physique – may have a bad time of it. I listened to complaints from passengers who found the seat belt uncomfortable, with a receptacle that's hard to reach when you're putting on the belt, and some even ended up sitting on it, much to their chagrin.
Tired of the whining, I tried a stint back there and also had difficulty snapping the belt around my pearish shape; the belt also tightened up around my neck and shoulder, holding me in really tightly and not particularly comfortably (though this isn't the only vehicle in which I've experienced that). Still, I decided that from then on I'd stick to the power-adjustable driver's seat.
MyFord Touched…
This was my third or fourth kick at the MyFord Touch can, and I've come to the conclusion that it's a great idea, but I'd rather live without it. Powered by Ford's excellent SYNC system, it replaces traditional buttons, knobs and gauges with LCD screens and five-way "cursor controls" on the steering wheel that are similar to those found on cell phones and MP3 players.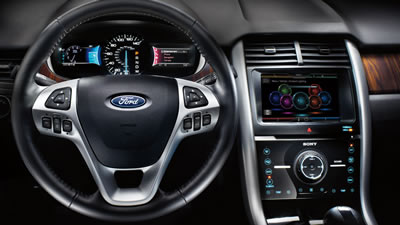 It also uses voice commands, Ford says, but if that's true I may need a refresher course at broadcasting school because I found the voice interaction (which I tried when setting destinations in the nav system) very frustrating. Not only do you have to sit through the system listing off the commands you can say, but when it finally shut up long enough to let me speak it would either not understand (and ask me to repeat the command) or go off and do something completely different. I might as well have been speaking to my kids!
Cussing doesn't help, either. Not only does it not understand the words but, because it's a robot, you can't hurt its feelings anyway.
Using the system, which is standard on the Edge Limited and Sport, with the steering wheel-mounted controllers isn't much better. Oh, the 4.2-inch color LCD screens flanking the analog speedometer look very cool and work fine, but you find yourself scrolling through a series of cascading menus that force you to take your eyes off the road enough that you could very well rear end someone if you use the system while you're moving – and isn't that why it's there?
Also, the eight inch touchscreen LCD on the center stack, which tries to emulate the feel of a smart phone, doesn't work as well as the basic SYNC's more tactile-friendly screen. I also found the touch pad below it, including the four way flasher button, to be ultra sensitive: I'd activate things accidentally merely by brushing it with my hand – in much the same way my Android smartphone frustrates me at times.
Between my weeks driving the two Edges,  I reviewed a Ford Fusion hybrid that only had the basic SYNC system – and I liked it a lot better. It doesn't have all the extra steering wheel stuff and instrument panel LCD's, but its touch screen works great and everything you really need is right there, easily accessible with a couple of quick motions of your hand. I didn't try its voice control, which I suspect isn't much different than the MyFord Touch system's, but that's because I could operate things quickly and easily by touch – a lot more quickly and easily than wrestling verbally with the robot brain.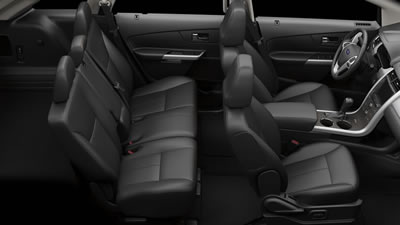 So while I applaud the idea of MyFord Touch, it seems like "technology for the sake of it" rather than a real step forward in vehicle user interfaces. If you have a choice, my advice is to stick with the basic SYNC system.
The 2011 Edge also offers what Ford says is the "World's first use of iTunes Tagging in an available factory-installed HD Radio receiver." iTunes Tagging lets you "capture" a song you hear on the radio for later purchase from iTunes – a nice sales tool for the folks at Apple, I daresay, and I hope Ford gets a cut.
The audio system, by the way, is very good.
Other  technologies include Ford's Easy Fuel capless "siphoning friendly" (okay, maybe that isn't fair, but it sure strikes me that way) fuel door, and the SecuriCode keyless entry keypad on the driver's door that's completely unnecessary thanks to my test Edges' smart, keyless entry/push button start/stop system. There are also blind spot sensors in the outside mirrors, AdvanceTrac traction control with RSC (Roll Stability Control), and a cross-traffic alert system.
Alas, it appears that with all this stuff come ghosts in the machine. I had problems of varying annoyance with the electronics in both sample Edges.
The Sport's speedometer went nuts, twice, burying itself at the top end in a most alarming manner. Even when I stopped at an intersection, the speedometer only came back down to about 105 mph, so I pulled over and shut down the Edge, effectively rebooting the system. It worked fine until later that day, when the same phenomenon happened again.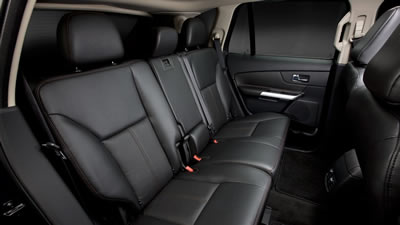 As for the Limited, it informed me that the blind spot sensors were blocked, and the little yellowish lights on the mirrors stayed on regardless of what was around us. A bit later, it announced that the cross traffic sensor was blocked as well. A reboot similar to what I did in the Sport helped, but the blind spot problem happened again a couple of days later. Both times were on major highways in good weather, and whether there was traffic around me or now.
Other than that, Mrs. Lincoln – er, Ford, my Edge experiences were quite positive.
Well, mostly. The Edge had a wonderful panoramic sunroof, but it was a real pain to close – it would slide about three quarters of the way forward with one touch, but then it would stop I had to reach up, press and hold the button again to close it all the way.
If Ford can get a handle on these issues, the Edge would be a fine vehicle (well, it is anyway, for the most part). It's roomy and comfortable – at least for four – and it drives very well.
The Ford Edge starts at $27,640 U.S./$26,499 Canadian. The Limited starts at $35,625 U.S./$34,661 Canadian and the Sport's entry level price is $37,800 U.S./$39,734.
Copyright 2011 Jim Bray
TechnoFile.com