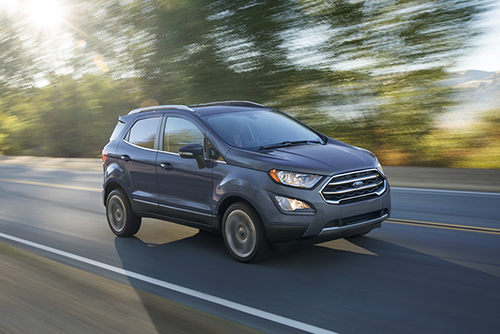 As its name suggests: Ford EcoSport displays a split personality
By Jim Bray
November 21, 2019
Ford's entry-level SUV – or crossover, if you prefer such a designation – is an interesting beast. It's small, can be equipped very well in its upper trim level(s), and offers some of the stuff I appreciate most about Ford, such as its Sync 3 touch screen interface.
Yet it also leaves quite a bit to be desired. It doesn't "sport" a lot of power, its fuel mileage (during my week of relatively lead-footed driving, so I could review it "apples to apples" compared with other such vehicles in this class that I've driven) is unremarkable, and it had one of the worst conventional automatic transmissions I've ever sampled – and since I generally hate CVT's (and this isn't one) that says something!
Click on the image to open a slideshow.
It also has a tall seating position I couldn't get just right for my legs (which barely reach the ground when I'm standing), a seat narrow enough that my prodigious posterior threatened to ooze over its sides, and a wheelbase short enough to make speed bumps seem even worse than in other vehicles with more space between the front and rear axles.
That wheelbase issue isn't unique to the EcoSport, of course, and is shared by other SUV/Crossovers in this niche. It's more the nature of the beast – and it certainly isn't as jarring as taking speed bumps in something even smaller, such as the purportedly Smart car.
Speaking of Smart cars, I remember when I first reviewed the Smart Fortwo back in 2009 and I described the way it shifted thusly: "Then it shifts, shuddering and shrugging and nearly tossing you into the windshield. Thank goodness for seatbelts!"
And that's pretty well how the EcoSport shifted during my week with it. Not all the time, but often. I'd notice it the most, usually, when the vehicle was cold, but it wasn't exclusive to that. It bothered me so much that I asked an associate who works at a local Ford dealer if he'd heard about such an issue with the EcoSport tranny. He opined that it probably needed to be reprogrammed, though when I took the vehicle back at the end of my week that Ford guy said he'd already had it reprogrammed a couple of times.
He also said that the fact that the transmission learns your driving style might also contribute to the issue – and that perhaps the person who had the thing before me had a much less aggressive driving style. In other words, your mileage may vary.
Further rubbing me the wrong way was that the sample EcoSport didn't come with paddle shifters, which may not have helped with the jerkiness but which at least offer a better driving/shifting experience than the +/- manual shift button Ford sticks on its shift levers. It's a six-speed automatic, by the way, which I still like in an era of seemingly ever-increasing gears (it's easy to find eight or 10 these days).
Ford's Canadian website lists the EcoSport S as starting at $21,849, which I suppose is pretty reasonable, but Ford Canada's sample wore the Titanium livery, which is the top of the line and starts at a lot less reasonable (but, to be fair, still competitive with others in this niche) $30,349 – and that also makes it a lot nicer to be in. There are also SE and SES trim levels between the S and the Titanium.
Powering the Titanium version is a two litre four-cylinder engine with start/stop technology that can shut it down at traffic lights. Ford says its horsepower/torque figures are 166 @ 6500 rpm and 149 @ 4500 rpm respectively. This is reasonable in an entry level car, but it seems inadequate here. Still, I was glad Ford sent the bigger engine: you can also choose a one litre four with its 123 @ 6,000/125 @ 1,500 - 4,500 power/torque that I imagine would be quite a bit less compelling.
It might be cheap to run, though, adding to the "Eco" part of the EcoSport.
Ford says the larger engine-equipped EcoSport will tow up to 907 kilograms of stuff (the little one's rated at 635 kg.
The suspension is straightforward, struts up front and a multi-link rear. Steering feel is okay, as is the feel and performance from the four-wheel discs (with ABS etc., of course). The vehicle is available with either front or all wheel drive.
The rear seats, not surprisingly, are pretty tight, though they're comfortable enough. The front seats, other than the height and tightness issues I mentioned earlier, are also quite comfortable, and on the Titanium trim level you get pretty much everything else you could want, including leather, power this and that, etc.
Heck, it even has a Bang and Olufsen audio system that rocks, but which would probably be more at home in a Lincoln or something a little higher end. Still, I was surprised to find B&O on board here.
Ford's sample had a nice sunroof, but it's so far back I wondered what the point was of having it there.
The rear hatch opens with hinges on the left, and the latch is embedded into the right hand tail light unit. It works fine, but makes me wonder why it doesn't go up like most other such vehicles. After all, opening to the left like it does means you could have issues loading stuff if you have to approach the vehicle from that side. At least it opens to the left and therefore won't block you from accessing it if you parallel park curbside like it would were it to swing to the right.
Storage space is reasonable considering the vehicle's size.
Ford claims the EcoSport with the two-litre power plant achieves 10.2 L/100km city/ 8.0 L/100 km hwy/ 9.3 L/100 km combined fuel mileage and my experience was right in that range even with my lead foot. That's pretty reasonable, yet my wife's larger (and from a competing brand) SUV gets about that as well, and my V6-powered sport all-wheel drive wagon gets close to the highway figure on the highway (but not close in the city). So much for "eco".
I won't even try to address the "Sport" part of the equation.
Still, other than the transmission issues I had, I found the EcoSport to be a reasonable and pleasant vehicle, though definitely not special. And at $33 grand for the top line model, I believe you can do better.
For example, the (front drive only, and bizarre-looking) Toyota CH-R starts at $23,675 and tops out at around $28,775. Honda's HR-V starts at $23,000 and can end up costing you just under $34,000. Both come with CVT transmissions, alas, but at least they aren't jerky.
Or you could look to South Korea, via the Kia Niro or Hyundai Kona. Both are hybrids, for the eco crowd. Niros, which have a dual clutch transmission, start at $25,495 and top out about $33,495, while the Kona (available with a six speed or seven speed, dual clutch tranny) starts at $21,199 and tops out around $32,199.
I haven't driven either the Kia or the Hyundai, but knowing those companies' offerings as I do, I'd definitely have them on my test drive list.
None of these vehicles are completely apples-to-apples comparisons, but they all occupy the same basic market niche and show clearly (once you dive deeper into the specs) that they may be more eco than the EcoSport (especially the hybrids) and, despite power ratings that are all over the map, some of them are even more "Sport" than the Ford – including the ones with those damn continuously variable transmissions.
Go figure.
Copyright 2019 Jim Bray
TechnoFile.com
Jim Bray is a member of the Automobile Journalists Association of Canada. His columns are available through the TechnoFile Syndicate.