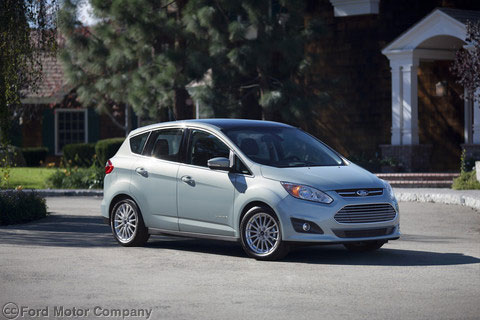 Ford C-MAX a surprisingly interesting drive
By Jim Bray
February 21, 2013
Hold on, Prius owner wannabes. Ford has a new kid in the hybrid game and they think it'll make you think twice about jumping into a Prius.
It's the C-MAX, available in two versions, and it's a pretty neat vehicle as far as hybrids are concerned.
I first heard the C-MAX mentioned on the radio, so perhaps I can be forgiven for believing that the "sea max" was a new amphibious vehicle –  a car with which you can "Ford" every stream, as it were.  
Of course when I saw the spelling, I thought about Einstein – in that the C-MAX was really, really fast ("C", in Einstein speak, being the speed of light).
The reality of course is somewhat different. The C-MAX isn't going to break speed, nor will it let you drive to your Hawaiian vacation. But it will let you zip around your home area smartly and efficiently, and with a tad more panache than you might expect from some of its competitors such as the Prius.
Remember that Prius comparison; it's the one Ford wants you to make.
For example, Ford's blurb about the C-MAX Hybrid says it's expected to achieve better fuel economy than the Prius v and, thanks to the next generation of "Ford's acclaimed powersplit technology," it allows the vehicle to be operated  in electric mode "at higher speeds than any other hybrid."
And here I had always thought that "powersplit" meant that, when it comes to most small hybrids, the power has "split" – as in "gone away."
The C-MAX is also available as a plug-in hybrid, for those with really, really long extension cords. That version is called the C-MAX Energi and Ford says its "miles per gallon equivalent rating" in electric mode is better than the plug-in version of the Prius as well. Ford, in a nice dig at a domestic competitor, even says the C-MAX has a better range than the Chevy Volt. Next, maybe they'll announce that the C-MAX doesn't catch fire, either!
At first glance, the C-MAX might remind one of the Mazda 5, a micro-van-like people hauler that is carving out its own niche. But while the Mazda has three rows of seats, the C-MAX is a more conventional, two row carrier that eschews people hauling for stuff hauling. And there's really nothing wrong with that, as long as you don't want to pack seven souls into it.
And despite my aversion to hybrids in general – because their eco bent means something else has to give and that's often the joy of the drive – the C-MAX is actually quite pleasant to drive. Even its continuously variable transmission is more palatable than many. Sure, it doesn't shift, but it doesn't whine like some do, and that's a real plus.
The C-MAX line also features Ford's nifty new hands-free liftgate feature, which lets you get at the rear cargo area without needing to fumble for the key fob. All you have to do is use a gentle kicking motion under the rear bumper (you need to have the key fob on your person, but not in your hand) and Presto!, the powered hatch opens or closes. 
This is a heckuva great idea! My experience was, however, that the liftgate wouldn't open whenever I waved my foot under the bumper. Sometimes it would take two or three waves before it would work (though it always worked eventually), which left me teetering on one foot with my hands full of grocery bags. Perhaps the sensor got dirty thanks to the road conditions during my time with the C-MAX (rear view cameras are also particularly prone to this) or perhaps I was waving my foot under the wrong place sometimes but, while I love the idea, I wish it had worked better for me.
The interior of the C-MAX is laid out nicely and is quite comfortable – though the driving position reminded me of what sitting on a bar stool must be like. It also features Ford's nifty in concept MyFord Touch technology, which offers you access to various features via steering wheel controls, touch screens, buttons and knobs. This is the newly redesigned version and it works well. I still think it's trying to be too many things to too many people (why can't carmakers just steal the way Porsche and Volkswagen do their simple and straightforward interfaces and instrument panels?), but it's better than before.
My only real quibble with the button/etc. layout this time is that I wish they'd reversed the steering wheel-mounted controls "north to south." Maybe it's just me, but I use the volume and track/radio station preset skip up/down controls far more often than the cursor control ones, so it would be handy to have these right on the steering wheel spoke instead of below them as they are now. The current layout forces me to move my hands off their default driving position to access the most used controls, and I don't care for that.
But it's pretty minor in the grand scheme of things and I'm glad to see Ford has addressed some of the earlier issues with this highly sophisticated interface. And don't forget, you can also use the voice interface for a lot of your common tasks.
The C-MAX also comes with Ford's next generation SmartGauge with EcoGuide, which is a way for the car to teach you how to drive most efficiently. The more greenly you drive, the more green leaves appear on the right hand LCD on the instrument panel – and on the left cluster, there's a Brake Coach that's designed to help you optimize your use of the regenerative braking system to increase your driving range "through proper braking techniques."
Or you could just buy a horse and really go environmental. Well, except for the manure, the methane, city bylaws against having horses on your property…
I don't like a robot telling me how to drive (I have a wife for that!), but to each his/her/its own.
The rear seats split, of course, and they also fold down flat for storage. The space back there is pretty cavernous for a small vehicle.
My test C-MAX also included Ford's nifty active park assist, as well as push-button start, an okay audio system and voice-activated Navigation.
I liked driving and living with the C-MAX more than I expected to, so kudos for Ford for that. But I also wonder why this car is necessary, since Ford also makes the very nice Focus in gas and electric versions. I'd rather drive a Focus, even though its rear seats don't fold completely flat like the C-MAX's do, making it less efficient as a hauler of stuff than the C-MAX.  But it's a better driver's car.
For those who don't care about such stuff, the C-MAX hybrid starts at just over $30,000 Canadian, and my Ford of Canada sample came with $2600 worth of options, bringing the total tag to just shy of  $33,000, not including freight, etc.
The C-MAX was a real surprise, though perhaps it shouldn't be. I've driven other Ford hybrids (the last generation Fusion springs to mind) and found them to be better driving experiences than I had expected them to be. The C-MAX continues that happy tradition.
Copyright 2013 Jim Bray
TechnoFile.com