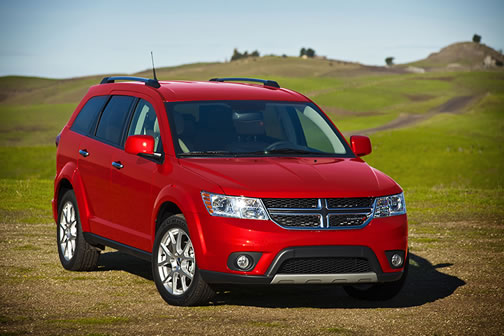 Dodge Journey and Honda CR-V: very different takes on the Crossover theme
By Jim Bray
December 11, 2014
The Dodge Journey and Honda CR-V are both good examples of the SUV/Crossover beast, though executed in very different ways. And after a week with each, I came away thinking that despite the good things about both models, I think I'd look elsewhere were I to be shopping.
Not that they're lousy vehicles, of course - it's hard to find a truly bad vehicle these days - but neither of them really spoke to me in a way that got my pulse quickening, and that's something that should happen even in this market niche. Or maybe I'm just picky.
Dodge's longer Journey… (click on the image to open a slideshow)
Dodge's Journey has come a long way - but then again, so has its corporate owner, so perhaps it shouldn't be too surprising. But after spending a week in a vehicle I would have walked a mile to avoid driving only a couple of years ago I came away with a fresh respect for what is, in fact, a very nice crossover.
Dodge Canada's sample was a Journey Crossroads model, a trim level that ups the ante over lesser Journeys (jaunts?) via such stuff as new front and rear fascias, 19 inch Hyper Black aluminum wheels and Platinum Chrome finish on the roof rails and side sill inserts. There's also black around the head and tail lights, a "Gloss Black" grille and a Crossroad badge, and you get leather inside as well. And if all that stuff seems as if it doesn't improve the Journey's performance a whit, you'd be right. Fortunately, there's a lot to like anyway.
Available in front or all wheel drive, and with either a four or six cylinder engine, Dodge sent the V6 (the only engine offered for the "Crossroad" model) in all wheel drive livery. I was fortunate enough to have it during our first really cold week of "pre-winter" (it had no right being that cold that early!) and was delighted to discover the Crossroad came equipped with a wonderful remote start feature by which I could fire the thing up from the comfort of Chateau Bray and only venture out to face Parent Nature's wrath once it had warmed up.
A bonus to that wonderful feature was the fact that the Journey had also fired up its steering wheel and seat heaters automatically, as if it had read my mind. Really nice, thoughtful touches!
The Journey is relatively easy to get into and out of, which is a bonus for a short person such as me; many crossovers are so tall I practically need either a block and tackle or a running, jumping start to get into them, but the Journey presented no such difficulty. And once inside, you'll discover comfortable  seats - the sample had three rows of 'em - and a cabin that's laid out well, despite the rather busy nature of the central LCD screen (which has so much stuff it can be intimidating, though it's actually thought out quite logically).
You use the LCD's Uconnect system to operate the dual zone automatic climate control, audio and nav systems (there are also redundant audio controls behind the steering wheel) and its voice recognition worked reasonably well. Interior surfaces are of good quality, with nice, soft touch surfaces and the centre console features a nicely padded armrest under which hides a USB port and power supply. Dodge has also inserted an abundance of handy storage spots throughout the cabin, including under the second row floor and the front passenger seat (which, like the second and third rows, also folds flat).
One strange thing about the driver's seat was that, while it offers eight way power adjustment, that convenience doesn't extend to the seat back, which you have to adjust manually. That seems kind of weird, though it isn't a huge deal.
Power from the V6 is more than adequate. Dodge says it puts out 283 horsepower and 260 lb.-ft. torque and that's competitive. The "on demand" (it's only fired up when necessary) all wheel drive performance is terrific; the Journey handled the snowy and icy roads with aplomb (and the aplomb isn't even an optional extra…). Power gets to the wheels via a six-speed automatic transmission with adaptive electronic control and electronically modulated torque converter clutch. Shifts are smooth.
The only issue I had with the transmission was the fact that the manual mode setting for the shift lever is placed really poorly. The lever is too far back, and too close to the centre storage bin, and that makes it hard to shift via its left/right methodology.
The suspension, independent MacPherson struts up front with a multi-link buttock, is tight enough to be interesting but not jarringly so, a nice tightrope act and a suitable suspension feel for a mainstream ("non-sporty") crossover.
The base model Journey starts at  $21,495 Canadian. The AWD Crossroad starts at $35,395 and Dodge's sample also had a power sunroof, navigation and a few other options that raised its price a couple of grand above that. All in all, a decent value.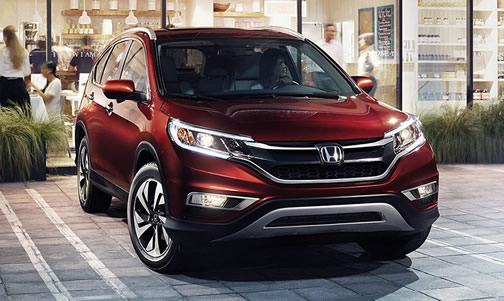 Craving a new CR-V…
For about the same price ($35,790 as tested) you can get the Honda CR-V Touring, which is a smaller "cute ute" than the more mid-size Journey, but a popular choice nonetheless.
Reviewing the Journey and the CR-V made me feel a bit like I was in Bizarro world in that I didn't expect to like the Journey and I expected to like the CR-V if only because in general I prefer Hondas to Chryslers. But by the time I was finished with the CR-V I ended up wondering if the late Soichiro Honda could be spinning in his mausoleum (or wherever he is) because this CR-V seems to be a step backwards for the company he founded more than half a century ago. (click on the image to open a slideshow)
On the other hand, the 2015 CR-V was recently named SUV of the year by the folks at Motor Trend magazine, so either they're nuts or I am. Naturally, I prefer to think it's them.
The CR-V has traditionally been a terrific vehicle, nice to drive and with Honda's typical efficiency. For 2015, however, the company has done some things to the vehicle that really rubbed me the wrong way. Oh, sure, it'll probably give you bulletproof service for a long, long time, but you can find less annoying vehicles. For now, anyway.
The first thing I noted was the inflicting of a continuously variable transmission onto the CR-V, a move that sucks a good part of the driving enjoyment out of the vehicle - though at least this one doesn't roar like a tormented spirit when you step on the gas. CVT's are said to maximize fuel economy and efficiency by keeping the engine at its optimal speed, but I hate them because of what they do to the driving experience.
That said, the CR-V now offers a direct injected "Earth Dreams" gas engine, a 2.4 liter four banger Honda says puts out 185/181 horses/torque. It's adequate but hardly stirring - and unlike with the Journey there's no V6 offered, which is a shame because Honda makes a really nice 3.5 liter six. This isn't new, however; the CR-V has always been available only as a four banger.
The Touring model's audio system features a 328 watt AM/FM/CD "premium" audio system with seven speakers including a subwoofer. It sounds weak, unfortunately, and its interface was enough to have me pounding on the dashboard in frustration because Honda has eliminated volume and tuning knobs, replacing the volume control with a rocker button hidden in the row of buttons on the left side of the touch screen - buttons that are so tiny my fat, stubby fingers had trouble hitting them properly and whose labels are so small I needed my reading glasses to use them - which made driving a chore because I don't wear glasses to drive.
Tuning is accomplished via the touch screen, and is a major operation because you can't just twist a knob; you have to press up and down virtual buttons, which takes your attention off the road. To be fair, you get redundant audio controls on the steering wheel but they won't help the person in the front passenger seat who's tearing out his hair in frustration when faced with the LCD's interface. And in an era where "lawyers' screens" are finally becoming a thing of the past, Honda makes you click "okay" on the screen when you start the CR-V up, otherwise you just get a blank screen that's more difficult to get rid of than it should be.
Honda seems to be trying to eliminate excess buttons and knobs - a problem it has had in recent years - but their solution is worse than the problem was.
And don't get me started on the voice control system!
Driving the CR-V would be a nice experience if not for the CVT, because the handling and suspension are just fine. And there are plenty of features to like, especially on the Touring version, which includes stuff like front wiper de-icer, cool LED daytime running lights, automatic headlights, Bluetooth, a power tailgate, driver's seat memory, rain sensing wipers and proximity key/push button start. On the downside, there are also such nannies as a collision mitigation braking system, lane departure warning, adaptive cruise control, blind spot display and lane keeping assist. Or you could just pay attention…
Speaking of nannies, when you first get into the CR-V its uppermost LCD (yes, there are two - why I have no idea) instructs you how to start the engine (step on the brake and press "start"), I assume to help the vast number of Honda customers who've never actually had to start a vehicle before (sure, push button start/stop might be new, but shouldn't the dealer walk customers through their new vehicles?). And don't think about undoing your seat belt before the vehicle is stopped completely; my wife made that mistake, undoing the thing as I pulled into the parking space in front of our house, only to have the CR-V practically yell at her, in a human voice, to do it up again.
I don't know about you, but I don't need any more whining and nagging from my vehicle than you get already from the various beeps and bongs that are virtually ubiquitous these days. And I found the start up instructions and seat belt bitching insulting, as if Honda thinks its customers are so stupid they need the nagging. It reminds me of how Toyota hybrids beep when you shift into reverse, the way many big trucks sometimes, except they only beep INSIDE, as if hybrid owners need to be told they've shifted into reverse!
Honda's sample also had the company's LaneWatch system, which gives you a view down the passenger side of the exterior whenever you active the right turn signal. I hate this feature because when it fires up and the screen changes to the side view (from displaying the radio or whatever) it catches my eye (undoubtedly its intent) and takes my attention off the road. Fortunately, you can shut this thing off and only activate it manually if you so choose, by merely pressing a button on the end of the signal light stalk.
It sounds like I hated the CR-V but I didn't really; I'm just very disappointed that one of my favorites in this segment now rubs me the wrong way, so much so that I would no longer put it on my "preferred cute ute" list.
But if you don't mind all the stuff that rubbed me the wrong way, the Honda CR-V - which despite my whining is still a fine vehicle - will undoubtedly serve you well for many years.
Copyright 2014 Jim Bray
TechnoFile.com