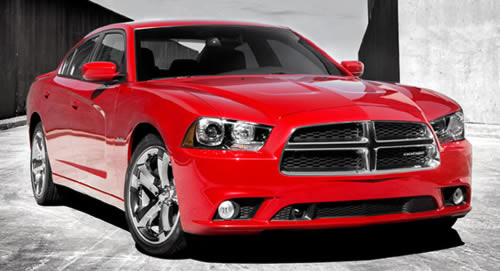 Dodge surges forward with updated Charger
By Jim Bray
July 6, 2012
It may have started life as a hot, 1960's muscle coupe, but today it's Dodge's version of the full size, four door family sedan. Yet the 2012 Charger still manages to bring some sporty feel to the task.
My first experience with the reborn Charger was less than impressive, coming via a generic rental car several years ago, a bit of blandness that had been driven hard and sent home wet. It colored my opinion of the vehicle – not that I'd ever been a Charger fan anyway (I was more of a Mustang/Cougar guy back in the muscle car era) – and gave me a built in prejudice going into this review: I didn't expect to like the Charger one whit.
But I did. It's still not my personal cup of tea, but I can see why people buy it. Heck, even in the V6 version of my sample it's as powerful as it needs to be, it drives well despite feeling quite large – and it's comfortable and modern inside to boot.
And if the V6 isn't enough for you , you can get plenty more oomph from other models. Heck, you can stuff the Charger's engine bay with a 6.4 liter HEMI V8 engine if you want, its 470 hp and 470 lb.-ft. of torque providing very nice grunt indeed.
The 3.6 liter V6 of Chrysler Canada's sample Charger pushes out 292 horsepower and 260 lb.-ft. of torque. And while I love a car with prodigious poop, I didn't feel cheated by this six; it went quickly when I wanted it to, had plenty in reserve for passing, and worked very well with the optional eight speed automatic transmission with which it was equipped.
The standard automatic, as it were, is a five speed.
In all, pretty decent performance – about what you can expect from today's modern V6's, which rival the V8's of not too long ago.
For 2012, the Charger has been given a freshened look and it works. It still looks like the familiar Charger, but looks more serious and interesting than before. I never liked the "nouveau Charger's" styling before, but this new wrinkle is in fact quite attractive. It doesn't have the greatest greenhouse, perhaps as a marketing department homage to its muscle car past, but I daresay it isn't so bad that it would be deal breaker for those whose hearts are stirred by the thought of the Charger.
The car's all wheel drive option means it also comes with very cool-looking 19 inch aluminum wheels, and the sample car's SXT trim adds fog lamps, power heated fold away mirrors, heated front seats, the Uconnect hands-free communication system with Bluetooth and Voice Command, a nice audio system with touch screen (and steering wheel) control, 12-way power driver's seat, leather-wrapped steering wheel and shift knob and more. The SXT Plus trim level adds Nappa leather-faced seats, heated rear seats, heated and cooled front cup holders and more. In all, the car is equipped nicely.
Interior materials are attractive, with soft touch materials in abundance. The instrument panel is clear and legible and the center stack is laid out well and is easy to use. The small LCD (you can get a larger one if you prefer) was mounted a good, long reach away; it's a good thing that, as an Albertan, my knuckles drag on the ground because otherwise I might have had trouble reaching the touch screen.
The Uconnect touch 4.3 inch Media Centre offers the usual AM/FM/CD/MP3 capability with, as mentioned, touch screen operation. It also comes with an auxiliary audio jack, USB port, (available) hands free voice command system (that works well), and more.
The SXT Plus's audio system comes with six "premium" speakers and a 276 watt amplifier (I could only count 275, though – just kidding!) and it sounds fine for what it is. You can upgrade it in the SRT8, to a 19 speaker Harman Kardon premium sound system with 900 watts of power that undoubtedly sounds delicious.  
The Charger has Chrysler's typical steering wheel audio controls, which are mounted behind the wheel where paddle shifters would be if the car were equipped with them. The sample car didn't have them, but paddles are available and would definitely be in order for those who enjoy driving.
Other niceties include power express one-touch up/down windows, illuminated cup holders, interior LED lighting, and dual-zone temperature control.
The heated/cooled cup holders are an interesting idea and they seem to work quite well. I didn't even realize they were there until I happened to stick my hand into one without realizing it had been turned on and could only pull back a blackened and burned stump where my fingers had been.
Okay, that's an exaggeration.
The seats are comfortable, and there was plenty of room for four of us – and a fifth would probably not be too cramped back there, either. Dodge says the Charger offers "Best-in-Class rear seat spaciousness."  
Dodge says the Charger's gas tank is similar to that of a race car, in that it has no cap to unscrew – you just open fuel fill door and pop in the nozzle. Unscrewing gas caps is some of the only exercise I get, so I'm kind of ambivalent about this feature – and it's hardly unique anyway; Ford has been doing this for a few years.
The keyless entry, which has a proximity sensor that unlocks the doors when you get close, works well, and since it's coupled with push button start/stop, you can keep the fob in your pocket or purse.
The Charger feels really big to drive – and especially to park! – but it still manages to handle quite well and is even reasonably fun as long as you don't forget Newton's first law of motion (which deals with inertia).
My test Charger carried a base price of $34,745 according to its sticker, and included enough optional goodies  (including adaptive cruise control, blind spot protection, HID headlights, adjustable pedals and plenty more) that its final price with destination charge was $40,570.
Copyright 2012 Jim Bray
TechnoFile.com