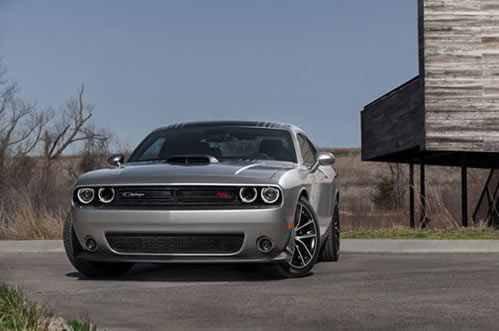 Dodge Challenges for muscle car supremacy
By Jim Bray
October 20, 2016
Dodge's Challenger Scat Pack Shaker (and no, the scat pack doesn't mean it leaves stuff behind it on the road) is not only a great muscle car experience, it's also an interesting lesson in semantics.
That's because it teaches us that the word "standard transmission" no longer applies to a stick shift, at least in this instance. Nope, in this case, the 485 "horsepowerhouse" comes "standard" with an automatic transmission, whereas the great Tremec six speed stick manual transmission is a thousand dollar option.
And a good option, too - better than a lot of the nannies for which you can pay more!
Click on the image to open a slideshow.
And all for 57 grand! Well, to be fair, the base Challenger Scat Pack Shaker starts at a still substantial but somewhat less frightening $48,895 and, also to be fair, you get a LOT of car for that.
It starts with the retro design, of course, a design that very nearly made me want to seek out a couple of gigantic earth movers to test its ultimate stopping power. Fortunately, the urge reached its vanishing point quickly…
The Scat Pack Shaker isn't the top of the Challenger line, so if its 485/475 horses/torque aren't enough you can still opt for the Hellcat, which inflicts up to 707/650 horses/torque onto its rear tires. I drove one of these briefly a couple of years back at the Canadian Car of the Year TestFest, and it was bloody awesome, but that was only a brief "first look" that didn't let me exploit the car's capabilities like my full week with the Scat pack did.
And exploit it I did! Radar detectors are recommended, if they're legal where you live (fortunately, where I live the nanny staters haven't yet pulled that freedom from us, though it's probably only a matter of time), because it's hard not to exceed the posted legal limit, and well before you get too far up in the gears. And then, of course, it snowed. Life in the foothills!
Isn't Murphy's Law grand?
Anyway, the Challenger gets that outrageous oomph to the road (what doesn't end up as black tire smoke!) thanks to a 6.4 litre HEMI V8. This, in an era in which V8's are being downsized to V6's and V6's are downsizing to four cylinder power plants, may seem like Dodge is sticking its finger in the eyes of the greenies - and I have no issue with that! - but it also manages to at least tip its hat at the changing automotive climate by offering cylinder deactivation, which shuts down half of the cylinders. You'll need the "standard" transmission for this feature, though; Dodge only offers it on the more "pedestrian" model, with its TorqueFlite eight-speed automatic transmission.
So I didn't have to worry about that, damned the torpedoes and went full speed ahead. Well, maybe not full speed…
The engine sure puts on a show when you fire this beast up via its start/stop button! It takes a good push to get it to notice you, but once it does you'd better hope there are no neighbours sleeping nearby, such is the sound that comes from the Challenger. And a big "6.4 Litre" logo lights up on the instrument panel when you do it, as if you'd forget about it.
Of course the real show is saved for when you pull away. One could get into a lot of trouble with this car!
The exterior, especially with the sample's Blue Pearl paint, looks great, and it probably looks even better to muscle car aficionados. Adding to the eye appeal is the Scat Pack Shaker's outrageously retro and functional Shaker hood. Remember those muscle cars with the big air intake poking up through a hole in the hood? Well, it's back here and it - combined with the message it sends, I daresay - draws onlookers.
Besides the intake, with engine-mounted high-flow cold-air induction, the car's mien is further given way by the Scat Pack fender badge, 392 HEMI Shaker hood badge and split black grille.
And that isn't all. The special Scat Pack Appearance Group adds a Bumble Bee rear stripe, which is kind of a buttock-like version of the old "lipstick" from the golden age of muscle cars: a strip around the perimeter of the front end. Buttstick in this case, perhaps? You also get a Gloss Black grille surround, Satin Black fuel-filler door and HID headlights.
Inside, the Scat Pack package gets you embroidered high-performance seats, premium embroidered floor mats, the animated Scat Pack logo in the cluster and a "high-performance" steering wheel with typically Dodge oodles of controls on it.
The optional Tremec six speed is a lovely unit, with a surprisingly light clutch (I expected to need both feet to use it) and easy shift action. I got comfortable with shifting it more quickly than I did this past summer in the Mustang GT convertible.
Visibility from the driver's seat is better than I expected from a car like this, and the outside mirrors didn't cause huge blind spots. Speaking of which, of course the test car featured blind spot monitors, and it also came with parking assist, rear view camera, tire pressure monitoring, keyless entry, power tilt/telescope heated steering wheel, dual zone A/C, lots of connectivity and media options and a 276 watt audio system that doesn't make the car shake as much as the HEMI does, but which acquits itself  admirably.
You might prefer listening to the HEMI chorus instead, though.
According to Dodge, other performance upgrades include Brembo four-piston caliper front brakes, a performance suspension that's tuned just as it should be - nice and tight without being jarring - an isolated rack-mounted electric power steering (EPS) system (with three settings: Normal, Comfort and Sport), 20x9 polished black pocket aluminum wheels, high-performance tires, and the usual "Dodge Performance Pages," with which you can control a bunch of vehicle settings (steering feel, transmission response, stability and traction controls, launch control).  
It's a big car that feels big, but other than working within the laws of physics the folks at Dodge have pretty well taken care of the bigness when it comes to driving the Challenger. Yeah, it's no Miata, and maybe not even a Mustang, but there's a presence and seriousness to the fun that can't be denied, and the fun seems to start at the HEMI and then get transmitted through the rest of the car to your fingertips on the steering wheel. It's easy to forget what's under you when you pull away from a red light, though you're reminded plenty quickly, but it's also a car that's easy to drive around the city and would work fine as a daily driver if you can afford the fines. A cost of doing business?
It's also a pleasant car. The interfaces are thought out well and work logically. There's as much storage space as you should expect from a car in this class, and the back seat is usable as long as the people getting in and out don't mind looking like they're sneaking into or out of a basement window.
Optional equipment on Dodge's sample included the $3000 "Customer Preferred Package 23Y," which on top of stuff mentioned earlier includes perforated, heated and ventilated Shaker Nappa Leather-faced seats. The Technology Group ($250) adds rain-sensing wipers and automatic high beam control. For $595, the Driver Convenience Group added color keyed folding (manually) mirrors, the blind spot monitoring and rear cross-path detection, remote start, and garage door opener.
Then there's the Scat Pack Appearance Group ($695) which, as its name implies, is cosmetic stuff, and the optional higher end 8.4 inch Uconnect system, with navigation, comes with a $700 premium and it's probably well worth it.
That's a lot of stuff, though a lot of lucre as well, but at the end of the day when you drop your hard-earned $57,030 on the Challenger Scat Pack Shaker you're getting a loaded, up to date car that makes you feel like you did when you were lusting after it as a kid. Hard to argue with that!
Unless you're a writer who has to give it back to Dodge just as he's really starting to lust after it.
There's no justice.
Copyright 2016 Jim Bray
TechnoFile.com