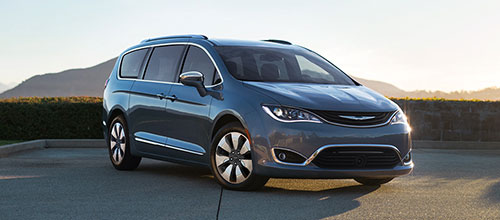 Chrysler Pacifica Hybrid hits the right notes except for some weird sounds
By Jim Bray
September 8, 2017
Minivans. These people haulers have been around for years and for a while were some of the most popular vehicles on North American roads. Then came the "crossover," a combination of car and SUV, and the minivan segment in which an abundant number of automakers had participated started dwindling down until today there's only a handful of models available.
Click on the image to open a slideshow.
One of the more interesting is from Chrysler, via its Pacifica - a name that once applied to one of the early crossovers, a seven seat people hauler that was more a long and a tad taller car than a minivan. I reviewed the first Pacifica back in 2007 and thought it was pretty neat - a decent carrier of people and not necessarily their stuff. But that Pacifica is long dead and the new one comes down firmly into the minivan segment - and it also offers what the company says is the first hybrid minivan on the market.
That's the version that Chrysler sent me to drive for a week, a model that starts at $56,495 CAD, which is surely not chicken feed. Granted, the Pacifica actually starts at $36,595, but that's still a bit of a premium compared to other minivans on the market. The Toyota Sienna, for example - according to Toyota's Canadian website - starts at $33,690 and tops out around $51,715, while the Honda Odyssey starts at $34,800 and tops out about $52,156 (also sans extras and taxes). Kia's Sedona make the gap even wider: a starting price of $27,995 that rises to about $46,995 with the top trim level.
Still, you get a lot of stuff for that, and I have to admit that the Pacifica, even in hybrid form, is a darn nice vehicle to drive ("for a minivan"). Sure, it feels big and, especially, long, but it drives far better than you might think a minivan should. That was what really spoke to me about the Pacifica: my wife and I took it along some foothills back roads and there were times when I very nearly forgot I was driving a boring minivan; it felt more like an interesting SUV.
You won't mistake the Pacifica for an SUV from the outside, however. It's unmistakably minivan shaped, with the usual sliding doors on the sides (powered, in this instance) and a basic shape that looks like a shuttlecraft from the starship Enterprise. This is probably the Pacifica's weakest point, beauty of course being in the eye of the key holder.  But to these eyes, minivans really look like the box they didn't come in.
So at least the Pacifica is consistent.
Inside the Pacifica is an interior that's quite nice. Chrysler's sample hybrid was loaded, of course (as it should be for an as-tested price of about $58,190) and that meant it's loaded with leather, comfort features, and technology. The seats - all seven of them (the sample had removable second row captain's chairs) are comfortable and more supportive than some bosses I've had. There's plenty of room (even the third row is pretty good and reasonably accessible) plenty of power outlets and USB ports, and lots of little hidey holes to keep your stuff.
We noticed some weird noises as we drove around in the Pacifica, noises over and above the weird wheezing you get from hybrids sometimes. They didn't really affect anything, nor were the noises unpleasant; they were just unusual.
Helping to achieve the Pacifica hybrid's reasonably compelling driving feel is a 3.6 litre Pentastar V6, which when combined with the hybrid stuff puts out a total of horsepower 260. Pacifica's independent rear suspension helps up the enjoyment quotient as well, and the van features an "eFlite electrically variable transmission (EVT)" that utilizes two electric motors, either of which can drive the wheels.
If you're looking to save gas money - even in a vehicle as aerodynamic as a cinder block - Chrysler claims the plug-in hybrid Pacifica gives an equivalent of 84 mpg in electric-only mode. I got nowhere near that - I never do, thanks to a habit of driving every vehicle as if it were a Cayman - but I did achieve what I thought was impressive fuel performance all things considered.
The battery pack is stored under the floor - maybe that's why there's no "stow and go" seat option on the hybrid - which means you don't lose storage space and the centre of gravity remains low. And if you're the type who insists on forcing your neighbours to help you buy your vehicle, Chrysler notes the Pacifica hybrid qualifies for a $7,500 federal tax credit - and may qualify for other neighbour extortions depending upon where you live.
The control layout is typically Chrysler, with audio system controls located on the back of the steering wheel, where paddle shifters could be, and there's a big but terribly busy colour LCD screen Uconnect infotainment system that works well, but which is also rather slow and clunky.
Middle row passengers can partake of swing up LCD screens mounted on the backs of the front seats, and the picture quality on them, fed from the dash-mounted Blu-ray player, is better than I had expected. I put on some of the first "Guardians of the Galaxy" (an excellent disc for auditioning video equipment) and was quite impressed. It's no 4K OLED, but I didn't expect it to be and, for what it is, it's more than adequate and very handy. It also features some built in games and you can connect your portable devices as well.
The optional Alpine audio system is very good, and the Pacifica read my NTFS-formatted audiophile USB drive without issue - unlike some higher end vehicles in which I've tried it.
The instrument and control layout is mostly good, though there were a couple of times when I nearly reached for the rotary shift knob rather than the volume control mounted above it.  I loved the huge panoramic sunroof as well, a $1,695 option, and the second row side window shades came in very handy when it was oppressively hot and sunny.

The plug in mode means the Pacifica hybrid comes with an electrical cord that's meant to run between the plug on the driver's side front fender and your electrical outlet. At my home, that meant I needed a decent length of extension cord running across my front lawn (where it would get in the way of the mowing duties I've so far managed to weasel out of) and I didn't like that one bit. On the other hand, this wouldn't be a big deal at all were I to own the Pacifica and keep it in my garage.
When not in use, the cord stows into a bin in the rear section, where you just may forget about it the next time you open the powered tailgate.  

Chrysler has put in the usual safety nannies, including park assist, adaptive cruise control, forward collision warning, lane departure warning blind spot monitoring, rear park assist with stop, backup camera, etc. 
I had heard that the Pacifica was a game changer in the minivan world - at least in how it drives - and I was pleased to find that it isn't just hype. It surely won't make me want to run out and buy a minivan - any minivan - but if you're the market segment at which the Pacifica is aimed, it's definitely worth a look when you're shopping.
Copyright 2017 Jim Bray
TechnoFile.com