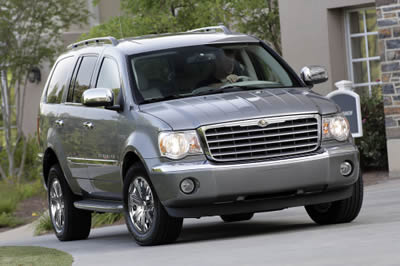 Chrysler's Aspen a Big, Brawny Hybrid
By Jim Bray
July 23, 2009
Is a HEMI hybrid an oxymoron or a pander to political correctness? And is the idea of any large SUV being a comparative gas sipper really feasible with today's technology?

Read on and I'll tell you about my week in the Chrysler Aspen Hybrid, a big and luxurious hauler. And while I don't think the approximately $8000 premium ($37,965 base vs. $46,120, though you get more standard equipment on the hybrid) it costs to get into a hybrid justifies the gas savings, the Aspen hybrid did save me some gas in my unscientific calculations: instead of costing an arm and a leg to fill it to merely cost an arm and a thigh.
Maybe you could say it brought a thigh of relief…
The Aspen is Chrysler's first "volume" hybrid (though if it was selling "volume" vehicles it might not be in its current condition), to be followed by the 2010 Dodge Ram 1500. Its Hybrid Electric Vehicle (HEV) system provides power from two electric motors and a 5.7 liter HEMI V8 (360 HP @ 5150 rpm and 390 lb-ft of torque at 4300 rpm) with its Multi-Displacement System (MDS) cylinder deactivation to save even more gas.
The hybrid also uses regenerative braking and features a " Low/High-Speed Electronically Variable Automatic transmission". The company claims the Aspen Hybrid will yield a nearly 40 per cent increase in city fuel economy and nearly 25 per cent better combined fuel economy based on their preliminary fuel economy estimates.
In real world practice I did save gas over the last 5.7 liter HEMI-equipped Chrysler I drove, the 2009 Ram 1500 Crew Cab Laramie – about $15 dollars over the week. Unfortunately, this wasn't an apple-to-apples comparison if only for the fact that I drove the Ram in the dead of winter – when it was really, really cold – and that undoubtedly sucked back more gas than my warm weather session with the Aspen.
I might have achieved more savings by driving the Aspen more gently, too, but I was born with a lead foot and I also wanted to see how it stacked up as a "real" vehicle in the "real" world.
In other words, I wanted to see how the Aspen Hybrid worked as an Aspen as much as a hybrid. It's okay. I liked a lot of things about it, but an overly floaty drive and some silly things left me wanting. There are other considerations to keep in mind when purchasing a hybrid vehicle, such as the cost of hybrid-specific Chrysler Aspen parts. Information can be found in a hybrid car guide and by doing some price comparison research online.
Overall, the Aspen is very smooth and comfortable, with seating "for eight" spread over three rows (buckets up front and two split/fold benches in back). The first two rows feature leather, the driver's seat comes with eight-way power adjustment (four-way for the front passenger), and driver's seat memory. The second row is a 40/20/40 "Fold-and-Tumble" bench that reclines, while those in steerage sit on a 60/40 split bench that, fortunately, also folds flat into the rear floor easily.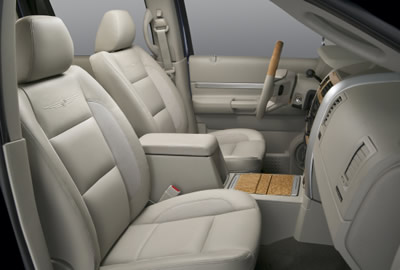 Getting into and out of the third row seats is relatively easy, thanks to a well-designed and easy-to-use way of folding the second row the heck out of the way.
It's a nice place to be, with classy-looking instrumentation that's clear and has nice chrome bezels around the gauges. I also liked the old fashioned analog clock atop the center stack and the wood accents, though I couldn't tell if they were real or from the PVC forests of Alberta's tar sands. Chrysler's website calls it wood, so I guess they just worked hard to make it look fake.
The audio system is awe-inspiring. Chrysler's "UCONNECT" includes a very fine head unit that handles AM/FM radio, DVD/CD/MP3 (which plays DVD-A discs) player and a 30 GB hard drive (includes Bluetooth with voice recognition for your cell phone) and SIRIUS Satellite Radio, all pumping out through a very good set of Alpine speakers. There's also GPS-based navigation.
This system really rocks, with excellent sound quality and a powerful amp that's matched well to the speakers. I loved it!
Well, I loved it until I tried one of my "desert island" DVD-Audio discs and it swallowed it normally (apparently), then refused to acknowledge it was there – not playing, not ejecting, not letting me get it out again. It finally disgorged it hours later and I was scared to try another disc until screwing up the courage again a few days later, at which time it worked just fine. Go figure.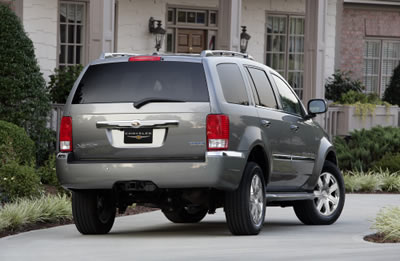 On the downside, the Aspen (despite being the size of a small town) has a tiny glove compartment suitable only for, well, gloves, and the rear wiper/washer control is a knob that's mounted on the right side of the center stack where it's out of the way of the driver. It's in much easier reach for the person riding shotgun, which seems kind of dumb. Maybe it's Chrysler's way of being inclusive, letting the passenger do some of the work as well as the driver…
I also hated where the B pillar is – right beside my head. I could see it with my peripheral vision and that felt claustrophobic in a BIG vehicle that otherwise has a very good greenhouse. The location also meant that if I needed to turn my head to check for traffic on onramps or in parking lots (the only times you really need to shoulder check if you adjust your mirrors properly), all I could see was the damn pillar unless I turned my head nearly backwards (a neat trick!) to look through the second row window.
The Aspen definitely wasn't my favorite vehicle to drive. It wasn't the size, but the way it felt. First, when you start the hybrid from a stopped position it lags for an instant – almost like turbo lag – though when it gets going the power is more than adequate (it is, after all, a HEMI!). This is undoubtedly the hybrid's habit of shutting things down when you're stopped and that's fine – but it seemed slower on the uptake than other hybrids I've driven.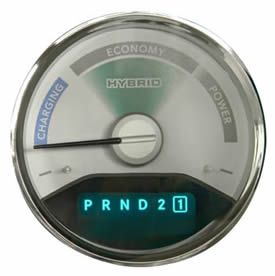 And its suspension is, well, nautical – like I would imagine it would feel to pilot an aircraft carrier. It's way too soft: when driving over joints in a road surface or frost heaves it would act like a bobble head - it was awful.
One thing that was cool was just how quiet the vehicle is overall – whisper quiet like most hybrids, but every so often (when you goose it!) you can hear the wonderful sound of the V8 HEMI coming through and life is once again worth living.
I also liked the power tailgate and automatic headlights, both of which should be standard on every vehicle with tailgates and/or headlights.
Safety equipment includes electronic stability control, electronic roll mitigation, front and side-curtain air bags, four-wheel disc brakes with ABS, and a security alarm. You also get a rear park assist system, which is very handy, and a backup camera is available. I'd have liked to see parking sensors up front, too, but what can you do?
The well-equipped Chrysler Aspen 4x4 HEV hybrid starts at $46,120 U.S./$55,995 Canadian.
Copyright 2009 Jim Bray
TechnoFile.com