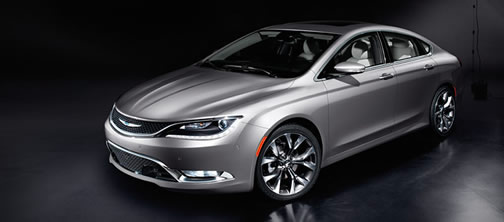 Chrysler 200 a nice step forward
By Jim Bray
January 22, 2015
The Chrysler 200 has taken a major step forward for 2015, from the relatively bland and uninteresting previous model. The new one is handsome, with an attractive and comfortable interior, and it's also pretty nice to drive.
(Click on the image to open a slideshow)
Oh, it isn't perfect, of course. For one thing, I wouldn't have minded a steering column that tilts down more than the current one, because no matter how hard I tried I couldn't find a perfect driving position, but that was really my biggest quibble. So overall Chrysler has done a pretty decent job with this mid-sized sedan
Chrysler says the 200 is meant to appeal to "mid-size sedan customers who have earned a little luxury in their life, but demand value for their money." They've pretty well nailed it, too, though since there are plenty of other great cars in this segment their work at carving out a sales juggernaut is definitely cut out for them. Still, they're off to a good start and only time will tell if the sales will reward Chrysler.
The 200 that Chrysler Canada sent features some pretty neat stuff including features shared with other Chryslers, such as the great remote start capability and automatic seat and steering wheel heaters. These are wonderful winter features, and you can configure the car so they come on automatically if you so desire (the sample came that way, which was handy). Also on the 200 is Chrysler's Uconnect multimedia system that interfaces either via voice (kind of…) or the central LCD screen to operate the usual navigation, audio, HVAC and the like. The screen's a tad busy but it's easy to use and works well. You can also control the audio system somewhat via redundant controls on the back of the steering wheel, just below the "half paddles" you can use to shift manually.
Chrysler makes two engines available for the 200; you can get either the 3.6 L Pentastar V6 that the churns out 295 hp and 262 pound feet of torque or the standard engine, a 2.4 liter Tigershark inline four that puts out 184 horses and 173 foot-pounds of torque. Both are mated to a nine speed automatic transmission, which ups the gear ante on just about everybody, and it's smooth and reasonably efficient. You control it via by a knob on the dashboard instead of the conventional lever and, while it feels weird at the beginning, it works fine – though I found it was mounted a tad close to the knob that operates the HVAC system's fan - which mean I kept turning up the fan when I was trying to shift into gear.
I wasn't a big fan of the manual mode, because the transmission didn't seem to care when I wanted it to shift, changing gears when it deigned rather than when I put the spurs to it. It's still better than not having a manual mode, however, because it does give you more control when you're going down hills or driving on lousy roads. It just isn't particularly sporty.
The suspension is really nice, surprisingly tight and sporty without rattling one's teeth. Not surprisingly, I found the car's "sport" mode - which modulates the steering, throttle and shifting inputs, electronic stability control, Adaptive Cruise Control Plus and all-wheel drive system - the most interesting. The all-wheel-drive system features what Chrysler describes as "a segment-first fully disconnecting rear axle that improves fuel economy by operating in front-wheel drive when all-wheel drive is not needed." While that description sounds like a whole bunch of AWD vehicles on the road today, Chrysler says its system features a one-speed power transfer unit (PTU) that disconnects and reconnects the rear axle – automatically and seamlessly – as needed, and at whatever speed you happen to be tooling along.  It must work because I never noticed a change, nor did I see the rear axle lying on the road behind the car after it was "disconnected."
What was bad, or at least annoying, was the feel of the brake pedal, which seemed more like I was stepping on a cinder block than a brake pedal – not a lot of give or feel to it at all. Brake performance as fine, though.
The car is comfortable and roomy, and the seats are comfortable and more supportive than some bosses I've had – though you won't want to put three people in the back unless you're trying to offload their friendship. That said, it's no worse than in many other cars. And there's a nifty center console pass-through between the front seats that offers a nice extra storage area (and it's reasonably sized, too).
One other thing that rubbed me the wrong way was how the smart lock/unlock feature only operated the driver's door. This might be programmable but I couldn't find such a setting when I went looking; perhaps the dealer can help. I also noticed that it often took three presses of the lock button to actually get the thing to lock. Oh, and when we parked it at the airport to pick up my Dad when he flew in for Christmas (and boy, were his arms tired!), the alarm was hooting and/or hollering when we came back to the parking garage. That could be a good thing if someone had tried to rip off the vehicle while we were in the terminal, but there were no signs of such an attempt, which made me put it down to Murphy's Law.
Naturally there's the usual bevy of safety systems as well, including the available Adaptive Cruise Control-Plus, Full-speed Forward Collision Warning-Plus, ParkSense Parallel/Perpendicular Park Assist, an electronic parking brake and of course stuff like electronic stability control, electronic roll mitigation, four-wheel anti-lock disc brakes, ParkSense rear backup sensors, ParkView rear backup camera, Blind-spot Monitoring, and Rear Cross Path Detection.
I was surprised by just how much I enjoyed my week with the 2015 Chrysler 200. Its previous version had left me quite underwhelmed and, while I still don't think this would be my final choice if I were shopping in this segment, the new version left me quite definitely "whelmed," at the very least. And I hadn't expected that.
The Chrysler 200 starts at about $19,500 Canadian. You can option it up to the top line version costing about $33,000.
Copyright 2015 Jim Bray
TechnoFile.com