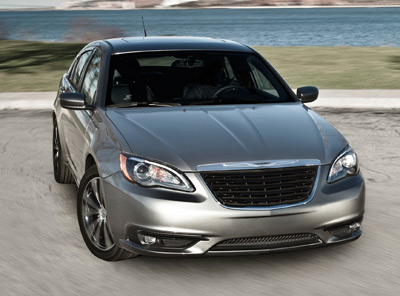 Chrysler 200 – Little Big Car
By Jim Bray
July 15, 2011
Chrysler's new 200 could be the perfect vehicle for Doctor Who, if the popular BBC sci-fi show character were ever to look for a conventional mode of transportation.
Why? Well, despite it being a rather conventional four door sedan it's similar to the Doctor's preferred method of transportation – the TARDIS – because it appears bigger on the inside than it is on the outside. Okay, that may be an optical illusion, but hop inside this midsize sedan and you're in a roomy cabin that feels even roomier than it is.
That isn't necessarily a good thing, but in this case it means you're in a comfortable and spacious cabin that's appointed very well – at least in the "Limited" trim level with which I got to spend time.
Alas, like the TARDIS, the front wheel drive 200 (the font for whose logo looks almost like "ZOO" if you look at it quickly), is also a vehicle that's capable of travelling through time as well as space. In this case, that means it takes you back to the days of land barges from past decades, via an ultra soft suspension that brings to mind the word "boat." It's too bad, because otherwise this is a pretty nice car to drive – and it does seem to offer very good value, even after you factor in the number of your tax dollars that went to supporting it.
Apparently springing from the ashes of the Sebring, the 200 is available in sedan or convertible form. From the side, it looks quite Sebring-ish, but the new front and rear ends are quite attractive and give the car a freshness it needed. And as mentioned, the interior is very nice, indeed, with plenty of luxurious touches that belie its reasonable price.
The 200 is no slouch when it comes to performance, offering plenty of power from the optional, newly-developed 3.6 liter Pentastar V6 engine with variable valve timing. It cranks out a healthy 283 horsepower and 260 lb.-ft. of torque, and is the standard power plant on the Limited trim level, though it's optional on the LX. Chrysler says the V6-equipped 200 will hit 60 mph in just shy of 6.5 seconds; it pulls very nicely, indeed, moving the car along efficiently and without fuss.
The standard engine is a 2.4 liter four cylinder engine rated at 173 horses and 166 lb.-ft. of torque. It's probably adequate, but I'm glad my test car had the V6, which is coupled to a smooth six speed automatic transmission with a side-to-side manual mode I never got comfortable using (I'm accustomed to front/back manual shifting) but which would probably be just fine over time. The setup could use paddles, however – though that might be difficult considering the audio controls Chrysler mounts on the back of the steering wheel near where paddles would go normally.
The four cylinder engine comes with a four speed automatic. Enough said about that.
You might think a car slung by a MacPherson strut front suspension and independent multilink rear, the stuff of many cars that are rewarding to drive, would result in a rewarding drive but, as mentioned, the 200 felt more like a small version of a Mississippi riverboat – not that I've actually piloted a Mississippi riverboat, mind you. But I can imagine what it might be like, because I've driven the 200, which rolls around corners and nods approvingly across frost heaves and pot holes in a manner that's more likely to put you to sleep than get your adrenaline pumping. Perhaps Chrysler should license that anti-sleepy driver technology Mercedes-Benz offers.
Not everyone likes sporty performance, of course, and if that's you, you may like the, well, gracious way the 200 rides along.
Braking is accomplished by four wheel discs with ABS etc. Pedal feel and brake performance is just fine.
The 200 handles okay, undoubtedly due at least in part to what Chrysler says are new bushings that provide less shake (and shaking is certainly something the 200 doesn't do a lot of), as well as lower ground clearance for more balance and a wider track for better steering precision.
Steering precision doesn't feel as precise as that hype would make it seem, however. It's okay, but for all its niceness and onboard niceties, the 200 doesn't come across as a car for carving apices – it's a cruiser, and a darn fine one at that – if that's all you want.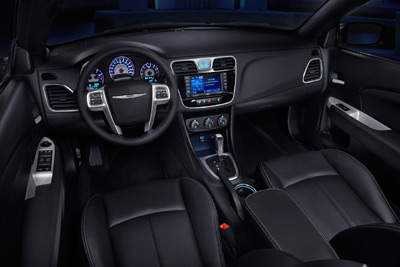 And as a cruiser, you may appreciate a very agreeably turned out cabin that on my Limited test car featured just about anything you could want short of a masseuse. The leather trimmed seats are heated up front, and the driver's seat features eight way power adjustment. The steering wheel tilts and telescopes and feels very good in the hands; the controls and instruments are all where they should be and they're attractive and legible. A nice touch is a classy-looking analog clock on the center stack.
The Boston Acoustics audio system of my test car was awesome. It also featured just about everything, including six speakers, CD/DVD/MP3 capability, a Garmin navigation system, 6.5 inch touch screen display, a 30 gig hard disc drive to dump your tunes onto, Bluetooth for your phone and streaming audio, and a USB input I used to bring a bunch of my own tunes into the car. The sound is very good, with plenty of power and punch. A year's worth of SIRIUS satellite radio was also included, which is always a nice feature.
If you don't want to play the tunes loud, you can enjoy a very quiet ride. Chrysler's engineers have done a good job with their sound deadening, creating a cabin that's serene, and one with little wind noise intruding to speak of.
My sample 200 also wore 18 inch polished aluminum wheels, premium fog lamps, bi-function halogen projector headlights and LED tail lights. There was also a tire pressure monitoring system, remote starting (which would be lovely in the winter), automatic headlights, keyless entry, cruise control and more.
The trunk is very large and enhanced by the rear seat's split/fold capability. You can also get a fold-flat front passenger seat for those times you just have to haul a load of 2x4's home from the lumber yard.
Naturally, you also get storage bins and cup holders, as well as a pair of 12 volt power outlets – those little things that used to be cigarette lighters.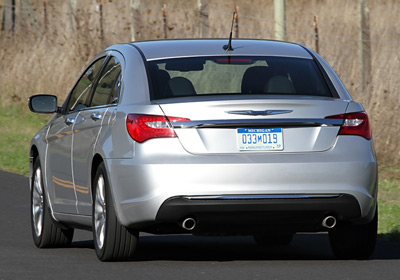 Safety equipment includes active head restraints, advanced multistage air bags for the front passengers, side air bags for passengers in both rows of seats, electronic stability control and traction control.
I missed having a sunroof, but one's available as an option.
The Chrysler 200 LX starts at $19,245 U.S./$17,995 Canadian. The 200 Limited starts at $23,945 U.S./$26,005 Canadian which, considering the amount of stuff on it, seems very good. There's also an "S" model in the U.S. ($26,240) that comes standard with some of the toys that are optional on other versions, though it doesn't appear to be any more sporty, so perhaps the "S" stands for "stuffed."
Despite my angst at actually driving the car – which obviously isn't aimed at me anyway – the Chrysler 200 is overall quite a nice vehicle. If this is Chrysler's new direction, they may be onto something here and I look forward to a 200 that adds driver involvement to the equation.
Copyright 2011 Jim Bray
TechnoFile.com