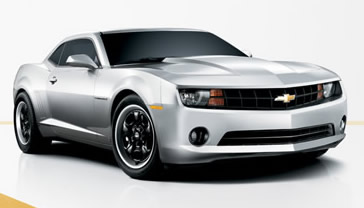 Chevy Camaro and Lexus HS 250h – Retro Meets 21st Century Green
By Jim Bray
January 7, 2010
You might say the duo of the reborn Chevy Camaro muscle car and Lexus' new hybrid luxury sedan are a case of "something old, something new, something borrowed, and something green."
The something old – the Camaro – is now something new, for better or for worse. The something new – the Lexus HS 250h – is also something green, since it's a hybrid. As for something borrowed, well they both lean on their respective companies' heritage to create new vehicles that will probably do well in their respective niches.
Of the two, I preferred the Lexus hands down. It's a comfortable small luxury sedan that just happens to be a hybrid, and a nice entry level, er, entry, into Toyota's high end stable.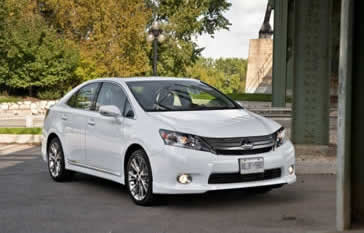 The Camaro is big and brawny and anything but subtle – and its fans will probably like that. Its charms were mostly lost on me, though, the Camaro striking me as a lame "me, too!" attempt by GM to become relevant again in the pony car market it abandoned to Ford several years ago.
Before the new Camaro came along Chrysler had also brought the retro Dodge Challenger back to fight the same pony car battle with Ford, with some success. GM chose not to go nearly as retro with the Camaro, however, which means its new challenger, er, contender is mostly modern, with just enough of what appears to be first generation Camaro DNA thrown in to make it interesting.
Camaro Redux began life as a concept car and, after spending a week in the final retail version it spawned, it seems like it's still a show car but translated to market without giving enough thought to how it would work in the real world. It looks good on the outside, but the inside is a mishmash of fuzzy thinking and design that's big on form and not on substance. For example, thanks to a very tight greenhouse, it felt like I was sitting in a tank turret when driving the car.
How tight? Well, just before returning the car I took it to an automatic car wash and it was all I could do to reach out through the window slit and punch in the wash code – and when I did manage to stick my head out I bashed it on the roof. That narrow greenhouse makes the cabin feel claustrophobic, too.
My test car was the V6 version in RS trim, the engine of which GM says is direct injected, displaces 3.6 liters and cranks out a healthy 304 hp while getting 29 mpg on the highway. A V8-powered SS model is also available, with two 6.2 liter power plants offering "up to 426 hp". That would have been interesting!
The six has plenty of power, though, and it sounds terrific.
You can choose your Camaro with either a six speed manual or a six speed automatic transmission. Manual transmissions are standard on both V6 and V8 models, but my test car had the Hydra-Matic six-speed automatic. It shifts fine, and it has a manual mode that can be controlled via paddles that are spitting images for the ones on the Logitech Driving Force GT racing wheel I use with my PlayStation 3.
Camaro's suspension is independent all around and while the car does like to go straight, it was reasonably nimble as well and quite pleasant to drive. It feels big, though, probably because it is.
Stopping power is just fine. GM has attached disc brakes to all four wheels and you can get Brembo four-piston calipers on the SS trim level. The rack and pinion steering offers no surprises, and feels fine. StabiliTrak electronic stability control is standard.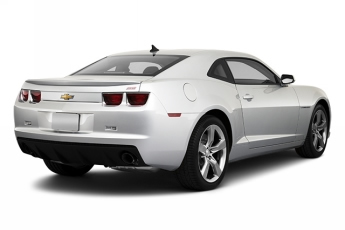 The rather busy interior features a steering wheel that's nice and thick, but very uncomfortable in the hands when they're at the nine-and-three-o'clock positions. That seems a mite dumb. Also dumb is a series of gauges GM has mounted on the center console, where they're blocked from view by your right arm when your hands are on the wheel.
The doors are heavy and that makes it hard to swing them open, a task also made more difficult than necessary by inside door handles that are too far forward.
The Boston Acoustics audio system works well, and is simple to master. It offers pretty good oomph, too.
When the low tire pressure warning came on during my test it took over the digital information display, pushing all other data – such as the gear you're in while in manual mode – out of the way. An illuminated strip on the inner door panel lights up at night, which is kind of cool, but it made me wonder about GM's priorities in equipping the car. Who cares about an illuminated trim strip if you can't see what gear you're in?
A dead pedal footrest isn't placed well, either. It's mounted deeply on the floor, too far away for my stubby little legs. Taller people – heck, average sized people! – may not mind it, though.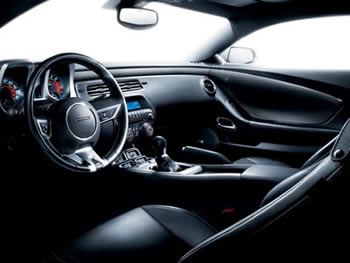 My Camaro wore 20 inch wheels with Pirelli 275/40 ZR20's on the rear wheels and 245/45 ZR20's up front. They were pretty cool.
The car is definitely cool even if I don't really get it. But it got lots of stares while I had it, mostly from guys, and nearly everyone I met wanted to talk about it. Considering the demographics of those who lusted after it, though, I'd have to call this Camaro a "midlife crisis car".
And as such, GM will probably sell quite a few. The Camaro puts GM back in the game. It isn't nearly as compelling as the Mustang (I haven't driven the Challenger), but at least there's a Camaro again for those who missed it. It's just too bad it's filled with such fuzzy thinking.
The Camaro starts at $22,680 U.S./$26,995 Canadian.
Little Lexus
The Lexus HS 250h, on the other hand, is a very pleasant experience. Perhaps It's the smallest sedan in Lexus livery, and the company's first four banger. And it's supposedly green; not only does its hybrid powerplant supposedly sip gas, but Lexus says 30% of its interior trim and trunk use sustainable ecological plastics.
I can feel the smug emissions already.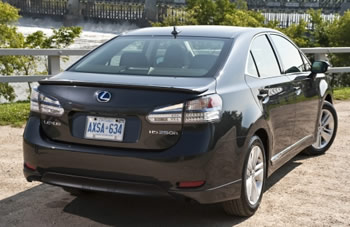 That said, the HS is a nice little sedan and I found myself liking it more and more as I drove it. While the idea of owning a hybrid sends shivers up my politically incorrect spine, by the time I took the little Lexus home after my time with it I was warming up to it in quite a big way.  
Its looks are more than a tad vanilla, but on the other hand it's so ordinary that it blends right into its surroundings.
Exciting? Hardly. Luxurious, solid and undoubtedly reliable, this is a car that would be pleasant to own, and will probably serve its customers loyally over the long term. It's competent and refined and drives without fuss, about what you'd expect. There's nothing wrong with that. And since it's a hybrid it's very, very quiet as well, so make sure you play the stereo loud enough to warn pedestrians that your bearing down on them.
The HS uses a twin cam Atkinson-cycle engine that, when coupled to the electric stuff, equals an output of up to 187 "total system horsepower," which is plenty for this car. It's no rocket, nor is it slow when you want to prod it into action. It also meets federal Tier 2 Bin 3 exhaust emission standards, "emitting 70 per cent fewer smog-forming emissions than the average new car; it is also augmented by a new system that reduces evaporative emissions to near zero", according to Lexus.
To make the driving either a little more or a little less interesting, depending on your bent, there are four driving modes: Normal, Power, Eco and EV, with the car behaving accordingly for those with green in their blood or those with lead feet.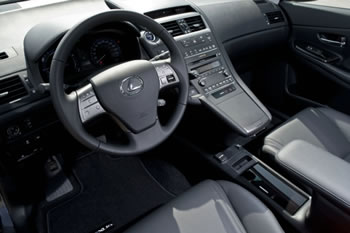 HS gets decent handling from a MacPherson strut front suspension with stabilizer bar and a double-wishbone rear suspension. All four wheels have disc brakes with ABS, of course.
The standard audio system includes voice recognition, Bluetooth, satellite radio, USB/iPod connectivity and steering wheel-mounted controls. It's a pretty good system, too.
You also get dual-zone automatic climate control; keyless entry with smart key and push-button start, a power sunroof.
Safety-related stuff, beyond the usual bags and belts, include LED brake lamps, Vehicle Stability Control (VSC), Traction Control (TRAC), Hill-start Assist Control (HAC), and more.
My test model didn't come with the "mouse-like" Remote Touch feature, which would fall to hand nicely on a bizarrely protruding section of the center stack but which, when you don't have Remote Touch, leaves only the bizarrely protruding section into which they've added a small storage compartment. I thought it looked weird.
The typically Lexus gauges are attractive and efficient, and the controls are logical and placed near at hand.
In all, a nice entry level luxury car. And all this can be yours for a starting price of  $34,200 U.S./$39,900 Canadian.
Copyright 2009 Jim Bray
TechnoFile.com