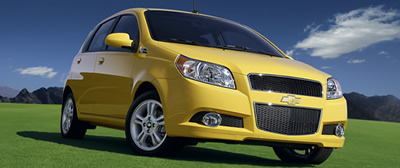 Chevy Aveo Like a Happy Puppy
By Jim Bray
May 9, 2009
The 2009 Chevy Aveo is a good little commuter car, suited perfectly for trips around town. It's small, pleasant to drive and be in, and seems as easy to please as a new puppy.
Take it out on the highway and you may not like it as much, though.
Ironically, GM calls the bright amber paint of my test car "Highway Yellow" – though considering its highway performance it may have been referring to "yellow" as in "chicken" as opposed to referencing the shade itself.
Regardless, this is a nifty little car and, while I didn't fall for it as much as I did the Honda Fit and Hyundai Accent, it's about as much fun to drive as a low-powered econobox shackled to an automatic transmission can be.
That's meant as a compliment, by the way.
For 2009, Aveo features new looks inside and out and it's nearly as cute as a bug's ear. I keep comparing it with the Hyundai Accent in looks, purpose and feel, and it stacks up well, though the Accent is more attractive to my eyes.
My Aveo5 was a five door hatchback – a little wagon, really – and it has plenty of room for hauling people and things. I don't think you'd want to put a third person in the back seat, but unless your passengers include NBA or NFL players four should fit into the Aveo well. A four door sedan is also available.
Aveo gets whatever oomph it offers from a more powerful 1.6 liter Gen 3 Ecotec four banger, which GM says delivers "more usable horsepower with the same great fuel efficiency." The engine comes with variable valve timing and oozes 106 hp and 105 lb.-ft. onto the road.
The bad news about such a low end power/torque rating (though to be fair, it is competitive in this segment) is that it takes a while to get up to highway speeds – and if you want to pass you'd better do your planning before pulling out into the other lane. The upside is that, since there's little torque, there's little torque steer when you start up and once you're up to speed, the car zips along very nicely and is actually quite a bit of fun to drive.
Minimizing the fun was my test car's four speed automatic transmission (with "hold control" Mode GM says lets you shift gears manually. Kind of.). The transmission works well, but the standard five speed manual would undoubtedly have done a better job – or at least a more rewarding one. On the other hand, if you're stuck in rush hour traffic an automatic can be easier on the left foot…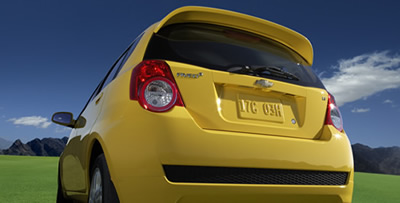 A manual shifter might have also enhanced the highway driving experience. I took a few trips toward the Rocky mountains and every time the Aveo came to a rolling foothill it slowed appreciably, and didn't want to downshift until I really booted the gas.
And while heading east on a main highway strong winds would buffet the car quite seriously and I noticed on one occasion an odd, whistling noise from the area of the windshield. Not only that, but when I was passed by a semi the little Aveo got pulled along like an IndyCar on a super speedway – which, if nothing else, was good for my gas mileage.
Speaking of windshields (how's that for a segue?), the windshield washers are built right into the wiper arms, so they spray and clean as they move across the windshield – a nice feature and one that does a really good job of cleaning the glass. Aveo also features variable intermittent wipers up front and there's a wiper/washer on the rear glass of the wagon.
Aveo is slung by MacPherson struts up front, with coil springs and a stabilizer bar, with an independent, torsion beam axle-mount compound link-type rear suspension with gas-charged shocks. Standard equipment includes power-assisted front disc and rear drum brakes with a four-channel ABS system.
GM says 15 inch, five spoke aluminum wheels are standard on the Aveo sedan LT and available on the LS (including Aveo5). Fourteen inch steel wheels with bolt-on wheel covers are standard on LS, while 2LT models get new 15-inch wheels and wheel covers.
The cabin is surprisingly civilized for an entry level vehicle. The doors open nice and wide to make getting in and out easy (watch for door dings, though!) and the driver's seat is comfortable, though a lack of lateral support means you may think you're about to be tossed out the side window on tight on/off ramps.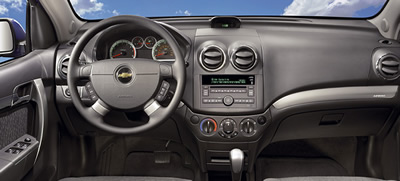 The power-assisted rack and pinion steering feels just right and the steering wheel tilts, though I wish it telescoped as well because by the time I had my feet and butt at the perfect driving position the wheel was a bit of a long reach away. It wasn't a big deal, though.
My LT trim level test car also featured power mirrors and door locks. The windows are power-operated as well, though there's no "one touch down" feature; my test unit also came with a power-operated tilt/slide sunroof – always a nice feature.
Instruments are clear and well laid out and include an "enhanced driver information center" that can track gas mileage, oil life, etc.
The audio system is better than I expected and my test unit came with satellite radio activated and I loved its interface and display, which made finding and using the plethora of programming choices easy. The display, for example, rotates channel, artist and title and it's long enough to be readable at a glance, usually.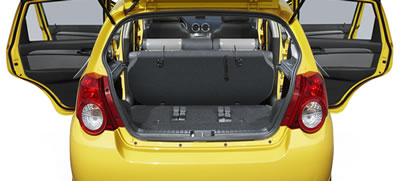 Lower the wagon's 60/40 split/fold/flip rear seat (the sedan's rear seat doesn't flip) and you get a surprising amount of storage space. I hauled a complete 5.1 audio system, including satellite speakers, subwoofer and electronics, and had room to spare.
Other new and/or enhanced features for 2009 include:
Oil Life monitoring system
OnStar standard on all models
Three new exterior colors: Black Granite Metallic, Blue Moon and Tahiti Green
Interior trim revisions, including available Charcoal leatherette
New spoiler for Aveo5
Enhanced ergonomic controls and features
Standard safety equipment includes advanced dual stage front air bags and seat-mounted side-impact air bags to provide additional head and thorax protection.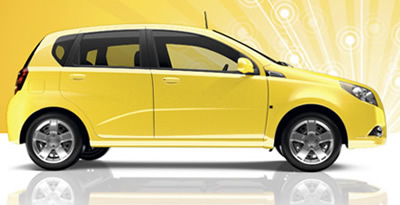 I didn't expect to enjoy the Aveo as much as I did. It's built well, has a surprising number of features, plenty of room, and is about as much fun to drive as a car with this amount of power can be. In all, a nice entry level car.
The Chevy Aveo starts at $12,625 U.S./$13,770 Canadian. You can option it up from there.
Copyright 2009 Jim Bray
TechnoFile.com