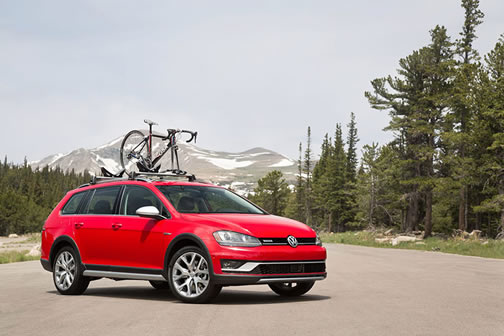 Volkswagen and Subaru drive off with Canadian Car of the Year honours
By Jim Bray
February 17, 2017
The best new car and utility vehicles in Canada for 2017 come from Germany and Japan and, while one is considered a car, both could be considered utility vehicles as well.
That's because the Canadian Car of the Year (CCOTY) overall winner, the Volkswagen Golf Alltrack, is not only a great car in its own right, it's also what once would have been known in these parts as a station wagon, a family-and-hauling-friendly vehicle that blends the best of both worlds while never forgetting that at heart, it's a Golf - which is a very good thing indeed.
The other side of the Car of the Year coin is Utility Vehicle of the Year, which for 2017 has gone to the Subaru Forester, which just happens to be my favourite Subaru year after year (though I must admit liked earlier ones better).
Still to be awarded is the Green Car of the Year, which will be named at the end of March - just as Canada is turning green again after a long winter. Somehow I don't think those greens are related…
The Golf Alltrack initially won the "best new large car" category, which I thought odd since the Golf is hardly a large car. It beat out a couple of Kia Optima models, a couple of Chevy Malibus and the Toyota Prius for the honours and then it faced stiff competition for the overall CCOTY award from a car I thought would win (and which took a twofer in the categories of best small and best sport/performance car): the Hyundai Elantra which, ironically, was designed by a team headed by a guy who used to design for the Volkswagen group.
I don't think I've called a Car of the Year winner correctly yet, so at least I'm consistent.
The Golf also beat out such higher end cars as the new Genesis G90, Mercedes-Benz E Class, the BMW M2 and Porsche 911. Not bad for a "family car."
Not surprisingly, the "Volksfolks" were thrilled. "We are honored that the Automobile Journalists Association of Canada found the Golf Alltrack so appealing," said Hinrich J. Woebcken, CEO of the North American Region, Volkswagen, at the reveal of the award in the Centre of the Universe (a.k.a Toronto). "The Golf Alltrack was designed to offer an affordable yet upscale alternative to other all-wheel-drive wagons, and we're heartened by the reception in North America from customers and automotive enthusiasts alike."
The Golf Alltrack is new for 2017 and sports a starting price of $25,850 CAD. Besides being a wagon, it also offers more ground clearance than the garden variety Golf, standard 4Motion all-wheel drive and some exterior styling cues. It uses Volkswagen's lovely 1.8-liter TSI turbocharged and direct-injected four-cylinder engine rated at 170 horsepower and 199 pound-feet of torque, and you can get it with either a six-speed DSG dual-clutch automatic transmission or a six-speed manual transmission.
I prefer the Golf SportWagen 4Motion because it's less utility and more "sport" (its suspension isn't raised, for example), but the Alltrack is a lovely car anyway, kind of a VW take on the - wait for it! - Subaru Forester!
Well, maybe not the Forester, which is taller and larger and feels more "utility," but it would go head to head with the Outback, which first came to prominence when Paul Hogan flogged it as the world's first "sport utility wagon" back when we'd still heard of Paul Hogan.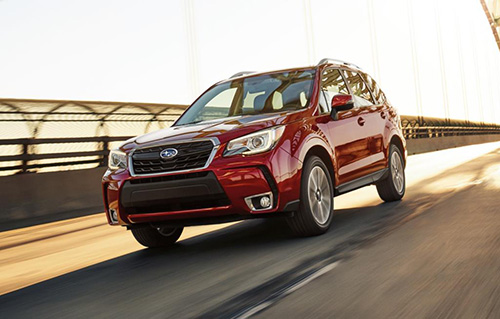 But that makes for a reasonable segue to the Forester, which beat out such worthy competitors as the Kia Sportage, Maserati Levante S, Mercedes-Benz GLC, Chrysler Pacifica, and (my choice for winner - which continues my prognostication losing streak…) the Mazda CX-9.
"Subaru Canada is thrilled that the Forester has been selected as the 2017 Canadian Utility Vehicle of the Year,'" said Shiro Ohta, chairman, president and CEO of Subaru Canada. "It is an honour that AJAC and its members recognize Subaru's continued commitment to improvements in safety, performance and convenience."
The Forester starts at just shy of $26,000 CAD, and you can get it with a six speed manual or - which would be a deal breaker for me - a continuously variable automatic. There are also engine choices ranging from a 2.5 litre four to a two litre turbocharged four.
There's an added facet to the utility vehicle testing: besides driving them on public roads and a handling course, we also take the utility vehicles to a reasonably challenging off road course. It probably won't impress serious off roaders, but since most people don't take their utility vehicles off the road much it probably offered a better challenge than most of the vehicles are likely to see in real life.
And I remember the Forester handling that course as if it were flat asphalt. Well, maybe not quite that good, but its off road performance was very good.
The awards come after scores of automobile writers converged on Canadian Tire Motorsports Park (nee Mosport) late last October for a nearly week-long TestFest during which we put all the entries through their paces. The short drives (usually 30 to 45 minutes) really only give us a first impression of vehicles we hadn't driven before already (which in my case, since I don't live in central Canada, was most of them) but since we drive all vehicles in a particular category back to back we do at least get a pretty decent apples-to-apples comparison.
There's another component, too: the objective measured tests. This is where a team of people competent in such things (maybe that's why I never get asked…) go over the vehicles with a fine tooth technological comb, comparing the nuts and bolts and specs of each. Those results are combined with our subjective tests to come up with the final tally.
Vehicles are divided into their categories by type, size, and the use for which they're intended. Each category winner then competes in a second round of voting for the overall title of Canadian Car of the Year, Canadian Truck or Utility Vehicle of the Year, Canadian Green Car of the Year, and Canadian Green Utility Vehicle of the Year. There are also a couple of technical awards, which this year went to Mazda's G-Vectoring Control and Volvo's Pilot Assist II.  
The awards are open to passenger vehicles that are new or significantly updated for 2017.
"TestFest is the most intensive new-vehicle evaluation process on the planet," said Gary Grant, co-chair of the Canadian Car of the Year committee. "No other organization employs such stringent testing methods to determine its award winners."
Justin Pritchard, co-chair of the Canadian Car of the Year committee, noted that "this testing process generated 1,384 test drives, producing over 100,000 data points and 1,058 category ballots. It's important to note that every aspect of this testing data is shared online via our website, so shoppers can see how any given vehicle won its category, or how it stacked up to the category winner."
Each of us participants drives the categories we're assigned, then can expand to others. I usually sign up for vehicles that probably won't reach Calgary on their national press tours, which means I'm often going for the high end performance stuff, which lets me access the track, before heading back down to earth. It's a great few days of driving and you come away with a reasonable perspective of the current automotive marketplace.
Congratulations to Volkswagen and Subaru for driving off with 2017's titles!
Copyright 2017 Jim Bray
TechnoFile.com