Canadian Car of the Year TestFest discovers the best of the best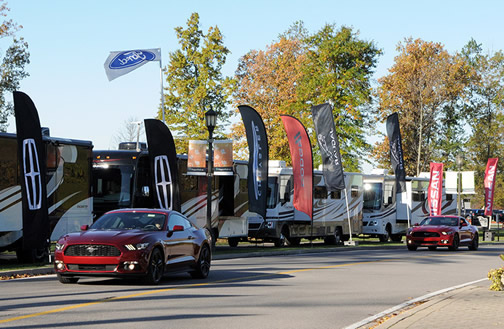 By Jim Bray
October 30, 2014
NIAGARA FALLS, ONTARIO - They came from Canada, the United States, Europe, Japan and South Korea, all duking it out for the titles of the 2015 Canadian Car, Truck and SUV/CUV of the Year. Some 49 worthies showed up and strutted their best new stuff before an assembled multitude of Automobile Journalists Association of Canada members who were there to put them through their paces.
Click here or on the image to open a slideshow in a new tab)
Well, that may overstate things. We put them through their paces as much as we could when there are half a hundred entries and we have to drive as many of them as we can over TestFest's few days. I managed to drive 42 cars, trucks and SUV/Crossovers, and in that time all you can really get is a reasonable first impression. Think of it like a series of short test drives similar to what you'd get at a dealer, except that TestFest also has a more scientific part to it as well, where all the vehicles are put through a series of measured tests. That objective data is put into a blender with all of our subjective opinions, of which there's an abundance, and the results will be tabulated by KMPG so the 15 individual category winners can be announced on December 2, with the overall winners proclaimed at Toronto's "Centre of the Universe" auto show next February.
I had nothing to do with the measured testing , which is probably just as well, but as one of the folks rating the rides subjectively I was tasked with driving each vehicle in each assigned category back to back.  I managed to complete 10 categories in all, and drove as many vehicles in the others as I could pry my prodigious posterior into during the time allotted. AJAC said 1,640 test drives in total were conducted at TestFest, generating approximately 106,405 data points.  Our deliberations cover 21 separate parameters including acceleration, braking, vehicle dynamics, maneuverability - even off-road capability, where it applies. We rate each parameter on a 0 – 10 rating scale.
This "back to back" driving rule helps ensure apples-to-apples comparisons of vehicles. For example, in Silly Car - sorry, City Car - there were only two entries (Kia Soul and Smart ForTwo) and for my votes to qualify I had to drive them both, one after the other. Usually this isn't a big deal, but with the City Car it was a challenge because we'd keep running down their batteries! These cars weren't designed for such abuse as we heaped on them - okay, it wasn't really abuse, it was just more continuous use than they were designed to handle.
Of those two cars, I was surprised a just what a nice drive the Kia was. It was basically a Soul with an electric motor and a weird paint job. As for the Smart, well I haven't driven one since its first generation, but I hated that car back then and - you have to admire consistency - I hated this one just as much. It has great outward visibility, but it's awful to drive and its short wheelbase seems to make every road irregularity feel as if it's double the trouble it really is.
On the other hand, I've talked to a few Smart owners (as opposed smart owners?) over the years and they uniformly told me they loved the car, so what do I know?
Our "real world" driving was mostly over public roads, at the posted legal speed limits - enforced by police waiting to pounce. My favored route took me across awfully bumpy city streets, smooth (but slow, alas) parkway and a bit of multi-lane divided freeway. It was a good way to get a first impression of how the vehicles behave in the real world. There was also a handling course set up on a large parking lot that let us wring the vehicles out in a limited way (we got to screech a few tires!) and for the more performance-oriented vehicles a road was shut down for our purposes (thank you!) which gave us a chance to open the cars up a bit on a loosely winding couple of kilometres that also had a couple of chicanes put in it to test the cars' - and our - abilities.
I started there, because one of my assigned categories was "Prestige/Performance over $75K" and that included the mighty Porsche 911 Turbo S (one of my dream cars), the heart-stoppingly beautiful Jaguar F-Type R coupe, Corvette Singray convertible and BMW M4. Regular readers of my rants know I should probably buy a drool bucket when I talk about Porsches, and it should come as no surprise that I loved my first experience with this particular iteration of the 911. But that Jag! There is no more beautiful car available on earth today (and maybe ever) and the car has the performance to back up its pretty skin and lush interior.
And while if I had my druthers I'd probably opt for the Porsche because I've always wanted one - and it isn't as if I'd be slumming! - that magnificent Jag is nearly $100,000 cheaper than the Porsche ($127,950 vs. $216,430 "as tested"). For that price difference, you could buy the sexiest vehicle made today, and for "practicality" augment it with a nice, albeit "lower end" Cayenne for practically the same money.
Or maybe a high end Macan instead of the Cayenne. TestFest gave me my first chance to drive Porsche's new "Cayenne Junior" - undoubtedly to no one's surprise - I loved it! It looks, inside and out, like a small Cayenne (which to me is a good thing) and it drives like one, too. I think it's a winner and predict Porsche will sell as many as they can make.
Those are only a few of the vehicles with which I had brief encounters (even though I wear boxers) and there isn't space to talk about them all. So here are some notes I made of my time behind the many steering wheels. These aren't necessarily my favorite cars, just ones I thought merited a mention for one reason or another:
Mercedes S Class Coupe: A beautiful iteration of the big sedan, with the biggest widescreen navigation screen I've seen. Alas, its lane departure prevention system actually steers the car back toward the lane and applies the brakes, swerving you back - either toward the ditch or, I assume, toward the oncoming lane. It's really obtrusive and annoying and I hated it. Of course all these lane departure systems rub me the wrong way, but this was the worst because it actually takes some of the car control out of your hands and feet.
Mercedes C Class: a lovely exterior marred by an interior I didn't like as much as the CLA's that I experienced this past summer. And they've added a touchpad-type of cursor control thing right over the conventional COMAND knob. Don't rest your hand on the pad when using the COMAND knob or you're likely to change radio stations or do something else you don't intend to. To be fair, I'd like to try this system for a longer test, but from my first impression it was more annoying that useful.
That's one of the downsides of only getting a first impression with these test drives; you could jump to a wrong - or at least only partially informed - decision. Take last year. I named the new Toyota Corolla my biggest disappointment of the competition, mostly because it had been inflicted with a CVT transmission. Then, a couple of months later, I spent a week with the car and loved it, despite the damn CVT.
Kia K900: Ah, the HCMS Kia. A very nice and handsome car inside and out, but it's a boat, even in sport mode. I drove its brother, the Hyundai Genesis as well and despite how much I dumped on it in an earlier review, I thought it drove much nicer than the KIA.
Toyota Camry: a great car, but one that never has been considered as much more than plain vanilla. The new exterior, however, is dynamite (though my jury's still out about its grille) and the new XSE trim level is even quite sporty and fun to drive - with paddle shifters. A Camry!   
Honda Fit versus Nissan Micra: I've owned both Honda and Nissan (well, Datsun) products and am a fan of both companies' cars. Lately, however, I've leaned toward Hondas as the more interesting and, yes, fun cars. But Nissan, like Toyota, must be looking over its corporate shoulder at the upstarts from South Korea, and perhaps Honda hasn't yet figured it out. Don't get me wrong; Hondas are terrific cars, but between the new Fit and the Micra I had to give the nod to the Nissan - mostly for its easier to fathom interior interfaces; the Fit offers a big touch screen that should be child's play to use but isn't.
This phenomenon was repeated when I drove the Honda CR-V back to back with the Nissan Rogue. I've never really been a fan of the Rogue and I've always liked the CR-V, but after my quick first sessions in both, I preferred the Rogue. They're the same basic vehicles in function and features, but the Rogue was nicer, as in more fun and pleasant, to drive.
Kia Forte 5: as a fan of wagons, I really liked this new version of Kia's "hot hatch." It's more wagon  than hatchback and, even though it isn't particularly hot, it's a real looker and a very nice car. I've become a big fan of Kias, which offer really nice interiors, easy interfaces and good value for money. Like stablemate Hyundai, their engines can be a bit buzzy but you get a lot for your dollars and, especially in Kia's case, it's wrapped up in attractive packages. Guess the company made a good decision when it hired Audi's former designer a few years ago. Still, if I were looking for a Forte 5 I'd also check out the exquisite Mazda3, which was all new last year (and won its category).
Kia Forte Koup: a colleague pointed out that KIA is also an acronym for "killed in action," referring to the fact that this nice little car was competing against the BMW M235i, Ford Mustang EcoBoost, VW Golf GTI and Subaru WRX STI for "Best Sports/Performance under $50K). Not to minimize the Kia, which I really liked (nice manual transmission, too!), but I have a feeling it'll come in last in this category. It's not really a "sports/performance" car, but rather a fun and sporty two door coupe.
My choice in that category? Hands down, the GTI, which in this case was fitted with the dual clutch DSG auto/manual that has a real manual mode. That means the BMW will probably win.
Ford Mustang: I drove both the GT, with its V8, and the turbo four EcoBoost and thought this new version is a worthy heir to the pony car lineage. The GT's more fun, obviously, but I was gob smacked by just how fun and capable the EcoBoost was. It felt like a V6 - though I might change that opinion after I actually drive the V6 Mustang.
Acura TLX: I loved the original TSX - it was a car I would have considered buying - but the second generation was heavier, less attractive and less fun and left me mostly cold. And the last generation TL was a horrible car to look at but probably very nice overall (I never drove it). Honda/Acura have now put the old pieces of both cars into a blender and come up with a single model, the TLX. It looks great on the outside and is a very nice car to be in and to drive, but I thought the interior looked a tad low rent - in a very un-Acura-like way. I still liked the TLX a lot, though.
Acura RLX Hybrid: I liked the RLX already, but noticed that this hybrid SH-AWD (Super Handling All Wheel Drive) version did really well on the handling course, turning tighter than it had any right to. Nice car and if you just have to have a hybrid you could certainly do worse.  
Dodge Challenger: What can you say about 707 horses and a supercharged V8? I've never been a Challenger fan, but this "SRT Hellcat" model is - well, you can imagine what happens when you tromp on the gas! Better have a good lawyer on hand if you own this baby!
Cadillac ELR: GM can't give Chevy Volts away, so they've made an even more expensive version to ignore! It looks, inside and outside, better than the Volt and it drives well. When I got into it there was zero per cent electricity left, leaving it in gas-only mode, which kind of defeats the purpose - but as with my City Car comments, it was because all of us were using it in such quick succession it never had a chance to catch up.
Another journalist remarked that there's an $8000 credit from the Ontario government to help cajole folks into buying these so-called green cars. When I responded that I'm not comfortable forcing my neighbors to subsidize my vanity purchase whether they wanted to or not, he looked at me as if I had just landed from Mars.
Chevy Corvette Stingray convertible: Fast, equipped well, and iconic. But still as gaudy and "in your face" as the hard top I drove at TestFest last year. Is that why some people like it?
Lincoln MKC: a very nice little SUV and the 2.3 litre EcoBoost four offers more than adequate poop. Unlike the Mercedes GLA 250 4Matic, which is very nice, but needs more oomph.
Mercedes-Benz GLA AMG: They sent ones that were black, with big spoilers off the roof at the tailgate that really made this vehicle stand out. It looks like it could be the next Batmobile! I'm not sure why anyone would buy this "super SUV," but it's sure cool! 
So which of these will become the Canadian Car, SUV and/or Truck of the Year? Judging from my record at such predictions, you might as well stop reading now. But if I were Emperor of all Things Automotive, and considering I didn't quite drive every vehicle competing, I have it coming out this way:
Car of the Year: Jaguar F-Type Coupe. Gorgeous in and out, great  sound and the return of a legend. An important car in the overall scheme of things. Watch the Mustang win.
CUV/SUV of the Year: Porsche Macan. What a surprise, eh?
Pickup Truck of the Year: Ford F-150, if only for its innovative use of aluminum to reduce weight.
All of which means I've probably just given all of these vehicles the kiss of death.
Copyright 2014 Jim Bray
TechnoFile.com