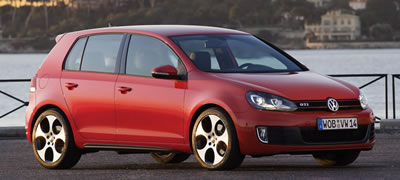 Volkswagen, Subaru Snag Canadian Car of the Year Awards
By Jim Bray
February 17, 2010
VW's hot Golf and Subaru's "Sport Utility Wagon" have been named Canada's top new vehicles for 2010.
The Canadian Car of the Year (CCOTY) awards were handed out by the Automobile Journalists Association of Canada (AJAC) at the opening of the Canadian International Auto Show in Toronto last week.
The GTI beat nine other "Best" category winners that were decided upon at the annual Canadian Car of the Year TestFest last October – plus, of course, all the vehicles that didn't win each of those categories.
In its own category (Best  New Sports/Performance Car Under $50K), the GTI took on and wrestled to the ground the new Chevy Camaro, Ford Taurus SHO, Hyundai Genesis coupe, Mazdaspeed 3 and Mitsubishi Lancer Sportback Ralliart.  
The sixth generation GTI is a favorite of others in the automotive media as well. Car and Driver magazine, for example, named the sported up Golf as one of its 10 Best Cars for 2010, proclaiming it as "Relatively inexpensive and supremely practical yet…an immensely entertaining vehicle that's as happy meandering around mall parking lots as it is being flogged along a great back road."  In other words, it does pretty well at everything a car should.
VW's GTI seems to snag these honors regularly, a testament to its enduring design and execution.
The Subaru Outback, winner of the Canadian Utility Vehicle of the Year award, beat out the Chevrolet Equinox and the Toyota Venza in its initial category of "Best New SUV/CUV Under $35K". It also beat out much more expensive units including the Audi Q5, Volkswagen Touareg TDI Clean Diesel, Lexus RX 450h, Mercedes-Benz GLK350 4MATIC, Acura MDX and Audi Q7 TDI.
AJAC's TestFest entries are judged on a combination of specifications that are measured objectively along with subjective evaluations by some 70 journalists who attended and voted based on actually driving the vehicles, back-to-back (in each category), on the same roads and under the same conditions on the same day.
The subjective test sessions saw each journalist take each vehicle through real world driving sessions on public roads much, I'm sure, to the chagrin of the local folk. Many vehicles were also tossed around airport runways and taxiways that had been converted to a track for the purpose. Voting covered the drivers' impressions of each vehicle based on issues such as Styling/Appearance, Interior Quality, Occupant Environment, Driver Position & Ergonomics, Visibility, Roominess/Comfort/Access, vehicle dynamics and more. 
As you can undoubtedly imagine, TestFest was a hoot – er, very hard work.
In reality, it was both a hoot and hard work – the week was quite intense, but getting to drive all of those vehicles back to back to back was also a lot of fun, even if we did have to slog through mud for a good part of it, thanks to "Person Nature" opening up the skies.
Three other awards were announced in Toronto: Best New Technology, Best New Green Technology (the latter being a reference to the environment and not the maturity of the technology itself) and Best New Design.
The Best New Technology Award went to Audi's Drive Select which, according to Audi, " Integrates the technical components that determine the quality of the driving experience – the engine, transmission, steering (optional), shock absorbers (optional) and the sport differential (optional). Drivers can adjust the characteristics of these systems at any time to suit their personal preferences."
They do this via a control on the center console with which the driver can select from "comfort, auto or dynamic" to tweak the driving experience from, as Audi puts it, "Outstandingly comfortable to intensely sporty" depending on the driver's preferences.
Best New Green Technology was awarded to Ford's Next Generation Hybrid System and Smartgauge, technology that's available on the 2010 Fusion Hybrid. Smartgauge features color liquid crystal displays on either side of the speedometer, and you can configure them to show a variety of "things green", including fuel and battery power levels, average and instant miles-per-gallon – and even growing leaves and vines that track and reward your efficiency.
I don't know about you, but the last thing I want is to have a computer deciding whether or not I deserve to be rewarded…
But it does look cool.
And Best New Design went to the BMW 335d sedan, the diesel version of BMW's popular 3 series, an award given to what AJAC describes as the vehicle thatexhibits the best balance of form and function.
The 335d features a TwinPower Turbo DOHC I-6 24 diesel whose horsepower is rated at 265 @ 4200 rpm, which is less than you get from the 335i (300 hp). Its torque, however, is an intoxicating  425 ft.-lb. @ a very low 1,750 (compared with the 335i's 300), yet it gets a combined city/highway gas mileage rating of nearly 32 mpg.  Needless to say, the 3 diesel is a blast to drive – just like the rest of the 3's.
All of these vehicles are worthy of their awards, though my personal favorite for Canadian Car of the Year was the Porsche Panamera. Its premium price probably worked against it, but Porsche's first four door car is a spectacular vehicle. Faster than it has any right to be, especially in the Turbo version I got to drive, it's also very luxurious and bigger than you might expect given Porsche's other cars. It's quite a risk for the company, too, especially in this economy.
Final balloting gave the Panamera fourth place in the overall Canadian Car of the Year tally, behind the GTI, Golf Wagon TDI and the BMW 335d sedan. Shows how much I know!
And while the Outback is a very nice vehicle as well, my favorite of the vehicles I drove in the SUV/CUV segment was the VW Touareg TDI, which came in second. Big, comfortable and with Volkswagen's usual terrific interior and interfaces, its clean diesel power plant also delivers a decent 18 city, 25 highway mileage – and its 406 ft.-lb. of torque is very impressive.
That doesn't mean I'd toss an Outback out back, of course! It is also a fine vehicle – and I look forward to getting some quality seat time in it as soon as possible, at which time I'll report back to you.
Bankruptcies, government takeovers and controversial recalls aside, this is an excellent time to buy a vehicle. There are so many great cars, trucks and SUV/CUV's today that it's tough to find a lousy one – though not impossible (I remember well my week in the smart fortwo!). Add to the excellence of the available inventory the fact that dealers are hungry and you have the perfect buying opportunity for consumers.
Assuming they have jobs…
Copyright 2010 Jim Bray
TechnoFile.com