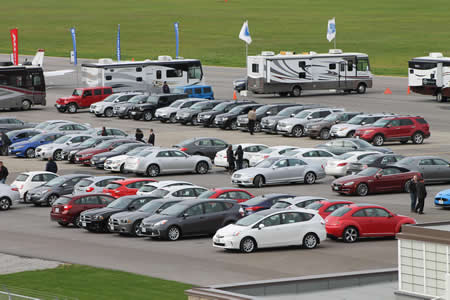 Koreans Rule at Canadian Car of the Year TestFest
By Jim Bray
November 3, 2011
If anyone still dismisses Korean carmakers Hyundai and KIA as not worthy of note, the results of the recently-concluded Canadian Car of the Year (CCOTY) TestFest may help change a few minds.
The reason? The two companies drove off with five out of 11 category titles, a tour de force that shows these companies have not only arrived, they can compete with the best from anywhere in the world in their particular market niches.
The Canadian Car of the Year TestFest is an annual event held in Niagara-on-the-Lake Ontario, a town near Niagara Falls where the Automobile Journalists Association of Canada members gather to wring out the latest and greatest – as in new or substantially changed from the previous model year – from the major carmakers. Cars are driven on routes that take them along a freeway and various interesting country roads that give us a nice feel for what they're like.
We also take them onto the Niagara District airport, which AJAC basically takes over for most of the week (much, I'm sure, to the chagrin of the pilots who make the place their home). There, we put them through a handling track set up with cones – the most fun part of the "chore" – that offers sweeping, high speed curves, acceleration areas, slaloms, very tight curves, etc.
SUV/CUV's are tested the same way, substituting the track for an off-road portion that, while short, was bumpy and extremely muddy, getting progressively more muddy as TestFest progressed, aided by Person Nature's inflicting of rain on the area.
This year there were 56 entries from Europe, North America, Japan and Korea, running the gamut from entry level to prestige cars. Each journalist is assigned three categories to review and must drive each of the entries in that category back to back (to ensure "apples to apples" comparisons) before moving on to the next one. We also have to drive each of the category winners – which are announced on the Friday morning (October 28th, in this case) – so we can then vote on our overall choice from the category winners for the overall Canadian Car of the Year, which will be announced in February at the "Center of the Universe" auto show in Toronto.
Okay, I made up that name.
Once I'd finished my assignment, which involved two SUV/CUV categories and the prestige cars (a real burden, let me assure you!), I was free to drive as many of the other entries as I could get my seat into.
I ended up driving 49 of the 56, which basically only gives time for a first impression, but it's a reasonably good first impression.
The ballots were broken down into such parameters as styling/appearance, overall quality, ergonomics, noise vibration and harshness, performance, safety features and the like. There's also objective testing whose results are also factored in. Our voting was on a scale of one to 10  and the whole shebang was audited by folk from KPMG and kept secret until the Friday morning press conference.
Here's a list of the category winners as announced at the press conference:
BEST NEW SMALL CAR (under $21k):   Hyundai Accent

BEST NEW SMALL CAR (over $21k):   Hyundai Elantra

BEST NEW FAMILY CAR (under $30k):  Kia Optima
BEST NEW FAMILY CAR (over $30k):  Kia Optima Hybrid

BEST NEW LUXURY CAR:  Mercedes-Benz C-Class C350 4MATIC Sedan

BEST NEW PRESTIGE CAR (over $75k):  Mercedes-Benz S-Class S350 BlueTEC 4MATIC

BEST NEW SPORTS/PERFORMANCE CAR (under $50k):   Hyundai Veloster

BEST NEW SPORTS/PERFORMANCE CAR (over $50k):   BMW 1 Series M Coupé
BEST NEW SUV/CUV (under $35k):  Dodge Journey

BEST NEW SUV/CUV ($35k-$60k):  Volkswagen Touareg TDI Clean Diesel

BEST NEW SUV/CUV (over $60k):  BMW X3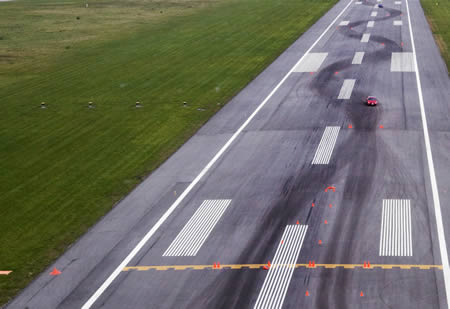 That's a pretty interesting cross section of vehicles by any measure, and I agreed with most of the choices. I would have chosen the VW Jetta GLI instead of the rather odd Veloster, and I preferred Jaguar's awesome XKR – S over the prestige class-winning M-B S-Class S350 BlueTEC 4MATIC, but such is life. Surprisingly, the 550 horsepower Jaguar actually came in dead last in the Prestige category, despite all the buzz I heard about the snarling beast from others who drove it.
The Hyundai Accent beat out such worthy competitors as the Honda Civic Sedan and Fiat 500, while the Elantra edged out the Subaru Impreza and Ford Focus hatchback – the latter of which I thought was a little more fun to drive. I'm glad the Elantra won, however; I agree that it was the best overall in this category.
The KIA Optima's success didn't surprise me, either. I drove the turbocharged SX a few months ago and so far it's going to be named my overall car of the year. The more basic model and the hybrid that took their respective categories are just as nice to be in, though obviously not as powerful and/or interesting to drive as the SX.  
Speaking of hybrids, with the possible exception of such staples as the Toyota Prius (whose "wagon-like" V version lost to the Optima hybrid) and the Honda Insight (which wasn't entered this year), carmakers are now making hybrids that don't suck all the joy out of the drive. The KIA and its Hyundai Sonata hybrid counterpart are good examples of this, as is the Infiniti M35h that competed for Best New Luxury car. The Infiniti finished in the bottom half of its category, but I doubt that was because of its hybrid experience. More likely, it's because of the incessant nannies that make the car seem as if it's fighting you at times.
Exploring Southern Ontario…
To facilitate my attendance at TestFest, Ford of Canada was kind enough to lend me an Explorer Limited to get me from Ottawa to Niagara-on-the-Lake and back again. It was my third session behind the wheel of an Explorer and was a good choice for the trip.
The Explorer is bigger than I like, but my loaded example gave me a chance to spend some more quality time with the MyFord Touch system I've dumped on in the past for buggy performance. No, it doesn't make the Explorer drive as if it's a buggy, but there appeared to be glitches in the system in a couple of Fords I drove earlier this year.
This time, however, the voice/touchscreen/cursor control system worked flawlessly and, while I still have issues with the voice recognition system, it was a much more pleasant experience overall this time around.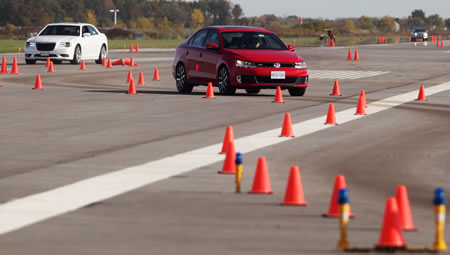 Not only that, but a Ford representative at TestFest told me there's a software upgrade coming for the MyFord Touch system that should address the issues. I hope so, because the idea behind MyFord Touch is great.
I also used the Explorer's radar-equipped adaptive cruise control extensively while on the highway, and it was a wonderful feature that also worked really well. You can set it to keep the Explorer at a preprogrammed distance from the vehicle in front, from "tailgating" (okay, I'm exaggerating) to "let's leave a big hole for other drivers to pull into in front of me" (which Ford says is "up to 600 feet").
On the freeway, especially when it goes through the major metropolitan area surrounding Toronto, I found that the setting that keeps you closest to the vehicle you're following worked the best. It was a good compromise, leaving a safe space ahead of you while not keeping you so far behind that everyone and his dog pulls in front of you. And if everyone and/or his dog does pull in front of you, the Explorer slows down to facilitate it.
It's very cool. And I noticed it would slow me down farther behind a semi trailer than it would a family sedan going the same speed, or so it seemed, anyway. That's good, because you really should stay farther behind a big truck – so far behind, in fact, that you can see the truck's side-mounted mirrors, because that ensures the truck driver can see you as well.
The system not only slows you down by easing off the accelerator, it will also apply the brakes if necessary. And if some whacko pulls right in front of you and jams on the brake (which happened at least three times while navigating the center of the universe) and the system decides that it needs prompt action from you to help prevent a rear ender, a line of red LED's atop the dashboard lights up and the vehicle hoots and hollers at you to wake you up. It works very well.
A couple of times, it seemed as if the terrain affected the system's performance – when going up a curving hill, for example, it appeared to confuse the road itself with a non-existent vehicle ahead, but it wasn't a big deal by any means. In fact, it's an excellent system I'd like to have on my own vehicle.
My loaner also had Ford's self-parking system, which works well and is very cool – though if you can't even parallel park what the heck are you doing with a driver's license?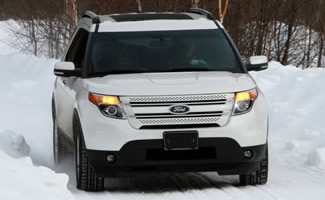 All this technology makes me wonder how long it will be before the vehicle can do all the driving for you.
The Explorer that competed at TestFest did a fine job on the off-road course, too, its "mud" setting coming in extremely handy there. In fact, I thought it – and the Range Rover Evoque, which appears to have the same system – were the best of the category in that department.
The sample Ford lent me was a very pleasant place to make the long-distance drives between TestFest and my Dad's home in Ottawa, and I had plenty of opportunity to take advantage of its Bluetooth audio streaming capability to access my own tunes – and even listen to my home town radio station thousands of miles away (via an app on my smart phone) when my football team was playing. It worked great, and was very handy.
The Explorer also had audio/video connections galore, and the USB kept my phone charged while I drove.
I'd love to see a V6 EcoBoost option (a four cylinder version is available), but my sample's 3.5 liter V6's "estimated 290 horsepower and 255 lb.-ft. of torque" (coupled with a smoothly shifting six speed automatic transmission) proved more than adequate for my purposes, offering plenty of poop for passing when I needed it, while delivering reasonable gas mileage for this type of vehicle.
So that's TestFest for the 2012 model year – and kudos to all the winners for their outstanding performance. Some of the categories' vote tallies were extremely close, so even though there have to be winners and losers in such a competition, it's obvious that there's an abundance of excellent 2012 model year vehicles that should provide owners with years of faithful service.
Which ones will be chosen overall Canadian Car and SUV/CUV of the Year? I have no idea, but if I were to place a bet, I'd put my money on the Hyundai Elantra and the Volkswagen Touareg TDI. Of course I've been wrong before.
Still, all this quality iron proves once again that this is a great time to be a car consumer, and a car nut!
Copyright 2011 Jim Bray
TechnoFile.com