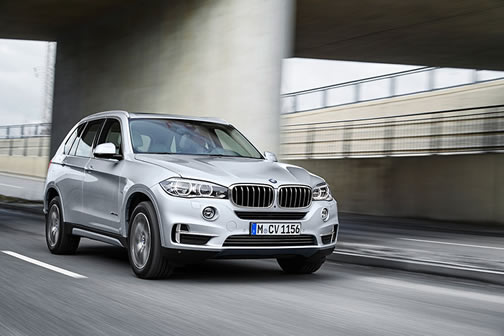 'Electric-ish' BMW X5 is a fine ride that could save you some premium fuel
By Jim Bray
February 23, 2018
BMW's first SUV - though they refer to it as an SAV - has been given the plug-in hybrid treatment and the result is a large utility (er, Activity, in BMW-speak) vehicle that might even save you some gas money.
Click on the image to open a slideshow.
The X5 xDrive40e is the first plug-in hybrid production model from BMW's core lineup. Starting at an estimated MSRP of $74,950 CAD, before options, it's a darn fine vehicle and equipped well even at that trim level (it's a premium vehicle, after all). And BMW seems to be listening to some of the folks who've whined about its interfaces in recent years. That would include me, who has muttered maledictions about the iDrive system, the complexity of merely storing a radio station preset and the annoying folly of having to pull door handles twice to get out of the vehicle and the start/stop button twice to get the thing to actually shut down.
I had none of those issues this time, though I still don't care for the iDrive interface - and I did have to pull the door handle twice from the back seat (once to unlock it and once to actually open it which, in this case, may be to keep the kids from zipping away from you when you park).
Sounds like numerous niggling little nits are making my praise rather niggardly, doesn't it? And you're right. But when you add them all up they become, at least to me, a deal breaker - and that's a shame because I've never reviewed a BMW that wasn't a blast to drive, including this new "electric" X5.
It's similar to how I feel about most current Honda and Lexus vehicles (among others). Hondas are great vehicles and they're usually fun to drive, but between the addition of continuously variable transmissions and nannies/interfaces that are enough to make me tear out what hair I have left, I couldn't buy a current Honda - yet over the years I've loved the brand (I even owned a Civic once and loved it). With Lexus, it's the damn trackpad or mouse-like thing that annoys me so much it would cause me to have second thoughts about putting my own lucre down, despite how much I like the vehicles overall.
I think part of the reason for this is that today's vehicles have become so darn complex, with maximum connectivity and safety features, that it's a challenge making them usable to ordinary humans. Add to that government-mandated fuel mileage figures that lead to such abominations as CVT's and the downsizing from V8's to turbo sixes and "normally aspirated" sixes to turbo fours.
So despite my whining, I'm actually quite amazed at how well the manufacturers do under tough competitive and legislative circumstances. And I must give credit to companies for putting redundant controls on the steering wheel, as well as adding voice recognition to the mix (when it works). These help, but nothing beats simplicity.
But I digress.
Despite these challenges and issues, I always look forward to driving a BMW - any BMW. Truly, the company's catchphrase of "the ultimate driving machine" is no more hype than Mazda's "Zoom-Zoom" or "Porsche - there is no substitute" are, and that means the process of sliding one's butt into the driver's seat of a BMW is a prelude to a very entertaining experience.
The X5 40e is no different, and having that electric stuff attached to the lovely turbo four means you could save some gas money (premium gas money, of course) and that's nothing at which to sniff as long as you remember the fiscal premium such hybrids generally extract up front.
The SAV combines BMW's award-winning two liter Twin Power Turbo four-cylinder engine with an electric motor that's powered by a lithium-ion battery (hopefully not the type that has caught fire in the past, elsewhere…) and all the goodness that comes from the power plants gets to the road via BMW's eight-speed automatic transmission.
BMW says this X5 can go approximately 21 kilometres on electric power alone, which could make it ideal for short commutes and/or quick trips around town. On the other hand, I had the vehicle during a particular cold and snowy part of the Calgary winter and (though I didn't actually measure it) that usually affects the range of an electric vehicle. Not a big deal here, because it's a plug in hybrid and not a true electric car, so when you run out of juice there's dinosaur residue in the fuel tank to keep you going in style.
Together, the gas/electric combination puts a total of 308 horsepower and 332 lb.-ft. of torque onto the road (the gas engine alone is rated at 241 hp and 258 lb.-ft. of peak torque), and BMW claims that'll propel the X5 xDrive40e from 0-100 km/h in a pretty quick 6.5 seconds. And while I may "complain" about the turbo four as compared to BMW's inline six or V8's (let's face it, I love oomph…), the lack of a couple of cylinders doesn't spoil the broth in this instance. You do get a bit of turbo lag off the top, but between the engine's inherent, award-winning goodness and the electrical stuff sprouting from it you can keep up with - or pass - most of what you'd want to. And with that great BMW feel.
As one would expect in a vehicle such as this, the hybrid X5 features the company's intelligent all-wheel drive system, which they say provides "optimal stability and traction under all circumstances and road conditions". I'm not sure I'd agree with that completely, because the roads were basically rutted sheets of ice during my review period and the X5 did display a tendency to slide a bit when pressed.
I actually consider that a feature and not a bug (to rip off a comment from T. E. Lawrence, of Lawrence of Arabia fame, "the trick is not minding that it slides") and the vehicle never came close to freaking out either me or my passengers. Not that I didn't try! So full marks for its stability.
The traction control was a tad obtrusive - or, at least, quicker on the draw than I like - on the icy roads we were shackled with, but it wasn't anything untoward, and it was no worse than the system in the sexy little sports wagon I drove the week following. The ABS didn't seem like it was on such a hair trigger, though, which was nice.
The eight speed transmission is a good one, and BMW's sample also had paddles that came in really handy on the slippery roads, where a manual mode (or manual transmission) is a better choice for more control. It didn't shift with the alacrity of something like Porsche's PDK dual clutch, not that much does, but it's plenty good enough for most driving conditions.
The X5 also comes with a Driving Dynamics Control switch on the centre console, and you can partake of COMFORT, SPORT and ECO PRO modes, each of which affects the throttle, steering characteristics, and the performance of the eight-speed Steptronic tranny. The ECO PRO setting is for people not looking for the Ultimate Drive, but it works fine. 
The brake pedal feels a tad mushy, which is common with hybrids that use braking to regenerate the battery pack, but it's not nearly as bad in the X5 as it is in some other hybrids I've driven.
To charge the electric stuff (other than when you're driving) you get a cable that stows in a little bin in the dual-hinging hatch. At my place, that meant I'd have to use a long extension cord for it to be any use because it was parked on the street in front of my house; if it were garaged, this undoubtedly wouldn't be an issue as long as you have electric power there.
That hatch is weird. The top part opens traditionally, with power open/close as well, but there's a small bottom section that opens like a truck's tailgate. I don't understand the rationale behind that, but it's at most a minor annoyance and it may even help you slide heavy things into the hatch.
The seats are very comfortable up front and even the rear is more than acceptable and has adequate headroom if you're not too tall (this isn't something I worry about, since my legs barely reach the ground when I'm standing). You get plenty of power adjustments for the front seats and they're also heated/cooled. There's a separate rear seat climate control panel back in Steerage, too, which could cut down on whining from back there.
Naturally, a premium vehicle such as this coddles you nicely, with leather all over the place and BMW's sample came with plenty of extras, including panoramic sunroof and:
The Premium Package ($6,300 CAD), which gives you stuff like a universal remote control (I should've remembered to try it with my home theatre..), "comfort access", soft closing doors, sunshades for the rear seat passengers, lumbar support, heated rear seats, active blind spot detection, surround view, park assist, a handy head's up display (including speed limit info), satellite radio and a rockin' Harman/Kardon audio system. 
The sample also had the $4,000 M Sport Line package. That added stuff like 20 inch M Light Alloy Wheels, Performance Run Flat Tires, the shift paddles, M Sport Package, cool-looking roof rails, Oak trim, an aerodynamics package, and more. 
If you want the connectivity package the sample also had (and which should be standard in 2018), it'll set you back another $750 loonies. For that, you get Apple CarPlay Preparation, Wireless Charging with Extended Bluetooth and USB, Wi-Fi Hotspot etc.. BMW's sample also had the $2,500 LED lighting package of adaptive LED headlights, LED fog lights and high beam assistant.
Add it all up and BMW's sample Alpine White X5 40e tips the fiscal scale at $88,500 not including the usual kilos of flesh dealers and governments are prone to inflict. A similarly-configured (as far as I could figure it from BMW's Canadian website), 300 hp X5 35i (inline six) will set you back about $85,764 and the V8 version starts at $80,050 before options.
None of those prices are chicken feed, but this is a BMW after all, and it isn't overpriced compared to its competition. And as is often - dare I say usually - the case, you pay a premium for the hybrid stuff so you can save the world and reduce your carbon footprint (or move some of it to the power generating stations). In some jurisdictions, your government might allow you to force your friends and/or neighbours to help pay for your vehicle via government subsidies, which could take some of the sting out of the purchase. And you can be proud that you've served the purposes of your green overlords.
However you cut it, or finance it, the X5 is a darn fine vehicle - even as a plug-in hybrid.
Copyright 2018 Jim Bray
TechnoFile.com
Jim Bray is a member of the Automobile Journalists Association of Canada. His columns are available through the TechnoFile Syndicate.