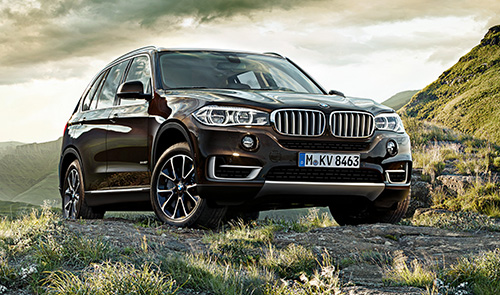 New BMW X5 actively sports its utility
By Jim Bray
March 20, 2014
What BMW calls the world's first Sport Activity Vehicle is back with a third generation model the company says sets the standard for luxury, versatility and driving dynamics yet again.
(Click here or on the image to open a slideshow in a new window)
If not for the SAV designation, however, you'd be hard pressed to see how the new X5 is different from a garden variety SUV (Sport Utility Vehicle). Perhaps it's in what the owners do with the vehicle - take it to some exotic hiking or biking location, for example, as opposed to just stuffing it with groceries or kids' hockey equipment. I'd bet most owners do the more mundane stuff, too, even if they like to do active things with it as well. And why not?
As Star Trek's Spock has been said to have said: "A difference that makes no difference is no difference." Or as Shakespeare wrote: "What's in a name?" So whether it's an SAV or an SUV doesn't really matter, the rose smells just as sweet. What does matter is whether or not the X5 does its job as a vehicle well, and whether or not it does its job as a BMW - the supposedly ultimate driving machine - well.
Fortunately, the answer to both questions is "yes." The X5 gets you and your stuff around well, and it does so while feeling every inch the BMW. For better and for worse.
The 2014 X5 features a bolder grille than the previous version, and of course there are other exterior and interior tweaks to keep it looking fresher than the ex-X5, and overall it works. It's always been a rather statuesque SAV (or whatever it's called) and that hasn't changed. Yet it looks contemporary, even to the funny but classy-looking illuminated interior trim on the doors and dashboard you can get with the Lighting package.
Speaking of lights, X5's now come standard with LED front fog lamps and adaptive xenon headlights, and you can order adaptive LED headlights if you so desire. 
Under the hood, there's a choice of three engines including a diesel. The gas engines consist of a twin turbo three liter inline 6 and a 4.4 liter V8 that puts out a healthy 445 horses with a torque rating of 479 lb.-ft.. BMW Canada's test sample had the inline six, the same engine that was in the 435i I drove a few weeks earlier, and it's a peach: 300 and 300 horsepower/torque and almost nonexistent turbo lag.
Thanks to those pesky laws of physics, the turbo six doesn't move the bigger and heavier X5 with quite the same alacrity it does the 4 series, even though BMW says the X5's curb weight is down by about 170 pounds from the last version. That said, I didn't pine for more poop from the power plant. Sure, the V8 is probably more interesting and rewarding everywhere except the gas pump, but it isn't as if you're slumming with the six.
Canadian spec X5's feature BMW"s xDrive "intelligent all-wheel drive" (a rear drive version is available elsewhere) and it's an excellent system that splits the power between the front and rear wheels continuously, using the information its robot brain gathers about road and speeds, steering angle and accelerator position to (according to BMW), "accurately interpret both the driver's intentions and what the vehicle is actually doing, and then apportions power front-to-rear in order to get as much power as possible to the road." In other words, it can read your mind! How's that for high tech?
It seems to work; we had some pretty icy roads during my time with BMW Canada's sample X5 x35i and the "SU/AV" (hey, BMW should market its "Suave-ness!") was nothing if not both interesting, enjoyable and secure. Interesting and enjoyable because it drives like a BMW and secure because it didn't mind the ice or the ruts or the snow, none of which caused it - and therefore us - a whit of discontent.
Getting the power to the wheels of BMW's M Sport-trimmed sample was a nice eight speed "sport automatic" transmission with paddles. The "Prius-like" console-mounted shifter looks and feels a bit strange, but you get used to it quickly and the whole shebang works fine. And using the paddles takes most of the angst out of the near-joystick shift lever.
That M Sport mien also includes stuff like the "M-aerodynamic body kit, Shadowline trim, high-gloss roof rails and 19-inch M-Double Spoke light alloy wheels." If 19 inches still lets you get into the vehicle without standing on a box, you can order 20 inch M-Double Spoke wheels with mixed-sized performance run flat tires. The interior includes an "M-sport steering wheel, anthracite headliner, M foot rest and door sills, Aluminum Hexagonal trim and sport seats."
As you might expect, the X5's suspension leans toward sporty driving styles, even in its comfort mode setting. The Adaptive M suspension that's part of the M Sport package features SPORT and SPORT+ modes that make the vehicle ever more interesting to drive, yet never stiff enough to be sports car jarring.  You can also get a Dynamic Handling Package that combines stuff like Dynamic Damper Control, an automatic rear self-leveling suspension, Dynamic Performance Control, and Active Roll Stabilization. It didn't do much to stabilize the roll around my middle, but it isn't very active anyway.
The interior is all BMW, and that's where BMW and I part company. Well, not the whole interior. Heck, the seats, instruments, levers (sans tranny selector) and the like are all fine, but BMW has issues with how it executes its interfaces. The iDrive knob-like thingy works, and isn't any different in concept from many such units in many cars from many brands, but BMW's continues to rub me the wrong way. Now, I refuse to crack the manual in a review vehicle because I believe the major functions should be straightforward enough not to require a trip to the book. This means I struggle with BMW's.
Some of this stuff can be reprogrammed, either by yourself or by the dealer, but the default settings seem almost as if designed to ensure that BMW-philes suffer for their Ultimate Driving art. This time, for example, I saved some radio stations into the preset buttons on the center stack but, since they're a bit of a reach for me there, I also wanted them accessible by the closer to hand iDrive knob. Except they weren't stored there; I had to store them separately in the iDrive system - i.e. twice! What's with that?
That said, I found the X5's head's up display to be handy and not too obtrusive, and I don't usually like such displays. Maybe I'll get used to them yet.
The front seats are comfortable and classy; the back seat is pretty good, too, and you can stuff in a third person reasonably well. BMW says the front seats are new and "ensure a high level of long-distance comfort and impressive lateral support." We didn't go on a long trip, but the thought doesn't fill me with fear, either. And BMW has mounted the outside mirrors low enough that they don't block view forward/side/pedestrians, which is always nice to, er, see.  
The second row splits/folds 40/20/40 and the X5 even has a two-section powered tailgate in which the lower section can be folded down to form a single level with the load surface.
Nannies can include a new Active Driving Assistant package (with Lane Departure Warning and a pedestrian and collision warning system with braking function) that gives visual and audible warnings and even fires up the brakes if the driver is tooling along oblivious to the conditions. Warnings include a little vibration through the steering wheel, which is still annoying but which beats ones that actively tug at the wheel.
There's also a rear-view camera and a neat Surround View system that gives a 360 degree view of the vehicle and its surroundings, almost as if a camera were hanging in space above it. BMW's sample also had a blind spot detection system in which a little warning sign lights up inside the outside mirrors.
I didn't try the standard BMW apps because I can wait till I get out of the car to update my Facebook profile and if I want to listen to internet radio or do stuff like that, I can stream it from my phone's apps thanks to its and the X5's Bluetooth capability. But there's a lot of capability here that perhaps you shouldn't use lest you spend more time worrying about who's Tweeting what than on who's slamming into whom in front of you. But that's just me.
App angst aside, the BMW X5 is a very SUAV vehicle, and this new version really does have a lot going for it. It's roomy and great to drive - and Sport mode makes for an even more entertaining time behind the nice, thick, heated steering wheel that feels wonderful in hands.  
Immediate competition? Porsche Cayenne, Audi Q7, Mercedes-Benz ML and even the VW Touareg, if you configure it right. That's pretty heady competition, and the X5 is fully capable of going head to head with any of them.
The X5 xDrive 35i starts at $62,990. The M Sport line adds four grand and you can option it up to the nines with a variety of packages offering everything from the driver aids and apps to the special lighting and even third row seating. You can even get a 1200 watt, 16 channel Bang and Olufsen sound system for $4,900 (it sounds great, but $4,900?). Adding all this stuff will bring the price up to about $81,500. That's a lot of lucre, but you do get a lot of neat stuff!
Copyright 2014 Jim Bray
TechnoFile.com