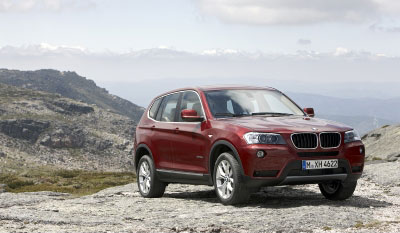 BMW X3 – a vehicle that sports activity
By Jim Bray
February 28, 2013
"Joy is a journey that has no end." So proclaims BMW's Canadian website when you surf over to where the X3 resides on it.
This might come as a surprise to those whose joy comes from staying put someplace, or those who've driven with a back seat driver – but it's a pretty good car nut sentiment. Nevertheless, as nice as an X3 may be, my idea of a vehicle in which to experience the joy of an endless journey is slung a tad lower and probably has an engine in the middle or the back.
That isn't the X3's mandate or manner, of course, and marketing language should always be taken with a huge grain of salt. Heck, BMW doesn't even use the word "Utility" to describe what otherwise would clearly be an SUV. Instead, the X3 is a "Sport Activity Vehicle" so I guess if you dare fold down that back seat and put groceries in it you'd better watch out of the police. Putting an inflatable raft or a kayak in there's probably okay, though.
Language police issues aside, my test SAV was a Sparkling Bronze Metallic X3 xDrive28i I got during a cold late January week. It was a good time for it; the streets were snowy and/or icy and a classy, tall, all wheel drive vehicle is just what the doctor ordered when the sporty activity of driving gets challenged by Person Nature.
My sample X3 tipped the fiscal scale at an even fifty grand, which seems so much more expensive than $49,999. The base price of $42,450 was augmented by the Premium Package ($3600), adding the X-line package, the fantastic panoramic sunroof, auto dimming mirrors, a weird parking monitor and bi-xenon headlights. It also had the Technology Package ($2200 for extended Bluetooth, navigation and a Combox controller) the apps package ($300 for smart phone integration that should be standard and some BMW apps). Standalone options were a Through Loading System ($200), Satellite Radio Tuner ($450) and the attractive Metallic Paint ($800).
Most of this is stuff you'd probably want, so figure fifty grand – and that doesn't seem outrageous; the X3 is a nice SUV however you acronym it, with plenty to like about it.
It's a BMW, however, and that appears to mean it brings some livability issues, some of which can be excised at the dealer – stuff like a weird requirement to pull the inside door handles twice before you can get out: once to unlock it and once again to open it. That's far more exercise than I want to get in one day. Heck, if I were running a series of errands, I'd be exhausted rather than joyful by the end of the endless journey.
Then there's this: the thing has push button start/stop, but you have to take the key fob out of your pocket anyway to unlock or lock it because there's no smart locking system. But the two go hand in hand!
Maybe that's available in an option package my test X3 didn't have…
The parking monitor is weird because you don't get any kind of back up or surround camera monitor. It's just a graphic representation on the screen.  Nothing really wrong with that, I guess – and the rear view camera is the first part of the car to get dirty and unusable when the weather gets lousy – but it still seems a bit chintzy.
On the other hand, if you're looking for something called "the ultimate driving experience" in an SUV (sorry! SAV!), this isn't a bad place to start. It's a BMW and it looks and feels and drives like one. And it's hard to argue that's a bad thing.
Powering the X3 now is a twin turbocharged inline four cylinder engine that puts out 241 horsepower, and 258 pound-feet of torque, and which doesn't display a lot of turbo lag. I'd have liked one of BMW's lovely inline sixes, especially when I had the X3 in "sport" mode (which was more often than I'd care to admit), but the four gets the job done with reasonable results.
And as with the 3 series sedan, you can choose an inline six with a coupla turbos and 300 horsepower. BMW calls it the X3 xDrive35i. That's the one I'd get.
Both models get a nice, eight speed transmission, though I'm not a fan of BMW's "techno sterile" shifters. It works fine, though, in auto and manual modes.
Speaking of driving modes, besides the sporty settings you also get eco and normal. As one might expect, eco feels like you're driving submerged in Jell-o, but it came in handy when a buddy and I had an unintentional wager out in the country, gambling on just how far we could travel with no gas stations on the horizon. Yes, we made it.
The normal mode is nice for every day commuting, especially if your city's streets look like pubescent cheeks before the invention of Clearasil. And when you want to treat your SUV like it's an SAV, the aforementioned sport mode tightens up the X3's manner quite interestingly.
Steering – electric power with variable assist – is very good and feels fine. The vented discs stop the X3 well; I experienced no fade nor, despite its regenerative function, was there any feeling that they'd grab so hard the SAV would flip over on its nose.
The auto start/stop feature, which shuts down the engine at red lights, is designed to save fuel and probably does. It was pretty cold during my time with the X3, however, so it didn't get activated very much. The heating feature on the tilt/telescope steering wheel sure did, though!
The seats, eight way power adjustable up front and with driver's memory (so that's where it went! No wonder I can never remember anything anymore!) are nice and of course there's heating for them as well.  
Unlike my recent experience with a 3 series sedan, I had no issues with the X3's winter performance as far as livability is concerned. It kept us nice and toasty all the time, and we didn't have to put up with frosty windows either. We were very glad.
The Panoramic sunroof is great. It opens wide, right to a second position I swear you could parachute through – or maybe operate a roof-mounted gun from if society goes that way – and when it's open that far the noise is far less annoying than the awful "whoomp whoomp whoomp" you can get from some big sunroofs.
All in all, the BMW X3 seems like a very nice entry into this class of whatever this type of vehicle is called. It offers decent performance and a lot of automotive technology at a reasonable price, though some of the tech seems excessive (I don't want to set up a user profile, for example; I just want to drive the thing). And it's a BMW, which means you can expect your endless journey to be nothing if not entertaining. In sport mode, anyway.  
Copyright 2013 Jim Bray
TechnoFile.com