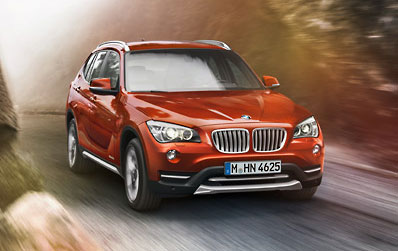 Click on the picture for a slideshow
BMW X1 xDrive35i – a powerful, un-SUV-like ride
By Jim Bray
September 12, 2013
Up the engine size in BMWs X1 "sports activity vehicle," and you have a "crossover" that feels a lot like the kind of "ultimate driving machine" on which the German manufacturer prides itself. And how can that be a bad thing?
The X1 definitely looks and feels like what other carmakers call an SUV – for "sport utility vehicle" – but it drives more like a sports sedan than much of the competition does. Add the typical SUV's higher driving position, which lets you see over traffic better than a car does (though the X1 isn't that tall compared with most SUV's), and the typical SUV's extra storage space, and you have a pretty nifty vehicle that's quite practical and.
Sounds like the proverbial "win-win scenario."
BMW Canada's sample X1 provided a breath of fresh air after the company's last two samples, an X3 and a 328 sedan, both of which came saddled with the company's two liter turbo four cylinder engine. And while there's nothing really wrong with that power plant, it sure can't put the smile on a driver's face that the three liter turbocharged six does!  The base turbo four is rated at 241 horsepower, which is okay, but the six ups the oomph ante to an even 300, a difference that's noticeable immediately. It's a great engine!
The test X1 rode on 19 inch wheels wearing performance run flat tires whose profile was so low it very nearly looked as if BMW had just stretched a big, black elastic band around the attractive rims, or maybe just painted the rim edges black. It's the kind of setup one might expect on a sports car, and needless to say the X1's handling was as delightful as its power. It felt more like a sports sedan than an SUV. Hence "sport activity," I suppose.
Power goes to all four wheels in this version of the X1, though you can also opt for rear wheel drive. The six speed automatic transmission works great, shifting almost intuitively and, since there's plenty of poop to push it, there was little hunting and pecking going up and down hills. It would have been interesting to try a manual transmission with the X1, but BMW doesn't make one available for this model. It's a shame; BMW manuals are very nice.
The interior materials are first rate, as you'd expect from a premium brand, and BMW fans will find themselves quite at home. The driving is first rate, with everything close to hand.
Alas, BMW should look at the competition a bit to get some tips on how to make ergonomic and straightforward interiors – VW or Kia would be good places to start. The way BMW does it, you're scrolling around through menus when you should be watching the road.  To be fair, the company is getting better in this regard, but the icon-based interface and cursor control thingy are still more than a tad obtuse.
The seats are comfortable – though the third person in the second row may write you out of his or her will if he or she has to spend a lot of time there. Up front, however, where the most "passenging" will be done, you can ride all day without your bum objecting.
The X1 feels solid as a tank and cruising along at highways speeds is a relaxed and rewarding experience. Outside noise is hushed, though the low profile run flat tires did manage to make their presence known aurally.
Brakes (discs all around, with ABS and the usual aids, of course) are excellent, and the steering is precise and weighted very well. Again, the X1 feels more like a tall sports sedan than a crossover-type thingy.
The X1 starts at a relatively benign $39,900, but you can option it up to the more stratospheric (but more pleasant) $53,150 of BMW's sample. The first upgrade it received was the Executive Package ($2,900), which adds stuff such as a universal remote control (handy in home theaters!), a compass in the rear view mirror, auto dimming outside mirrors, power seats with drivers' memory, and Bi-Xenon headlights.
BMW's sample also came equipped with the Sport Line Package ($1,900), which adds aluminum trim, black high gloss roof rails and the lovely sports seats. The Nav + Communication Package adds $2,200 to the tab, but for that you get voice recognition, BMW TeleServices a Combox controller, navigation and "extended" Bluetooth.
And we aren't finished yet! The $1,500 Premium Package includes a heated steering wheel, a wonderful panoramic sunroof, auto dimming inside mirror and rear parking assist. The BMW apps package ($300) includes smart phone integration (Blackberrys and Whiteberrys living together in harmony!).
That's it for the packages, but not for the options! Standalone upgrades included Satellite radio ($450, plus the monthly fee), front parking assistance ($450), $800 worth of Mineral Grey Metallic paint, the rockin' Harman Kardon audio system (a mere $800), "Oyster Nevada" leather ($950) and the aforementioned 19' wheels with performance run flat tires ($1,000).
Whew!
Some of the options seem pretty convenient, but also beg the question of whether you really need them when you're behind the wheel. ConnectedDrive, for example, lets you connect your iPhone to the BMW via an adapter or the original Apple cable, at which time you can operate the phone's individual apps using the iDrive Controller. Or you could watch the road ahead of you…
On the other hand, it also lets you control the phone's music player functions from the vehicle's interface, which could be a life saver because you don't have to poke around the phone itself. You can also exploit the features of your smartphone via the Bluetooth interface, with Bluetooth Office offering access to your calendar, contacts, tasks and the like. Its text-to-speech function even reads your e-mails to you. Anything to distract you from the task of driving.
Since it's very nearly a, er, crossover between a sedan and an SUV, the BMW X1 is really its own beast, with little direct competition. That said, however, if you're interested in such a beast you also may want to check out the Audi Q5, Acura RDX, Mercedes-Benz GLK 350, and the upcoming Porsche Macan – the latter of which will probably be the closest competitor at least as far as fun to drive quotient is concerned.
Copyright 2013 Jim Bray
TechnoFile.com