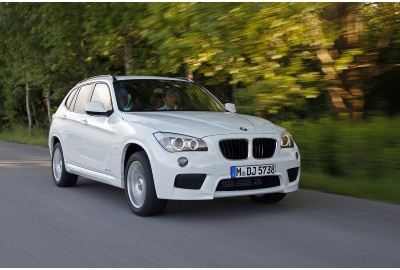 Bavaria Takes on the Cute Ute Market
By Jim Bray
February 2, 2012
BMW's entry into the small sport utility market is the new X1, a vehicle recognizable instantly as a BMW, which should come as a relief to BMW fans around the world. It's  all BMW, too, but smaller and more affordable than the company's established X3 and X5 SUV's.
The X1 isn't meant for serious off-roading, but its competition isn't either, really. It should be fine in normal mud and snow, however, its rear-biased all wheel drive coming in handy when the roads get lousy. Available in Canada only as a turbocharged two liter four cylinder version, its engine is rated at 241 horses @ 5,500 rpm with torque of 258 @ 1,250 revs. That may not seem like a lot, but it was plenty for the sample X1 BMW provided to get around handily in our winter driving test.
Perhaps not surprisingly, BMW says it's the best engine in its class and claims the X1 needs only 6.7 seconds to zip from a standing start to 60 mph. That won't rival a Porsche 911 Turbo S, but not much will – especially in the world of small utility vehicles such as this vehicle.
BMW fans will undoubtedly be happy that the X1 feels like a real BMW; handling is lively, and the eight speed automatic transmission is worthy of the marque, with slick and smooth shifts.
The X1 also features Dynamic Traction Control (DTC) and Dynamic Stability Control to ensure optimal power distribution and a "more sporting driving style." The system allows for limited wheel slippage when accelerating on stuff like sand, gravel, and snow, so don't stand behind it lest you get sprayed! BMW says the Dynamic Stability Control intervenes "only when absolutely necessary," and can be deactivated completely if you want to carve a few donuts in snowy parking lots – not that anyone would really do that, would they?
The interior is reminiscent of the 3 series, which is a double edged sword. While the really important stuff – seats, instruments and the like – are designed and placed well (and comfortable, too, at least when it comes to the front seats), the blackness of the interior borders on stark and the audio system controls are a model of reverse-ergonomics (it's hard to fathom if you aren't a Bimmerphile), though the system itself sounds fine.  In other word, in this way, too, the X1 feels like a BMW. 
BMW's sample X1 wasn't particularly loaded – there was no navigation system, for example – but it had everything you really need, including Bluetooth for your phone and USB/aux connectivity.
For downsides, what's with that cup holder on the passenger side up front? There's the usual cup holder thingy in the center console, handy for the driver's use, but another one sits perched on the passenger side of the console, sticking out into the passenger's knee area and just waiting to either elicit an emphatic "ouch!" or to be broken off. That's just plain weird.
Just as weird, the X1 offers push button start/stop, which is great. But instead of push button start/stop meaning you can keep the key fob in  your pocket or purse, as you can with a multitude of other vehicles, you have to keep it around so you can stick it into a hole in the dashboard that's mounted right below the push button start/stop button. What's with that?
One other thing, and this perhaps shows just how picky some people can be, the "tick-tock" sound of the turn signal is loud and obtrusive inside the cabin. Of course you can just crank the stereo to avoid this… 
Quibbles aside, the X1 is pretty nice to drive, with nice and tight handling and good agility. The steering has a nice feel to it (thanks to efficient power assist) and the brakes (which of course have ABS and the like) do the job quickly and without fuss.
And while the rear seat is tight for three, it's perfectly fine for two; in fact, it's quite comfortable for two, with decent leg room. And being a BMW, the interior as a whole is reasonably luxurious as well, though in an understated way.
Since this is a brand new model for BMW, only time will tell whether or not the X1 is good enough to get people pounding  on the portals of BMW purveyors to purchase their own X1. It does seem, however, as if this initial version is a decent entry into this segment of the market, and it'll undoubtedly please BMW fans who want something a little smaller and more affordable.
Copyright 2012 Jim Bray
TechnoFile.com