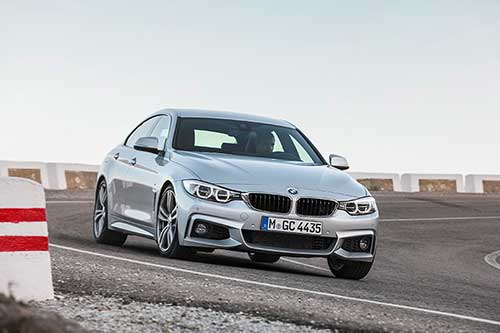 BMW 4 series Gran Coupe: a five door two door?
By Jim Bray
February 13, 2015
BMW has created a very nice driving machine in their new for 2015 4 series Gran Coupe. Alas, despite being one of the "ultimate driving machines," the car still leaves something to be desired as a vehicle to live with. And what's with the model designation?
(click here or on the picture to open a slideshow)
When Shakespeare wrote "What's in a name?" he was referring to the surnames of his star crossed lovers Juleo and Romiet, but these days – if he were alive and a car guy – he might ask the same about BMW's current model naming conventions. That's because until recently the 4 series was just a two door 3 series, but BMW split the series in two, with the 3 referring to the four door sedan version and the 4 being the two door coupe.
Yet the 4 series Gran Coupe is not only a four door model, it's also a hatchback, sometimes called "five door." So why wouldn't it be the 3 series Gran Coupe? Beats me. What's in a name, eh?
Maybe they want their model names to be as confusing as their interfaces…
If you can get past the Gran Coupe's weird model designation which, to be fair, shouldn't be that difficult despite my angst, you'll find a really nice vehicle to drive (not surprisingly, since it's a BMW) and one that's even a tad more practical than your average sedan, thanks to the big hatch and fold down rear seat that very nearly turns the car into a wagon. You don't get the high roofline of a wagon, but you can still put a surprising amount of stuff into the hatch.
BMW appears to have stolen an idea from Ford here, too, in that BMW Canada's test unit came equipped with a feature by which you just have to wave your foot under the rear bumper and the hatch will open for you. This is great if you're approaching the vehicle with your arms full of stuff, though in a clear indication of Murphy's Law the thing worked every time I tried it – except for the one time I actually had my arms full of stuff. Figures, eh?
BMW's sample came with the larger of the two available engines, and it's wonderful. It's a three liter turbocharged inline six cylinder power plant BMW says puts out 300/300 horsepower/torque and that's plenty to get this mid-sized hatchback moving with wild abandon – and so little turbo lag you might forget it's a turbo. The other engine is a two liter turbo four (240/255 horses/torque), and while I prefer the six, it's more than adequate.
Power gets to the wheels (all wheels, in the case of BMW's sample, otherwise it's the rear wheels) via a slick, eight speed automatic transmission with a nice manual mode. A six speed manual transmission is standard equipment on this model and as good as the automatic is I wish the sample had come with the manual because BMW manuals are fantastic. Still, the auto box is a good one, and you can shift via paddles if you want a manual experience.
You can choose driving modes from ECO PRO, COMFORT, SPORT and even SPORT+, each of which sets up the power train and suspension differently depending on the task. SPORT+ may be overkill for every day driving, but it sure is fun!
The company went through a few years where their gorgeous exteriors became a tad more controversial than courted, but over the past couple of model years they've managed to recapture their old magic without making their current line look out of date. The 4 series Grand Coupe may just be the most attractive of all the BMW four doors (well, five); it's elegant yet sporty, a real looker from its signature "kidney" grille and Bi-Xenon headlights with LED corona rings to its frameless side windows and rear end with its high mounted stop light on the tailgate and LED light conductors and turn signals.
BMW's may not be the "ultimate driving machine" as long as there are Porsches, Ferraris and the like, but in the market in which it plays you'd be hard pressed to find more fun behind the wheel. The Gran Coupe is no different. It's a fantastic car to drive - and if you add stuff like the M package it gets even better, thanks to stuff like an adaptive suspension.  The M package (which adds $1900 to the car's base price of $55,600) also means you get a larger air intake up front, 19 inch alloy wheels, M sport brakes and variable sport steering. It also gives you such cosmetic niceties as M door sill finishers and an M leather steering wheel.
BMW's sample 4 also came equipped with the $4,900 Premium Package, which adds an alarm system, universal remote control, "comfort access," a rear view camera and auto dimming outside mirrors. It also gets you parking assistance front and rear, adaptive headlights, nav system and a lovely Harman/Kardon audio system that rocks well. The sample also had BMW's ConnectedDrive Services ($500), with stuff like real time traffic information, concierge services and Internet access.
Good luck using all this stuff. As with the other BMW's I've driven, living with the car drove me nuts. I eschew owner's manuals, figuring that if I as a relatively experienced and tech-savvy dude can't figure a car out as it sits, then the design is a tad obtuse. BMW's personify this. I've been driving BMW's since the 2006 model year and I still have trouble with little things like storing radio station presets – you can store them into a row of buttons on the center stack or via the iDrive/LCD screen interface and I have the dickens figuring out either of them.
That, and unusual touches such as forcing you to pull the door handles twice to get out of the car and pressing the start/stop button twice to shut the car down, and it's enough to make you tear out your hair – and I don't have enough to spare!
It's a shame, because BMW sure makes fantastic cars to drive and their features are state-of-the-art - if only you could get them to work. To be fair, you'd probably get used to all this stuff over time if you owned the car, but why should you need such a learning curve? BMW needs to take a look at some competitors like Volkswagen or KIA to see how they manage to do it.
Still, this 4 series Gran Coupe is probably my favorite of the BMW's I've driven over the past coupe of years (not that I've driven anywhere close to all of them), for its great exterior design and wonderful flexibility – as well, of course, as the "ultimate driving experience."
BMW's sample ended up with a retail price of $65,645 because it also came equipped with standalone options including a heads-up display ($1,500), $900 worth of metallic paint and a feature that displays speed limit information ($350).
Model numbering and interior interface angst aside, I really enjoyed my time in the comfortable and luxurious 435i xDrive Gran Coupe. If you can figure out how to use it, it should turn out to be a fantastic driver's car.
Copyright 2015 Jim Bray
TechnoFile.com