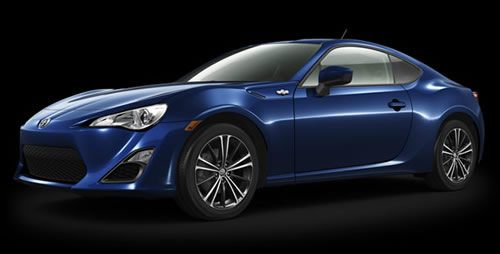 TechnoFile's most intriguing new cars of 2012
By Jim Bray
December 14, 2012
It's that time of year again, when we writers indulge ourselves with a look back at what the year has wrought, and what we make of it.
Whether it's a "10 best" list, or the opposite, it's award season of some kind. And as far as cars and I are concerned, that means a chance to look at the four wheeled wonders that most turned my crankcase in 2012.
It's difficult to find a bad car these days, though it can be done if you look hard enough – or at least you can find cars that may be okay technically speaking but which rub you the wrong way for whatever reason.  But, naturally, some cars are better than others.
I, as one lucky dude, get to test drive a brand new vehicle nearly every week, and these "extended test drives" give me a reasonable glimpse at what's out there, what's good and what could be better. 2012 was a particularly interesting year, with the introduction of great new – and affordable – sports cars, the return and rebirth of a couple of icons and the even the raising of the bar at the low end of the market.
So here's TechnoFile's annual look at the most intriguing cars of 2012. These aren't necessarily the best of everything available; they're just the cars I enjoyed the most in 2012. If I didn't have a weeks' worth of seat time in it, it isn't in the running.
And just because it's a 2012-focused list doesn't mean there may not be some 2013 models here. Carmakers unleash new year's models all the time now, so this column deals with cars driven in calendar year 2012, not necessarily 2012 model year vehicles.
Congratulations to the Japanese for making an excellent comeback. My list last year only had one – a hybrid, as biggest surprise of the year – while Koreans and Germans cleaned up. How things change in a year! Or do they? Read on!  
Most intriguing new Sports car: While my heart goes with the fantastic new Porsche 911 Carrera, in the end I can only give my favorite car on earth a first runner up to the Scion FR-S. The reason? The Scion may just offer 75 per cent of the 911's excitement, but it does it for less than $30,000. In fact, I called it "the poor person's Porsche" when I reviewed the little stunner last summer.
The FR-S results from a marriage of convenience between Toyota (Scion's parent) and Subaru. Subaru also has a version, the BR-Z, that's virtually identical, but I don't include it here because I only got a brief "first impression" of it at the Canadian Car of the Year TestFest in October. Even there, I scored the Scion one point higher, because – as equipped at TestFest – its audio system interface was one step better than the Subaru's. They both sucked, but the Scion's wasn't quite as bad.
That audio angst was about all I could find to fault the FR-S (well, that and the Prius tires that would be replaced if I were to buy one). It's a fantastic car to drive, with a slick shifting six speed manual (an automatic with paddles is available), adequate power, exquisite handling, and a "real" back seat that folds down to give you practical hauling room. It's a real tour de force.
And that's why it beat the Porsche 911, which longtime readers of my rants probably figured would come in first one way or the other. I love the new 911 even more than I did the old one, but it's still an update to an existing car, while the more "entry level" FR-S is all new – as well as being perhaps the most exciting mainstream sports car introduction since Mazda unleashed the Miata.
The Most Intriguing Sedan this year is the Volkswagen Passat. I'd never driven a Passat before this new generation came out, but it quickly became my favorite fullsize, mainstream sedan. You can choose a diesel, or gas-fired five and six cylinder engines, but my favorite was the diesel, with its 140 horses @ 4,000 rpm, and grunty 236 foot pounds of torque from 1,750–2,500 rpm.
The car is big inside and out – it's almost like a limo in the back seat and the trunk could nearly haul a grand piano inside it – but it handles very nicely and is a peach to drive. And the diesel is very economical. Volkswagen loaned me one for a family trip to Washington state and over 1000 kilometres or so I only spent about $60 on fuel even though my lead foot was well in evidence during that jaunt. It didn't hurt that the Passat TDI came with VW's great DSG dual clutch automatic transmission, either – though it still makes me scratch my head that you can't shift it manually while in sport mode.
Volkswagens also have some of the best interior designs in the business, straightforward and easy to use, while still handsome and functional.
Runner up in the family sedan department is the Toyota Camry SE, which is also my biggest automotive surprise of the year. Note the SE trim level designation, please, because of the two "all-new" Camrys I drove this year it's the one that turned my crank. The one that didn't was the wallowing hybrid, and while it offers a lot of the Camry's other good points, it eschews the fun to drive factor.
I've argued in the past that the Camry is like vanilla – popular enough to be virtually ubiquitous but not particularly exciting – and that I prefer butterscotch. But the SE is about as close to butterscotch as I could have imagined from a Camry. As I said in my review, I was worried I'd get struck by lightning for liking it so much.
What I liked best was the sport tuned suspension, which took a "ho hum" ride and made it surprisingly interesting – a lot tighter than I would ever have dreamed for a Camry. My test sample even came with paddle shifters for its six speed Super Electronically Controlled Transmission! And the 10 speaker JBL audio system wasn't an object of derision. 
For sporty sedans, I really liked the VW Jetta GLI and the Acura ILX and consider this category a tie. Both had slick six speed manual transmissions and were a lot of fun to drive. The VW has less of a luxury focus than the ILX; it's a GTI in spirit, but with a trunk. And though their buttocks-or-lack-of aren't the only difference between the GTI and GLI, that doesn't mean the GLI is an engaging drive. It surely is. I loved it.
The ILX, on the other hand, is a breath of fresh air from a company I was worried was starting to lose it, at least from a styling point of view. But the ILX, the new entry level Acura is a great looking sedan inside and out and, if you opt for the "Dynamic" trim level of my sample, you get a car that reminds me a lot of the fantastic, original TSX – my favorite Acura until they redesigned it a few years back.
Base model ILX's are comparably anemic in the power department, but they're also pretty affordable considering what you get. Even though I haven't driven that version of the ILX, I'd opt for the "Dynamic" model anyway; it's a blast.
The most intriguing entry level car this year again goes Korean. Last year, I chose the Hyundai Accent but this year the hat is tipped to Kia's excellent Rio, which is kind of the Accent's opposite number. I got to drive it in two versions – sedan and hatchback – and found the car drove well, was built well, equipped well and very compelling overall. If I were looking for a car in this category, this is where I'd start my search.
Rios come with more get up and go than most of their direct competition, though my test cars' ponies seemed just a tad reluctant to prance first thing in the morning (a condition that eased quickly once you were going), and are more interesting to drive than most of the direct competition as well. And you can equip them with pretty well all the goodies you could want these days, short of jet assisted takeoff.
Biggest disappointment this year was the all-electric Mitsubishi i-MiEV. I only got to drive this car for three days (so, technically, it doesn't count – though three days were plenty!) and never needed to recharge it, but while it will undoubtedly do the job as an electrified commuter vehicle, it isn't much of a car other than that. At $33,000 base price, it costs more than a Golf or Jetta diesel but isn't nearly as nice a car – as a car.
Sure, you'll never have to put gas in it, but you won't be able to take a weekend trip with it, either and considering how entry level it feels – think of it like an overpriced Yaris or Fit – you can do better, unless your priority is to feel really, really good. 
I didn't drive a lot of SUV's this year, and none of the ones I did drive really stood out, so there's no specific "most intriguing SUV" award. But I will mention the Toyota Venza here as kind of an honorable mention. It isn't really an SUV but it is a true crossover, giving you most of an SUV's benefits – tall driving position, good storage and hauling, etc. – in what's really just a tall wagon. You don't get a third row of seats, but if you don't need the extra bum bench the Venza can make a surprisingly good alternative to the traditional SUV.
That's it for 2012. Cars continue to get better and more interesting and judging from the 2013 models I've driven – some of which are included here – it should be quite the Happy New Year!
Copyright 2012 Jim Bray
TechnoFile.com