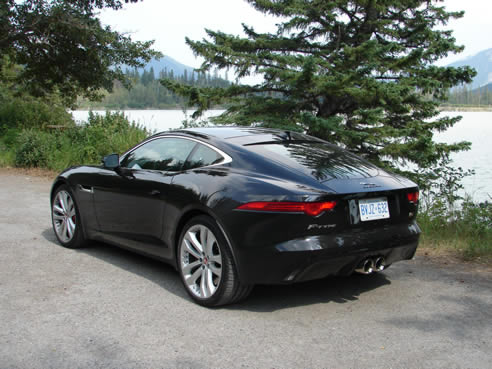 Jaguar heads 2014's class of TechnoFile's most interesting vehicles
By Jim Bray
December 17, 2014
It's hard to find a bad car these days, such is the nature of technological advance in a highly competitive automotive marketplace. That said, some cars are better than others for a particular individual, depending on that person's personality, budget, taste, etc. and sometimes a vehicle will just rub you the wrong way for whatever reason.
(click the image to open a slideshow in a new window)
Since I'm lucky enough to write about cars, I get to drive a lot of them compared to most members of the public. Sure, there are auto writers who get to drive lots more than me, and more exotic vehicles in more exotic locations, but I do okay. The reviews vehicle I have nearly every week run the gamut from the entry level, like the new Nissan Micra to top line Porsches. This gives me a decent perspective about what's on the market, as well as beating the heck out of having a real job.
Just like you, I imagine, I find various cars variously interesting. Hence this year end look at the vehicles that I found most interesting, or nicest, of the ones in which I was lucky enough to get some quality seat time. Remember, this list comes from cars I've actually reviewed, so it isn't a truly "best of" in the manner that AJAC's Canadian Car of the Year aspires to and achieves mostly. Rather, it's the vehicles I found the most interesting in calendar year 2014, whether they were 2014 or 2015 model year units.
Toyota, probably not surprisingly, gets two nods this year, one for the terrific new Corolla and one for the also terrific new Highlander. As I wrote in February, "there's a reason Toyota's Corolla has earned its place as one of, if not the, top selling cars in history: throughout its many generations, it has offered consistent value and quality for those whose idea of a great car is reliability and economy." Yet I got off on the wrong foot with this new Corolla (full disclosure: I have owned two Corollas in years past), it getting my back up initially thanks to Toyota deciding to inflict a CVT transmission onto it.
But the plucky little Corolla, in 'S' trim, won me over anyway, thanks to it being a really great car to start with. Toyota also made the CVT as painless as possible (fake gears and paddles!) as well as offering the more traditional (and out of date) four speed automatic and - ! - a six speed manual. The car looks great inside and out and is a modern little econobox that (other than the CVT) won't make you suffer for the economical performance.
The Highlander has confused me ever since the Venza came out because they're basically the same kind of vehicle – not counting that the Venza can only be had with two rows of seats instead of the three you can get with the Highlander. This new Highlander brooks no confusion, though; it's very different from the Venza (I still like the Venza better but didn't drive one this year), more of a utility vehicle than the more car-like Venza.
The new Highlander looks more aggressive than the old one and its interior is more modern and quite attractive. As I wrote in May, "the XLE AWD version (starting price of $39,900 Canadian) - was so hot off the assembly line I nearly burned my fingers on its door handle. And while it isn't a lot bigger than the old model (it's about half an inch wider and just over two inches longer, and with a lower center of gravity), it feels bigger than that, which isn't necessarily a bad thing in an SUV." It's a very nice vehicle and, being a Toyota, it will probably prove to be immortal.
The most pleasant surprise of the year was the Mercedes-Benz CLA 250 4MATIC. Despite big time turbo lag, the "four door coupe" moves smartly and is very luxurious and comfortable. And you get all that Benz goodness starting at a reasonable $34,300. If you don't get the all wheel drive version you'll have to settle for front drive, but Mercedes-Benz sent me the 4Matic version to play with and it's the best version unless you go whole hog and opt for the AMG and its 355 horses – for just shy of 50 grand.
I like Mercedes-Benz vehicles generally, though I don't think I'd buy one because there are vehicles I like better. But the CLA 250 4MATIC is one I would buy if I were looking in this niche. It's great looking inside and out, is very nice to drive and – well, it's a –Benz! How bad can that be?
Not particularly surprising, but just as delightful - as it should be - is the new Volkswagen Golf GTI. Available in three or five door versions, the 2015 Golf GTI boasts a two liter, direct injection, turbocharged four cylinder engine that now puts out 210 horses and 258 lb.-ft. of torque, both of which are decent increases over the past generations. This great engine is coupled to either a slick six speed manual or a slick dual clutch automatic with paddles. They're both great choices and deciding between them would probably be my biggest challenge if I were shopping for a GTI. The GTI is only available as a front wheel drive model, but you may look long and hard for a rear or all wheel drive car that's as much fun to toss around curves.  
As I noted back in November, there's something about German cars – whether Volkswagen, Mercedes, BMW, Audi ­- that makes them feel extra solid, "as if they're carved out of a single block of iron," and both the CLA and GTI exhibit this in spades. Another thing Germans – indeed, Europeans – do well is audio systems. They seem to understand the value of good amplifiers better than some of the other carmakers from around the globe. These two cars also exhibited this phenomenon, both offering excellent sound.
While it wasn't a surprise that the GTI is an exquisite car, my enjoyment of the Kia Soul was.  When I reviewed it in May, I called it "a little people hauler that offers a lot of fun, practicality and bang for the buck," and I stand by that. I didn't care for its boxy exterior or funky interior before I actually got some seat time in it – proving you shouldn't judge things by their covers.
The Soul is a relative blast to drive and offers good storage space - and Kia offers so much stuff it's hard to imagine a feature you can't get on the Soul, including a nice audio system from respected high end audio company Infinity (which must have gotten the attention of Nissan's higher end company's folk when they found out!). I still think I'd opt for the Rondo if I were choosing between the two, but I didn't drive one this year so it's out of the running.
One car that I loved last year – naming it my car of the year – was the Mazda3 Sport and I got to drive it again recently and loved it just as much as before. I had the six speed manual version and it was wonderful. Just make sure that, as with the CX-5, you opt for the larger SKYACTIV engine to maximize the "Zoom-Zoom." The 3 Sport GT has so much of it that within 10 minutes of picking it up last year, I was pulled over and awarded a ticket for driving 35 km/h over the speed limit on Calgary's ring road. "Zoom-Zoom," indeed!
TechnoFile's Car of the Year…
Proving once again how much influence I have in the world of automotive journalism, my car of the year didn't even make the cut when its top line version competed at AJAC's Canadian Car of the Year TestFest last October. The Jaguar F-Type Coupe, whose review I subtitled "an E-Type for the new millennium," was eliminated in the first round of competition, beaten by the gaudy Chevrolet Corvette Stingray convertible, the scrumptious BMW M4 and the mighty Porsche 911 Turbo S.
The Porsche ended up winning the category, so that's some consolation. Had the company sent the Turbo S to my neck of the woods for a review my opinion might be different – heck, I can't imagine this list not having any Porsche on it (yet here we are!), but such was not to be. I suspect, however, that despite my love for Porsche, my lust for the spectacularly beautiful and sexy F-Type Coupe ­– and the fact that it undercuts the 911 by up to $100,000 depending on the respective configuration (the biggest discrepancy coming with the Turbo S) - would have tipped the scales toward the Jag anyway.
My goodness, has there ever been a car that looks this great? Ever? Heck, the F-Type makes the E-Type – which had been one of, if not the, sexiest cars ever – look old and frumpy. The E-Type!
As I said back in September, "Jaguar really needed a car like this. The company has gone through a few decades of tribulation and - like much of the British car industry - had built a reputation for building lovely vehicles that just didn't work well. Brit electrical systems were a hoary joke, their labor problems were legendary, and such issues led to most of the British car industry being sold off to foreign companies." The F-Type is fantastic to drive, sounds unbelievable, has easy to fathom interfaces and to me is the no-brainer choice for car of the year – not just because of its beauty and performance but because it's an important car in the overall scheme of things automotive, the welcome return of a legendary marquee and a true competitor to the mighty Porsche 911.
Well done, Jaguar, and congratulations!
See you next year!
Copyright 2014 Jim Bray
TechnoFile.com