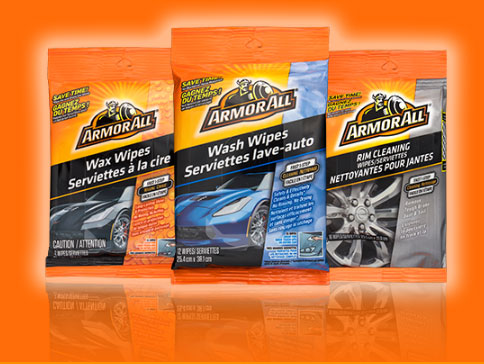 Armor All collection can help keep cars fresh with no sweat
By Jim Bray
August 9, 2018
I've just washed my car from top to bottom without using water, a pail, or a hose. Or by using someone else's efforts on my behalf, or someone else's washing facility. It was really cool!
And while I think I'll still use the touchless wash down the street a lot of the time, I've learned that you really can get your car clean just by wiping it with a cloth. If it's the right cloth.
Click on the image to open a slideshow.
In this case, the cloth was one of Armor All's Wash Wipes, one of a bunch of products the company sent me to test on my car. And my car, while not disgustingly dirty, was definitely not clean – I'd taken it on a road trip high into the Rocky Mountains and it came back dusty and rain-spotted, with enough bugs on the front end to have envirowhackos picketing me for causing bug species to become endangered.
It all started a couple of months ago when Armor All's rep emailed me to ask if I'd be interested in putting a bunch of their stuff through its paces. Being lazy and sedentary, I immediately balked, thinking this would cause me to do more physical labour than I was meant to do. But then I thought that, if the stuff worked as advertised, I might be able to keep my beloved A4 Avant in top shape without leaving my property or getting as wet as I do usually when I deign to wash it in the garage.
The stuff showed up just as I was taking time off for family visits – of course – but then last weekend I finally had a chance to do the dirty deed. So, I headed for the car's boudoir armed with more Armor All stuff than I had known existed. And, though I may not have done as good a job as someone with a modicum of patience (let alone manual dexterity and the ability to bend down well), my little stallion came out looking better than a 14-year-old car has any right to.
Thanks, Armor All!
I remember the brand being famous for cleaning and protecting rubber, plastic and stuff like that – and the company still makes such things – but over the past half century they've tweaked and expanded their line so that now it seems the only thing they don't offer is someone to do the work for you.  
Here's a partial list of the products they sent, with their intended use:
Extreme Bug & Tar Remover. This one really turned my crank after our mountain expedition, because as I hinted at above, the front bumper and fascia, leading edge of the hood and roof, and the side rear view mirrors looked as if I'd driven through the fleshpots of Klendathu, helping Johnny Rico and his Mobile Infantry colleagues in their mission to wipe them all out. That made the specially formulated Bug and Tar remover the first stop on my car cleaning extravaganza. And it did a good job, though it took more scrubbing than I liked. It's sure easy, though: you just spray on, let it soak for a minute or so, and "wipe" it off with what was up until then a clean cloth.
It didn't get rid of all the bug residue the first time – I don't think anything short of a tactical nuke could have done that – but a second, lighter application took care of the rest. This is something I have to do all the time, since I review cars and have to return them clean and tanked, so I'm looking forward to trying it on my next bug-inflicted review vehicle.
My local car wash has a bug spray you can use when you purchase some of their washes, but it doesn't work any better than this Armor All product – and with the Armor All stuff I didn't have to leave home to do it.
Wash Wipes. These are the things that let you wash without water, and I was gob smacked. They're small and easy to use, and all you have to do is pull a wash wipe cloth from its dispenser and wipe down your vehicle the way Hillary Clinton supposedly wiped her private email server. They also make wax wipes, and wipes for glass and GPS displays. My quick "wash" took only about 10 minutes and, though I messed up a few areas because of the lousy lighting in my garage (I could have moved the car outside, but I was afraid I'd have to interact with a neighbour…) I was impressed by the wipes' performance and will now keep them in the glove compartment for those times when a quick "emergency" cleanup is called for.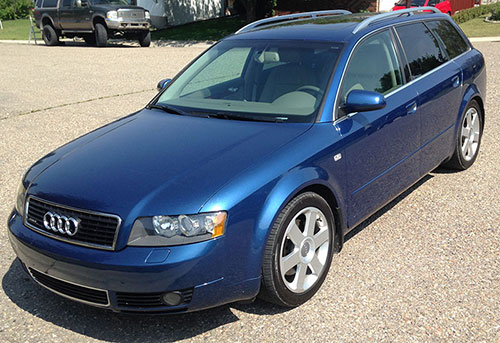 The exterior cleaning doesn't end there, however. Armor All also sent me their Rim Cleaning Wipes, and though they didn't grind out the scratches my car's previous owner left on the rims, it cleaned off the brake dust and road crud really well, leaving them gleaming. And all it took was a quick wipe.
Ditto for the Tire and Trim Shine sponges. My car's Potenzas are in good shape and I didn't imagine the sponges would do much good, but once again Armor All surprised me: other than the road residue on the tread, the tires now look new and, thanks to the sponges (the package comes with eight), I didn't have to expend much energy to do it.
They also sent their Glass and GPS wipes, which did a really nice – and very easy – job on the windows, with a quick wipe that left them more streak-free than I usually get with my normal method of window cleaner and paper towels accompanied by much cussing.
Armor All was also kind enough to also include a packet of microfibre cleaning cloths that they also (completely coincidentally, I'm sure) sell. They're very soft and washable. I used one on the car's interior to get the dust off before going at them with the "original" Protectant Wipes that cleaned up the dashboard, console, and the like. They also make Air Freshening and Ultra Shine wipes, but the original formula (hey, sounds like Colonel Sanders!) worked just fine.
As if that weren't enough, the company also threw in their Fabric and Carpet Refresher spray, which didn't get the stains off the driver's side carpet that resulted from our endless winter, but they did spruce it up quite nicely nonetheless. Armor All says you can also use the stuff on fabric seats; I can't comment on that because my little wagon has leather.
The carpet stuff is supposed to make the interior smell nice but, if you want even more smelly stuff, Armor All also makes the kind of interior freshener you see advertised on TV all the time from a different company – the type that plugs into a vent. Armor All's are available in about a googolplex of fragrances and now that I've stuck it on an air vent I have this disembodied eye peering at me from my dashboard, passing silent judgement on everything I do behind the wheel. It's like having my wife with me in the car!
It doesn't smell quite as sweet, though, dear!
Fragrances include Citrus Pomegranate, Vanilla Lavender, Pink Grapefruit, Lemon Bergamot, Eucalyptus Mint (all part of the "Essential Blends" collection) as well as Tranquil Skies, Arctic Cool, New Car (the one I tried, since I drive a lot of new cars and was curious how my 14-year-old stallion would smell in comparison), Island Oasis and Lemon Berry.  
Okay, my car still doesn't have that new car smell after adding the eye, but it's fresh enough that I can now pass wind in there without killing anyone. Of course, I'm kidding (I can still deal death!). But however you slice it, the car's interior does smell very nice.
The result of all this Armor All work on my part is that my little sport wagon looks nearly brand new inside and out (to be fair, it was in exquisite shape before – just dirty) and the stuff was easy enough to use that one of the laziest people on Earth got his beloved ride looking spic and span in only about half an hour and with no expenditure of sweat.
And, to rip off KC and the Sunshine Band, that's the way (uh huh, uh huh) I like it!
On the other hand, I did get my hands dirty, however, so there's that.
Copyright 2018 Jim Bray
TechnoFile.com
Jim Bray is a member of the Automobile Journalists Association of Canada. His columns are available through the TechnoFile Syndicate.