Acura ZDX – a Stealth Bomber for the Road
By Jim Bray
July 16, 2010
Acura's new "crossover utility vehicle with the design of a personal sports coupe" turns out to be a heckuva vehicle. Once you get used to it, anyway.
Going into my review, I just knew I was going to hate the ZDX. I'd seen it around and thought it was the ugliest thing to come out of the Honda/Acura company yet. And given the look of the current Accord, Accord Crosstour and, especially, the Acura TL, that was saying quite a bit.
But given my overall respect for Honda, I buried my feelings and tried to give the ZDX a fair assessment.
Good thing, too. After my week with this "SUV-compatible", it had not only grown on me, but I came away liking the ZDX – a lot. This is a vehicle I would own, especially if I did a lot of highway driving.
Even the exterior styling grew on me. I now realize that, rather than being a bizarre set of angles and creases designed by some kid with crayons it's actually an interesting body that reminds me of an F22 Raptor crossed with a Batmobile – especially when the ZDX is wearing the dark, nearly black paint of my test unit. This is not a toy or a "cute ute"; it's a hunkered down, serious-looking vehicle that means business. And yet, from the front at least, it still looks kind of sporty.
I'll go as far as to say that Acura's distinctive beak-like grille looks better on the ZDX than on any other Acura.
Approaching the ZDX from a distance it looks big – and this is definitely not a compact ute – but as you get closer it seems almost to shrink to more manageable proportions. It's an interesting phenomenon. Heck, when I stand beside the vehicle, my head is actually taller than its roof!
Anyway, Acura describes the ZDX as a luxury four door sports coupe whose "inventive new 'Passionate Getaway' concept defines (it) as a different type of personal luxury vehicle". The ZDX, they say,  is designed primarily to "provide a means of freedom and escape for two adults and their cargo, whether that's luggage for a weekend, sporting equipment, antiques or gardening supplies."
Fair enough. That means the ZDX won't haul much big stuff, but you may not need that capability. If you do, I daresay Acura will be more than happy to put you behind the wheel of an MDX, and that's hardly roughing it.
The "for two adults" theme also explains why the back seat is suitable only for the "vertically challenged" – such as kids or, well, me. But even with me it was tight: I parked my 5'7" (on a good day) carcass back there and was glad I hadn't fluffed up my hair or it would have scraped the rather steeply sloping roofline. Not only couldn't I wear a ten gallon hat, it wouldn't even work with a half pint one.
Things are much better up front; there's plenty of room and it's a very nice place to drive or to "passenge". Better be careful getting there, though; I – grace incarnate – bashed my head on the door frame the first couple of times, another fact that helped contribute to my initial thoughts about trashing the vehicle.
The ZDX drives very nicely and is, in fact, an excellent highway cruiser. Its motivation (beyond continued profitability for Honda) comes from a lovely, 300 hp (at 6400 rpm, with 270 lb.-ft. of torque at 4600 rpm) VTEC V6 that provides plenty of smooth power. The oomph gets to the wheels (which are controlled by Acura's Super Handling All-Wheel Drive – SH-AWD – system) via an equally smooth six speed automatic transmission with Sequential SportShift function you can activate with paddles.
ZDX dances the MacPherson strut up front, with its rear slung via a multi-link suspension with, Acura says, "additional rear-suspension subframe connectors for maximum isolation from road noise, vibration and harshness".
In all, it's a nice setup and it works well. The ZDX feels big (well, duh!), but it drives beautifully.
You can choose from the standard 19 inch aluminum alloy wheels – a first for Acura – or optional 20 inch aluminum ones. Naturally, each wheel also features a disc brake and the "slowdown system" is equipped with ABS, Brake Assist, Hill Start Assist and electronic brake distribution. Pedal feel is first rate, as is the system's stopping power.
The leather-equipped front seats are extremely comfortable and give good support for the twisty bits. They're also heated, with power adjustments and there's a two setting memory function that controls the driver's seating position, mirror adjustments, radio presets, climate control settings, and more.
The hand-wrapped leather dashboard, center console, door panels and trim are very attractive – though for some reason they've mounted the access button for the console's storage bin out in front of the bin itself, which seems a tad weird. It isn't a big deal, though.
The panoramic glass roof is wonderful. It's in two sections, and the front can slide open like a conventional sunroof – with one touch, though you have to hold the button down to close it again (a pain in the rear). There's also a power-operated mesh fabric roller shade that extends and/or retracts over both panels simultaneously. I found it very handy on a particularly hot and sunny day.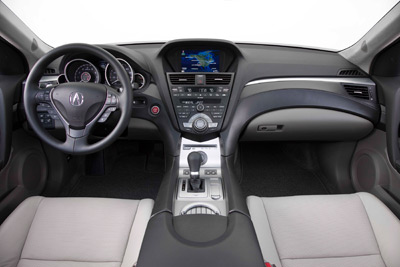 When the sunroof is open, a mesh-like wind deflector extends from its leading edge and it works pretty well for noise and wind suppression. 
My test ZDX, which didn't have some of the nifty tech things I love so much – like the superby ELS audio system (drat!) and navigation system – had a rear view camera mounted into the rearview mirror and, while small, it worked fine. The standard eight speaker audio system (with 6-disc CD changer, AM/FM radio, satellite Radio, Bluetooth audio/hands free phone link, USB port connectivity and auxiliary jack interface, is quite good. An interesting touch is that the audio system's buttons' labels aren't illuminated until you actually switch on the system, leaving rows of blank buttons on the center stack when it's turned off, making it look as if you were too cheap to spring for all of the options available.
The rear seats, the outer of which are heated, split and fold 60/40.
Even though my test ZDX wasn't as up market as you can get it, it still had a good selection of features, including Xenon High-Intensity Discharge (HID) bi-functional high and low beam front headlights with washers, tire pressure monitoring, and a power tailgate. There are three "detent" positions to that hold the doors open partially, including a nice "in between" one that comes in handy in the kind of tight parking situations you're sure to encounter considering the vehicle's broad-shouldered stance.
I still haven't really made my peace with the rear door handles, which are mounted vertically on the trailing edges of the doors and blend into the black garnish above the vehicle's beltline. They feel kind of alien to use, as you have to stick your fingers into them and then pull outward – though they work fine.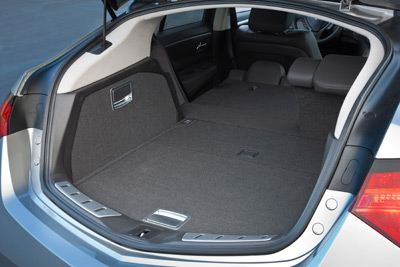 Safety equipment includes driver and front passenger dual-stage, dual-threshold airbag Supplemental Restraint System (SRS), driver and front passenger knee bolsters, driver and front passenger two-chamber side airbags, side curtain airbags for the front and outboard second row seats (with a rollover sensor), active front seat head restraints, and stability/traction control.
I enjoyed driving the ZDX around town, but it really excelled until I took it on a couple of highway jaunts. It's fast, comfortable and – even in my comparatively "entry level" trim test unit – equipped very well. If Acura's target market – which includes people who might also consider the BMW X6, Infiniti FX35, Mercedes-Benz CLS or even, they say, the Porsche Cayman (though I can't see that!) – gives it a fair shake, they just might fall under the vehicle's spell.
It's bewitching.
The Acura ZDX starts at $45,495 U.S./$55,590 Canadian.
Copyright 2010 Jim Bray
TechnoFile.com