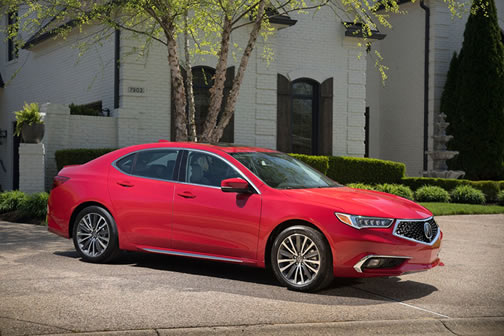 Acura adds A-Spec goodies to 2018 TLX
By Jim Bray
September 28, 2017
Honda's luxury division may have sparked the Japanese invasion of the luxury and high end sports car markets - and led the way for several years after that - but you might wonder what the company has done lately.
Click on the image to open a slideshow
Well, besides the new NSX supercar, the company has continued to release well built, luxurious vehicles that are stuffed with technology. The problem is, everyone else is doing the same thing, only some have now passed Acura's lead enough that the folks at Honda's top niche may find themselves a tad lost in the customer shuffle. And that's a shame.
It's easy to see why, though. Honda/Acura still make great cars, but they seem to have forgotten about the people who actually use them, via unfathomable ergonomics and electronics controls and safety nannies that are so obtrusive at times that I wanted to smash my fist into the poor, innocent steering wheel.  
And what's with the styling? Sure, beauty is in the eye of the beholder - and Honda/Acura is by no means alone in this trend - but what's with all the extra creases and stuff the designers are putting into their vehicles? The Civic, for example, used to be a cute little car; now it looks like the designers were on acid.
The TLX is a prime example of what Acura and Honda are doing now, both good and bad: it goes like heck, has everything you could want (and then some), and is a compelling vehicle to drive. Yet in its niche, competing against such worthies as the Audi A4, BMW 3 series, Jaguar XE, and Lexus IS, it seems to practically disappear.
That's a shame. I've traditionally loved the company's products (and owned a Civic ages ago), so my whining of the past few years is "more in sadness than in anger" as I hope this honoured brand will return to its roots. Fortunately, they are showing signs of doing just that, at least in its human interfaces if not its styling. And, to be fair, the current Civic continues to fly out of dealerships, so maybe it's just me.
Anyway, the Acura TLX started life as a kind of hybrid - not the gas/electric type but a "niche type" in that it replaced two Acuras: the TL and the TSX. I happen to think the first generation TSX was Honda's last truly great new sedan - it epitomized Honda's simplicity and fun to drive factor, while adding Acura's luxury quotient to the equation. TL's from that vintage were darn nice cars as well, bigger and more luxurious than the sporty-at-heart TSX but still very good.
The TSX lives on, kind of, in the ILX - my current favourite Honda sedan - but it's more a luxury economy car, successor to the Civic-based CSX and EL, than the true sports sedan that was the original TSX. So if you want sporty performance from an Acura that isn't a supercar, the TLX is pretty well it.
And for 2018, Acura has upped the TLX' ante via an A-Spec option package, and it's a nice step forward. The new TLX also has some styling issues, such as creases on the sides and the hood that look kind of like Acura is trying to give it a "pre-crumpled" look, a hint at how the car will look after you've rear ended someone. I highly doubt this is the designers' intent, but that's how it struck me.
It's really nice to drive, though! I piled some family members into it during my week with Acura Canada's sample, and we sallied forth down highway 2 to Nanton, Alberta, to visit the Bomber Command museum there and that trip - while not particularly long and/or challenging - gave the TLX a chance to stretch its legs on an Interstate-type of environment on the way down.
Coming home we took a more serpentine route on back roads and the TLX - undoubtedly thanks in part to its Super Handling All Wheel Drive - handled the task very well. And judging by the ladies' complaints about the foothills scenery being blurred as it whizzed by, the TLX A-Spec is not merely a very pleasant place to spend some time, it also acquits itself admirably when pressed into doing some "semi-serious" driving.
The A-Spec version is the higher trim level, and besides performance upgrades such as chassis tuning and wheel/tire specification, it includes exclusive design elements inside and out to differentiate itself from lesser TLX's.
The car features a retuned electric power steering system and different damper settings and, since Acura's sample was equipped with SH-AWD all-wheel drive, it also gets a quicker steering ratio and a stiffer spring rate and rear stabilizer bar. It all works well together, with the TLX displaying a nice and tight driving demeanour with no wallowing tendencies even in its least sporting driving mode.
A nice touch is that the TLX remembers your last-chosen driving mode (Econ, Normal, Sport, and Sport+), so you don't have to keep switching just to maintain your driving status quo. A small thing, but thoughtful and handy.
Up front, A-Specs get an exclusive matte black diamond pentagon grille, paired to a dark chrome surround, and I think it's a step backwards from earlier Acura schnozzolas. It also features a more aggressive lower front fascia and "a dark appearance for the Jewel Eye LED headlights," according to Acura. Those headlights are pretty cool, by the way, and work well.
Wheels for A-Spec TLX's are exclusive 19 inch alloy units finished in Shark Gray paint (and they don't charge an extra fin for it!) and wearing 245 series tires. A-Spec's bum gets a cute gloss black deck lid spoiler, "smoked" LED taillights, and four inch round dual exhaust finishers.
Inside, the A-Spec's front seats are bolstered more aggressively and feature high-contrast stitching and piping. There's also red LED ambient light, red driver's meter highlights, a black headliner and pillar treatment, brushed "aluminum-look" instrument panel garnish and a nice, thick-rimmed steering wheel with A-Spec badging.
Basically, the changes inside and out combine to take an already mostly attractive and compelling car and make it a little cooler and a little sportier.
Power in this version comes from a wonderful-sounding 3.5 litre V6 putting out 290/267 hp/torque, though base TLX's get a 2.4 litre four cylinder unit. The V6 is plenty, but - and I blame the nine speed automatic transmission partly for this - it seems a tad reluctant to leap to attention when spurred, as if the car really wants to stay in some kind of eco mode instead of spreading its wings and flying down the highway.
The nine speed automatic comes with paddle shifters, as it should, but since they apparently shift when they want to anyway, they also contribute to that feeling of a reluctant sports sedan. And what's with Acura's weird shift buttons on the centre console?
That said, you can make the TLX fly quite nicely - just ask those women in the rear seat on our foothills trip - and the car does it uncomplainingly and quite stirringly. It's just that its heart doesn't seem in it.
The TLX also suffers from the current Honda/Acura fondness for making their nannies particularly obtrusive. For example, we were cruising along the divided highway using the adaptive cruise control and whoever the oaf was driving the vehicle ahead suddenly decided to slow down and turn off, a not atypical development on the road. The TLX should have slowed down automatically - or, since the guy was already turning off, ignored the other car altogether - but instead it flashed a frantic BRAKE!!!! on the instrument panel, pleading for me to do its job.
That kind of made the both the adaptive cruise control and the collision avoidance stuff less than useful and more than annoying. I mean, if I have to BRAKE!! anyway, what's the point of having the nannies?
I was also disappointed in Acura's ELS audio system. There was a time when I held the upgraded ELS system as a benchmark in automotive audio but, while it still sounds very good, it no longer plays DVD-Audio discs. Granted that's a pretty obscure format these days (well, it always was…) but why would they mess with something that already worked well. Because everyone uses Bluetooth and USB now? Maybe, but the TLX wouldn't play my NTFS-formatted USB drive, either.
The stacked LCD's on the centre, er, stack are unnecessary, as well. Every other company of which I can think does all the same functions with one screen - or one on the stack and one in the instrument panel - but the TLX has an info/nav screen up top and an audio/HVAC etc. screen below. One's a touch screen and one uses a mouse-like device. I'm sure using them would become routine over time, but I found it confusing, and I'm a tech-friendly kind of guy.
At least there's a volume knob, though a tuning one would be nice as well. 
Despite my angst about the car, the Acura TLX is easily nice enough to be worth serious consideration in this market niche. Its biggest challenge may be its direct completion; in a world where you have the Lexus IS 350, BMW 3, Audi A4, Mercedes C, Infiniti Q50 and Jaguar XE fighting for your attention, it could be easy to get lost. Still, those competitors will probably cost you more when configured as fully as the TLX A-Spec is, which makes the Acura a bit of a bargain in this league.
The 2018 TLX 2.4L starts at $35,990. The A-Spec packages can be had on SH-AWD models with either engine, starting at $42,190.
Copyright 2017 Jim Bray
TechnoFile.com