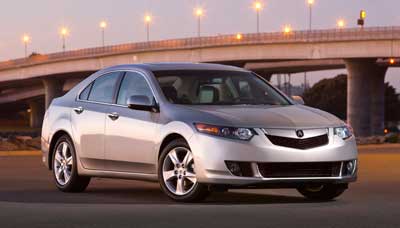 New and Improved TL, TSX Highlight Acura for 2010
By Jim Bray
February 6, 2010
It's a darn shame that Acura/Honda seems to have fired its exterior designers because they make some really nice cars.
Beauty is in the eye of the beholder, I realize, and even though the TL was never the most attractive vehicle in the stable it was never worse than bland before this new version came along. It's darn ugly now, in my never humble opinion, and that's too bad, because it remains a wonderful car.
Maybe it'll grow on me like the TSX has. I was disappointed in the smaller sedan's styling when the second generation came out, but now think that it's just fine.
Love or hate the exterior, you don't see it once you're behind the wheel, so there are more important issues to contemplate when looking at sedans such as the TL and TSX, like how they perform, how comfortable they are and how well the luxury aspects stroke you.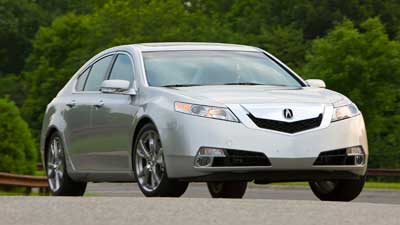 On these counts, both the TL and TSX do a fine job.
My seat time in the 2010 TL came right after I had the TSX, the latter of which had been my favorite Honda/Acura offering since its introduction, so it was a nice way to get a good comparison between the two.
Big-and-little-brother TL and TSX are quite similar in their mission, with the TSX a little more compact and not quite as high end as its larger sibling. It's close enough, though, and of the two I preferred the TSX, except that its rear seat is a tad tight for grownups and the smaller rear door openings made it challenging for we of the middle ages (I, for one, live in the 1600's) to get in and out back there.
Families with younger kids shouldn't mind the tightness a whit, however, and the ankle biters back there may still be close enough to receive a good whack if they're getting out of line.
The original TSX wasn't a powerhouse by any stretch of the imagination, but it was a wonderful car to drive and, like a happy and loyal puppy, it took everything you threw at said "C'mon, let's keep playing!" The only thing that could have made it better was a V6.
Ask and, eventually, you shall receive apparently: for 2010 you can get a V6 – and the car I thought had lost some luster is my favorite Honda/Acura again. Thanks!
The V6 option makes the TSX playful again, while retaining the current generation's move up market. The 3.5 liter, 24 valve, SOHC VTEC engine ups the TSX's oomph ante from 201 foals to 280 horses @ 6200 rpm (with torque jumping to 252 lb.-ft. @ 5000 rpm) and, not surprisingly, the difference can be felt from the moment you step on the accelerator.
I loved it!
It isn't perfect, of course, and I have some of the same quibbles about the TSX that I do about the TL and other Honda/Acura models. My chief complaint is that there's so much technology it results in a center stack that's far too busy, requiring both an abundance of buttons and knobs as well as a cursor control interface that interacts with the high-mounted LCD screen. It's voice activated as well, but I got very frustrated with the voice interface, which seemed to think I was speaking Martian or something. It wouldn't grok me, no matter how clearly I made my wishes known.
We were heading to a family gathering in a city about an hour north of our home and I thought I'd program in the destination to test the nav system. It took so long I might as well have stopped to ask directions though, being male, I couldn't.
This also applies to the TL, though its interfaces are slightly different.
Both cars made me long for a touch screen, but Acura has mounted the LCD up high, near the windshield, where it's visibly nicely and doesn't require the driver to look down too much – but where it's too far away for anyone but, perhaps, knuckle draggers to reach.
To be fair, you'd probably get used to and become at peace with the interfaces if you actually owned the car and lived with it for a while, but it's still these vehicles' weakest link. Whatever happened to "We make it simple"?  
Geez, when a techie guy complains about the technology…
One techie thing I can't complain about is the TSX V6's five speed auto/manual transmission with paddle shifters. The paddles work well, the manual mode gives you great control and can be accessed merely by activating a paddle: you don't have to shift to "sport". If you do shift to sport mode, shifting is even more interesting and the transmission doesn't go back to sleep – into automatic mode – if you don't keep prodding it.
The TSX V6 also gets "exclusive suspension tuning, larger diameter wheels and additional enhancements," according to Acura's press materials.
The car is front wheel drive and there's some torque steer but it isn't the least bit scary; the car handles very nicely, with good steering feel and a suspension tighter than you might expect but not tight enough to disturb the kidneys. I liked the feel – sporty without bludgeoning your bum.
A TL with Appeal
The TL, not surprisingly, feels bigger and is even more luxurious. Its center stack is laid out differently from the TSX', but it isn't a lot easier to use. The seats are larger and more luxurious, though, like the rest of the TL's cabin compared with the TSX.
My sample TL was the higher end SH-AWD version, with a bigger engine (the base TL gets the same V6 as the high end TSX) and Acura's "Super handling All Wheel Drive" that does a nice job of not only taming torque steer but which is also very handy when cornering and in slippery conditions.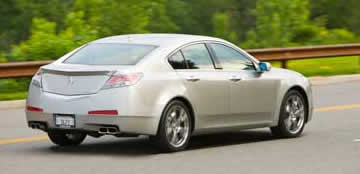 The "senior" TL's upgraded power plant, puts out 305 horsepower @ 6300 rpm and it's plenty, though you don't really notice the difference much from the TSX V6 because of the TL's extra weight. That isn't a slam – both cars are plenty quick and I daresay the base TL is probably quick enough too.  
My TL also came with a six speed manual transmission. Driving the TSX's nice auto/manual back to back with the TL manual was a real eye opener. I had complained about the lack of a stick in the TL before (it was added to the last generation) and, as with sticking a V6 into the TSX, they listened – and it's a wonderful manual, shifting smoothly and confidently.
But I was gob smacked to discover I preferred the TSX' auto/manual with paddles: it seems to suit a luxury sedan better. Current generations of auto/manual transmissions are very good and about the only thing you lose these days with a good auto/manual is the clutch pedal – plus, you get the convenience of paddles and ultra smooth shifts.
Both of my test Acuras came with just about all the technology available, which includes the delightful ELS surround sound audio system that plays just about every kind of music format available short of SACD (and it's about time they offered that, too).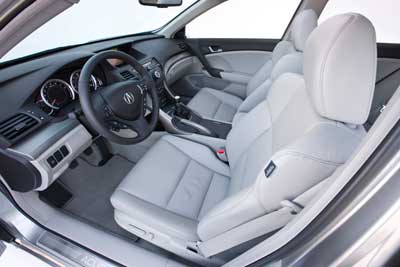 Acura's ELS technology makes for some of the best car audio systems I've heard. They really rock. Featuring an AM/FM/XM stereo with MP3/WMA capability, an in-dash CD/DVD-A player, the 10 speaker surround sound system also has very good amplifiers. The TL adds hard disk storage you can use to rip your albums to directly. It works well.
And I've barely scratched the surface of features/benefits offered by the TSX and TL.
Acura envisions the TSX V6 as moving into the niche the TL is abandoning as its new generation goes more up market, and they're probably right. Despite the extra room in its rear seat (and easier in/out access) the TL is probably more suitable for an older and more affluent demographic, while Acura thinks the TSX V6 will appeal more to youthful buyers lusting after a "performance-oriented sports sedan in a more personal size."
I have a feeling the TSX may be popular with empty nesters who want something a little smaller, yet fun and luxurious, too. It's the one I'd choose, and I fall into that category.
Choosing between these vehicles is difficult. Both do so many things well, both are comfortable and fun to drive and both feature plenty of great toys. Both cars share the interface shortcomings and while the TSX is more attractive outside, the TL is higher end and has a better rear seat. Call it a draw.
I could live easily with either, and for a long time. But as mentioned above, if I were actually spending my own money, I'd go for the TSX V6. My wife and I don't need a back seat for more than occasional passenger duty, hauling stuff and dragging the darn dog to the off-leash area.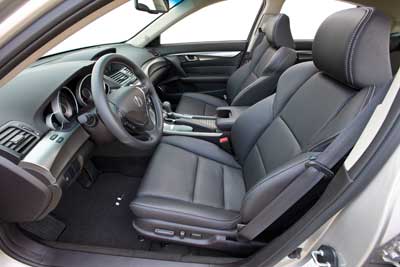 I like the TSX' smaller size, its exterior is less likely to frighten small children (maybe that isn't an advantage!), the V6 is a beautiful match to the car's size and weight, and I can still get all the toys I want.
Which means I've probably just killed any chance of the TSX V6 being successful…
According to Acura's U.S. and Canadian websites, the TSX starts at $29,310 U.S./$32,990 Canadian. The TSX V6 with technology package starts at $37,950 U.S./$42,790.00 Canadian.
The TL starts at $35,105 U.S./$39,990 Canadian. The TL SH-AWD six speed manual with the Technology Package starts at $42,385 U.S./$48,490 Canadian.
Either vehicle is a lot of car for the money.
Copyright 2010 Jim Bray
TechnoFile.com