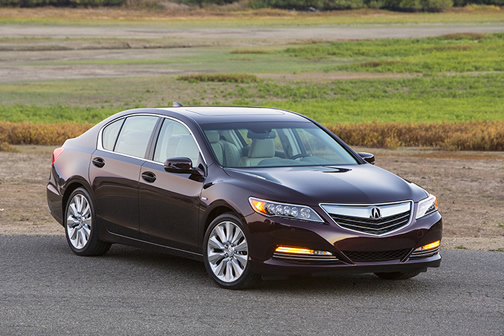 Acura flagship sedan causes rethink for hybrid denier
By Jim Bray
March 20, 2015
Gobsmacked, I tell you. That was my reaction after a week driving Acura's RLX Sport Hybrid, the top version of the company's luxury sedan line. That's because I came away from the experience actually preferring the hybrid to the gas-only version of the car.
(click here or on the image to open a slideshow)
Better not stand too close lest you become collateral damage from the pending lightning strike!
Honda's flagship division's biggest sedan is a really nice car in whichever livery you dress it, with good performance, lots of technology and the type of creature comforts you'd expect from a nearly $70,000 vehicle. And it doesn't seem overpriced considering its competition.
The Sport Hybrid SH-AWD (Super Handling all-wheel drive) starts off with the same 310 horsepower (273 lb.-ft. of torque) direct injection, 24 valve, SOHC i-VTEC aluminum-alloy V-6 engine – and that's a good place to begin since it's a fine engine. The hybrid version adds a three motor Hybrid Powertrain, one motor up front and two out back.  The combination, Acura says, results in 377/341 horses/torque, which is one of the reasons this version is the more interesting of the two. And of course it doesn't hurt that the torque created by the electric motors comes on the instant you tromp on the obsoletely-named gas pedal.
The power and torque aren't the only reasons to love the RLX, however. Acura has also chosen to up the transmission ante, from the gas-only version's six speed automatic to a seven speed dual clutch unit that's more reminiscent of Porsche's fantastic PDK than a conventional "slushbox" (though it isn't really fair to call today's higher end conventional automatics slushboxes). Not only are its shifts very quick, it's also more intuitive than a conventional autobox in its gear selection. I'd still choose the PDK if I had my druthers, but Acura's dual clutch version is still a nice example of the species and would be my transmission of choice were I buying an RLX.
Another reason to love the hybrid is its all wheel drive; the gas version features only front wheel drive – albeit with a four wheel steering feature that's kind of cool. Acura says the RLX Sport Hybrid is the first vehicle to use its new "three motor hybrid powertrain" which will apparently also appear in the new NSX supercar when it storms onto the market, finally, later this year. The system, as it sits in the RLX, offers excellent handling – better than you might expect from a largish luxury yacht.
As one should expect from a flagship, the RLX Sport Hybrid bristles with advanced safety and media technologies, including the AcuraLink "connected car system" and a neat surround view camera. You also get now common and often intrusive nannies like Lane Keeping Assist System, Adaptive Cruise Control and Blind Spot Information system – all of which you can defeat if you choose to actually drive competently without having robots looking over your shoulder all the time.
There's also a heads up display that I could actually read easily while wearing my polarized sunglasses – which is the exception rather than the rule so far when it comes to carmakers putting HUD's on their vehicles. HUD's rubbed me the wrong way when they first started appearing, but I've started to make peace with them, especially ones I can actually see during daylight hours. The RLX's is fairly unobtrusive, and if you want  to have a digital speedometer, this is the only way to get one.
I like a digital speedo – you get the exact speed information instantly rather than having to focus on a needle and a scale that in some cars (not this one, however) can be quite confusing. Display modes include SH-AWD system operation, tachometer, turn-by-turn navigation, compass, ACC/LKAS – as well as your speed. I liked keeping it to a minimum, focusing on the speed and revs, though I'm not as comfortable with a digital tachometer as I am with a digital speedo
One weird new wrinkle in this year's RLX is the addition of Acura's new "electronic gear selector" system. This gets rid of the usual selector level on the center console, using an array of buttons to select your mode. It's kind of strange: the "drive" button is a round push button, while shifting into reverse is a little tab-like thing you press backwards. It's easy enough to get onto but because the whole shebang is fairly long it doesn't really save a lot of space on the console, which makes me wonder why they bothered other than to add a "gee whiz" factor to the task of shifting.
Once you're in "Drive" you can shift via paddles for a manual mode, and the dual clutch tranny's is quite satisfying.
The hybrid shares with the gas engine version such goodies as "Jewel Eye" LED headlights that look very cool indeed, as well as the various nannies, but you have to get the hybrid if you want that shifting system and the HUD.
One surprising omission in a car sitting at this level of the marketplace, is the lack of a power trunk lid. This would undoubtedly hardly be a deal breaker, but the feature is common at this level and is appearing on lower end cars as well. It's especially handy when the vehicle is dirty and/or wet.
The RLX is a very pleasant place to spend time and I really like its understated luxury and fine quality materials. As a sedan such as this should, it includes stuff like 12 way powered and heated front seats (with driver's side memory), a heated steering wheel and heated rear seats.
For the past few years, I've whined about Honda and Acura's interfaces, which had so many buttons and knobs and related gewgaws that it wasn't funny. In the past model year or so, however, they've taken steps to make things easier. With their new double-kind-of-redundant LCD's stacked over each other they've only been partially successful, but it's a nice step forward regardless.
Don't get me started on the voice recognition interface, though. It's quite annoying – though this is hardly unique to Honda/Acura vehicles. It also took me a couple of tries to get my phone paired.
A technological step backwards, kind of, is the addition of the Krell audio system. Krell is a high end audio maker whose name, the Krell folk confirmed to me many years ago at the Consumer Electronics Show, came from the movie Forbidden Planet. It's fine stuff, offering RLX owners gorgeous sonic quality that's a real treat for the ears. The step backward comes from its inability to play high resolution audio discs. Acura used to offer the ELS surround sound system (you can still get it in some models), and it was one of my favorite car audio options. It not only sounded great, it handled my high resolution (DVD-Audio, SACD) discs beautifully.
No longer. The Krell system refused to play my DVD-A's at all and, as is the wont of most car audio systems, it "dumbed down" SACD playback by treating them as regular CD's. I also, rather hopefully, tried a couple of Blu-ray Audio discs and the Krell threw up its little electronic hands in frustration, at which time I threw up my chubby little flesh and blood hands in frustration…
To be fair, I'm definitely in a minority when it comes to having a library of high resolution audio discs; most people won't notice or care about the omission – and there's plenty of connectivity options for those whose music is on a smart phone or other such device – but it strikes me as kind of strange that a company that showcases high end audio (and this isn't unique to Acura, either) doesn't actually handle high end audio.
Those quibbles notwithstanding, the Acura RLX is a very nice car, especially in hybrid form, and it comes in at a reasonable price for this market niche. It's also pleasant – and reasonably spirited – to drive, crammed full of luxury and technology, and a definite upgrade from the old RL, as nice as that car was.  
The Acura RDX Sport Hybrid SH-AWD lists for $69,990 Canadian, plus the usual fees etc.
Copyright 2015 Jim Bray
TechnoFile.com