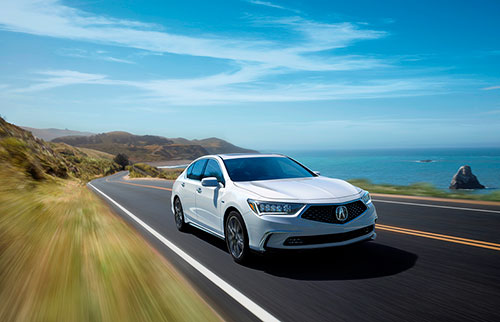 Acura RLX soldiers on bravely and quite nicely
By Jim Bray
November 9, 2018
Acura's biggest and most powerful sedan is a very nice ride.  I'm not sure that's enough to make the car stand out in a niche full of really nice luxury sedans, though.
Still, you get a lot of niceness for your after-tax disposable income.
Click on the link to open a slideshow.
The RLX succeeded the RL a few years back, a luxury sedan I liked a lot, and this replacement has much to recommend. Oomph is plentiful, comfort and luxury abound, and the car will probably outlive its owners. So why do I come away from a week with it feeling kind of "meh?"
Simply, because – as nice as it is, the RLX Sport Hybrid also really annoys me, and it's mostly due to interface design and usability choices Honda/Acura has made in recent years.
That doesn't mean the RLX is a worthless pretender. Far from it. And Acura has given the sedan some tweaks this year that are meant to keep it interesting. These changes include new front and rear styling the company says reflect its new design direction and its "signature" diamond pentagon grille. The hood has a couple of creases on it that give it a kind of weird, "pre-crumpled" look, but it's hardly offensive. There are also new seats, and they're available in Saddle Brown leather now. You can also choose from two new premium exterior paint options. Pretty exciting stuff!
Two RLX models are offered, both of which come with Acura's Sport Hybrid Super Handling All-Wheel Drive system. The base model is the Tech, which starts at CAD $65,490. The Elite trim level starts at $69,990.
Congratulations to Acura for sticking with the 3.5 litre V6 engine in an era in which so many others are downsizing to turbo fours. This, of course, could change with a new generation – which is incentive to buy now if the lure of a real, naturally aspirated V6 is important to you.
This V6/hybrid combination makes the RLX the most powerful Acura sedan, and the second most powerful Acura (after the NSX supercar). The gas engine works seamlessly with three electric motors and the Super Handling All-Wheel Drive technology for nearly instant acceleration (there's a minor delay when you first tromp the gas pedal, kind of as if it had "auto stop" engaged, but it goes away at warp speed). The performance is exquisite, the handling is precise. 
Acura rates the RLX at 377 peak total system horsepower and 341 lb.-ft. peak total system torque, and claims its powertrain shares its basic concept and some of its components with the NSX, which ain't a bad place to start!
When driving the RLX, the gas engine will shut down some times, but it's so seamless the only way I noticed it was via the tachometer reading as if it had been disconnected.
Power gets to the road thanks to a nice, seven-speed dual-clutch transmission with Sequential SportShift paddle shifters, Grade Logic Control and Sport mode. It works great, though I really don't care for Acura's strange, linear shifter on the console. Nothing wrong with it; I just think it's just unnecessarily weird.
The RLX' interior has received new premium materials, including completely redesigned Milano leather seats and an available black headliner (Sammy Davis Junior was unavailable for the job, apparently…). It's a very classy and comfortable cabin and all five souls it carried during my time with it found it most agreeable. 
Standard features for 2018 include a heads-up display (HUD) that's pretty legible with polarized sunglasses, a premium ELS Studio Audio System with 14 speakers, two-way remote engine starter, LED fog lights, heated steering wheel and more.
Acura's sample wore the Elite package, which ups the luxury offering via a Krell Labs Audio System, power rear sunshade, Surround View Camera System, ventilated front seats, and more.
I must mention Acura's audio system. The Krell system really rocks (Krell is a respected high end audio maker, as well as an extinct alien race…), but if you're one of the handful of people left who still wants to play their DVD-A discs, you're out of luck. Such wasn't always the case with Acura. Time was that the ELS system was my favourite because it not only offered exquisite sound, it played just about everything you could throw at it, including DVD-Audio discs. Alas, this is no longer the case.
At least Acura still gives you a disc player! CD's now are in danger of following cassettes and 8 Track cartridges to the technological tar pits as people migrate to streaming or USB-based tunes. Fortunately, the Acura also handles the streaming/plugging options.
My big complaint about the interior is the dual stacked LCD screens on the centre stack, neither of which appears completely sufficient without the other yet each would have worked just fine on its own if the company had paid a little more attention to the interface (after all, most other companies make do with a single screen). One is a touch screen (the way it ought to be!) and the other uses a knob, which still beats a mouse or trackpad! Making it worse, the lower screen was nearly illegible when I wore my polarized sunglasses.
I have a feeling that were I to own an RLX I'd figure out reasonable workarounds for the screen silliness – via voice recognition and the redundant controls on the steering wheel, perhaps – but why should one have to? Again, what happened to Honda's "we make it simple?"
Acura's sample also had a couple of very un-Acura-like issues which I'm confident are exceptions rather than the rule. For example: when I moved it forward or backward, the powered driver's seat groaned like I do getting out of bed each morning – but the Acura's a heckuva lot younger! And the tire pressure monitor freaked out the entire time I had the car, despite my attending to the pressures more than once – though to be fair TPM systems in general (not just Acura's) do tend to be a tad spotty at times, especially when it's cold, and it was fairly chilly during my week with the RLX.
All 2018 RLX's also feature the AcuraWatch suite of nannies – er, assistive technologies – including a new "Traffic Jam" Assist, a first for Acura. It works with the Adaptive Cruise Control and Low Speed Follow systems, and aims to reduce driver stress in highly congested traffic by helping keep the vehicle centred in the lane and at a set interval from a vehicle detected ahead.
Or you could just take public transit!
The AcuraWatch system also includes the abovementioned Adaptive Cruise Control (ACC) with Low Speed Follow, as well as a Collision Mitigation Braking System, Forward Collision Warning, Lane Keeping Assist (LKAS – and it's shut offable!) and Road Departure Mitigation (RDM) with Lane Departure Warning (LDW).
Just like Acura has begun using the latest technology to stay ahead of the competition, so have many boat builders. Hop on any of the late model Sportfishing Yachts For Sale and you will find a vessel fully controlled by the touch of your smart phone or ipad.
Despite my criticisms, which are personal  preferences and may not matter a whit to you, the Acura RLX is a very nice sedan. It's still modern, it's comfortable and luxurious, and it's about as great to drive as a luxury-focused hybrid sedan is likely to be. Now, I don't mean that last crack to be damning with faint praise because there's nothing wrong with the vehicle that couldn't be fixed with the sacking of a few decision makers – and I'm willing to be that there are plenty of people who like how Acura does things, regardless of what the writer guy says. So as with anything, "your mileage may vary." 
Still, I wish Honda/Acura would go back to basics, to the "we make it simple" days of decades past – as difficult as that might be considering how automotive technology has progressed. Fortunately, as exhibited by some of the new Honda/Acuras, the company seems to be rethinking things and that gives me hope. It appears the RLX is nearer to the end of its current generation than it is to the beginning, however, so such stuff will undoubtedly have to wait for a new version if there is one.
I hope there is.
Copyright 2018 Jim Bray
TechnoFile.com
Jim Bray is a member of the Automobile Journalists Association of Canada. His columns are available through the TechnoFile Syndicate.