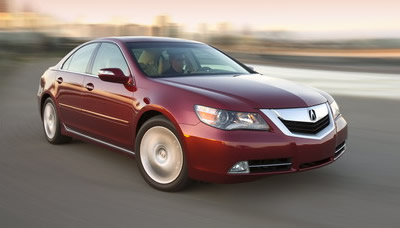 Acura RL Offers Comfort, Technology
By Jim Bray
September 24, 2010
Acura's freshened flagship may not be all new, but it's still a great tool for the right audience.  
The RL has been around for years, and I expect this current generation to be replaced before much longer. It's a car I've driven a couple of times and I like it very much. I've also spoken to people who own the car and they've told me they love its combination of sophistication and comfort. These folk don't seem to notice that the RL may not measure as high on the "pulse-quickening meter" as some other sedans in this class – and even if they did I doubt they'd care: the RL delivers for them in different ways.
Nothing wrong with that. In fact, I understand it completely. I recently spent a week with a brand new, loaded RL, taking it on a road trip through southern Ontario and it did the job spectacularly well. It carried the four of us in comfort, and with enough room for all of our suitcases and assorted flotsam and jetsam. Heck, its back seat is roomy and comfortable enough that my son, who was unfortunate enough to have to work while we on vacation, could poke away at his laptop computer (linked to his office via his cell phone data plan) for hours at a time without getting antsy enough to start slapping me on the back of the head in frustration.
I was grateful for that!
So depending on your needs, the RL really does deliver – if you want to deliver family, friends and associates somewhere in style. Alas, as mentioned, it's rather stodgy from a "driving fun" perspective. The only time it really comes to life is when you shift it into sport mode and grab hold of the shifting paddles – at which time it's actually quite enjoyable. But in its default mode it comes across more as just a very nice way to get from Point A to Point B. "Want a heart-stirring ride?" it seems to say. "Get a TL."
Fine. Nothing wrong with that. The TL is, indeed, a lot of fun – as long as you shield your eyes from having to witness its exterior styling while you approach it.
Beauty is in the eye of the beholder, but to these eyes the RL is the most attractive of Acura's sedan, even after they stuck the current corporate beak onto it for 2010. That beak is pretty well Acura-wide now – and it works better on some models than others. It looks great on the new ZDX, for example. And since the RL now shares its schnozzola with the TL and TSX, it's less distinguishable from its sedan siblings from the front. The freshened taillights look nice, however and, to be fair, even the generic grille doesn't take away from what's overall an attractive exterior design.
RL's feature as standard equipment a 3.7 liter VTEC V6 engine (300 horsepower and 271 lb.-ft. of torque), the Super Handling All-Wheel Drive system that can send torque from side to side at the rear wheels, a leather interior, power and heated/cooled front seats (the latter of which came in really handy during our suffocatingly hot trip), dual-zone automatic climate control system (ditto), power moonroof, power windows, a multi-function steering wheel, Multi-Information Display, an excellent Acura/Bose surround sound audio system and Bluetooth HandsFreeLink connectivity.
Needless to say, it made for nice travelling.
My sample also had a power-operated rear window sunshade (and manually-deployed rear side window shades) that came in really handy during our trip. My only complaint about the rear one was that it would retract when you put the RL into reverse, presumably to enhance your view rearward, but not extend again when you shifted into a forward gear; you had to do that yourself.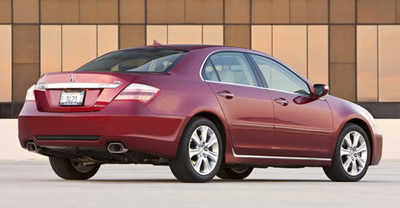 Not a big deal, of course.
My test RL was also loaded with extras like a Navigation System with Voice Recognition (though I don't think Acura's voice recognition is the industry's best), back-up camera, Active Front Lighting System (AFS), Adaptive Cruise Control (ACC) and wood trim.
The adaptive cruise control came in handy on long and boring freeway stretches. You can choose from three distance settings – how far the car stays behind the road hog in front of you – and it slows you down or speeds you up depending upon what's happening up there, even applying the brakes if necessary. It's very slick.
And the navigation system did a great job of getting us to locations we'd never visited before. In fact, it guided us better than the Google map I'd printed out before leaving home.
I was a tad chagrined to note the RL still comes with only five speeds in its transmission when the competition is moving quickly to six or more. Heck, you get six speeds in a Camry! The RL's tranny shifts smoothly and efficiently, but I think an extra gear or two might have made it a tad more lively, let alone competitive. Maybe that's on tap for 2011.
The rest of the RL is top drawer stuff, from its electronically controlled, speed-sensing, power-assisted rack-and-pinion steering to its double wishbone front suspension and multi-link rear.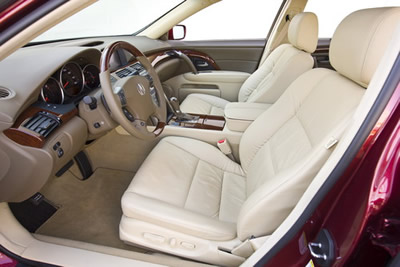 Naturally, you get four wheel ventilated disc brakes and they work well at slowing down the 18 x 8 inch seven spoke aluminum alloy wheels.
I didn't get much of a chance to try the surround audio system, which plays DVD-Audio discs and will interface with your music player by Bluetooth, assuming your player will cooperate. I used the USB interface to play stuff stored on my iPhone but it wasn't much of a test of the system's mettle compared with a good DVD-A disc. It's too bad; the high end Acura audio systems are very good, indeed.
The RL is a really nice car and I'm surprised I don't see more of them on the road. As I mentioned, the people I've met who own RLs' love them for their blend of high tech stuff, easy riding characteristics and dependability. And while it may not have as much boy racer pretention as some of its competitors, it's a lovely car to travel in. And, as my sources say, undoubtedly very easy to live with.
The Acura RL starts at $46,830 U.S./$63,900 Canadian and you can add option packages from there.
Copyright 2010 Jim Bray
TechnoFile.com