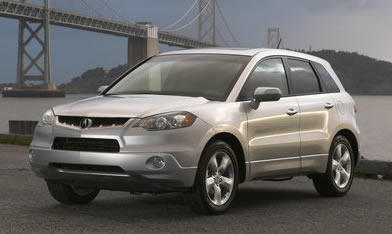 Acura RDX Vs. Mazda CX-7 – a Head to head Matchup
By Jim Bray
February 6, 2009
Which is better, luxury performance, or classic "Zoom-Zoom"?
Or perhaps more accurately, which of these popular SUV's turned my crank the most after spending back-to-back weeks with them: the Acura RDX or Mazda CX-7?
I drove the Acura RDX first, a vehicle I like very much and which would be on my short list if I were looking for a machine in this class. It's a little higher end than the Mazda CX-7, with more technology and stuff. Naturally, it's also a few grand dearer.
Not that the CX-7 is some kind of dinosaur. I had fond memories of it as well, having taken one on quick (and I mean quick!) trip a year or so back, a drive and a vehicle that both were most enjoyable. The CX-7 would also be on my short list, though going into the test I was leaning more toward the Acura if for no other reason than I'd had a little more seat time in it and also preferred its higher end ELS audio system that lets me play my DVD-Audio "snob discs".
It's a fair matchup so far as power plants are concerned. Both vehicles feature turbocharged 2.3 liter four cylinder engines. The RDX's is an i-VTEC unit the company rates at 240 horsepower @ 6000 rpm and 260 lbs.-ft. of torque @ 4500 rpm. Decent figures and, as I remembered from my drive up the Pacific Coast Highway North from San Francisco when the model was introduced, they helped contribute to an SUV that's plenty of fun to drive.
Mazda rates the CX-7's direct injection turbo four at 244 horses @ 5000 rpm with 258 lbs.-ft. of torque @ 2500 rpm, also decent figures. Let's call it a draw: the Mazda's extra four horses won't bring the apocalypse and the Acura's two foot pounds (at higher revs) don't show too much extra oomph when you pound your right foot to the floor.
Needless to say, both vehicles are fun to drive. Alas, both also want to drink premium unleaded fuel, which will add to your cost of ownership (but pay off in performance).  
The Mazda wins the transmission battle, kind of, with its six speed automatic giving a one "gear" advantage over the Acura. On the other hand, the Acura has steering wheel-mounted paddle shifters for manual mode, which always beats having to move your hand over to the shift lever as in the Mazda.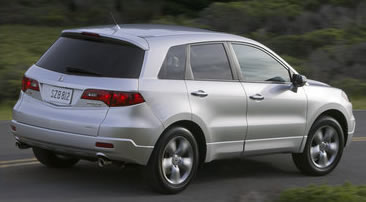 During my two weeks with the vehicles I had to give the tranny advantage to the Acura despite its having only five speeds. This was clearly because of the paddle shifters: my time with both vehicles came during bitterly cold weather with roads that were either snow covered and slippery or ice-covered and slipperier. The paddles gave greater control by letting me shift while keeping my hands on the steering wheel.
The RDX also features Acura's SH-AWD "super handling" all wheel drive system that directs driving energy between the front and rear wheels, as well as sending it to the outside rear wheel in cornering. The CX-7, which is also available in a front wheel drive variant, wasn't quite up to the Acura's snuff on the crummy roads of my test, but the AWD of my test unit came close enough that I'd call it a near draw: both vehicles performed beautifully and I never, ever thought they were anything less than safe and secure regardless of the driving conditions. I'd be happy driving either vehicle any time.
I was happier driving the CX-7 from a standing start, though. While neither turbocharged engine suffered from a lot of turbo lag, the Mazda was smoother from the get-go; the Acura tended to hesitate just a tad before zipping ahead with wild abandon.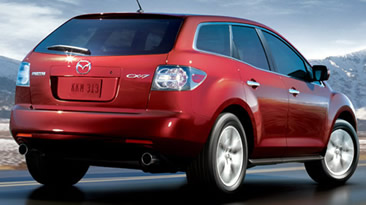 So the Mazda gets the smoothness prize – and wins by a nose on "Zoom-Zoom".
Both vehicles feature independent suspension all around (struts up front with multi-link buttocks), as well as four wheel disc brakes with ABS and power rack and pinion steering. They also offer the usual electronic nannies such as traction control, though neither was particularly intrusive even on slippery road surfaces.
Each vehicle can hold five people in two rows of seats, with power-adjusted driver's seats that are extremely comfortable, though the RDX's are a tad more luxurious. The front seats of both vehicles also feature bun warmers.  The Acura's steering wheel tilts and telescopes while the Mazda's only tilts, but I had no trouble finding the perfect driving position in either SUV.
Well, almost. The Mazda has slightly better seating positing, since I found the Acura's a tad too high up front under my thighs.
Getting into the CX-7 was easier than the Acura, thanks to the Mazda's keyless entry and start system that lets you leave the fob in your pocket. And while I don't like red gauges, which I find hard to read, I have to give the Mazda higher marks for its instrumentation and interfaces thanks to its simplicity of design and operation.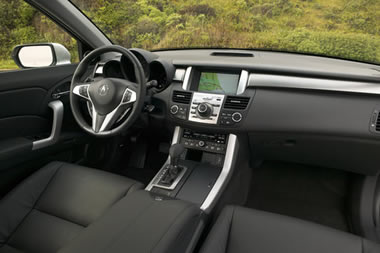 The Acura does more (my test unit, for example, had a navigation system the Mazda lacked, though it's optional) but you have to learn an intimidating number of buttons, knobs and things that fill the center stack.  
The Acura's audio system is better than the Mazda's, though my favorite version of Acura's terrific ELS system is still the one in the last generation TL. I haven't tried the new TL yet so can't comment on its system, but I certainly look forward to it.
On a purely subjective note, while both vehicles are handsome, I think the CX-7's sporty aerodynamics look better than the more blocky RDX, though I wouldn't kick either out of my garage.
Both vehicles provided comfortable and enjoyable driving and hauling capability, and both were fun on the slippery roads. The electronic nannies help prevent you from doing anything really stupid, but I was pleased to note they give you enough leeway to have a little bit of fun in either vehicle. Again, I give the edge to the Acura for its paddle shifters, but other than that they were very close.
The Acura RDX starts at $33,895 U.S./$41,400 Cdn. The Mazda CX-7 starts at $24,570 U.S. /$29,995 Cdn). Adding AWD to the Mazda costs about $1,700 U.S./$2,000 Canadian.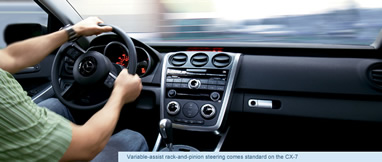 The CX-7 GT, the higher end trim level that brings the Mazda closer to the Acura's level of toys and tools, starts at $27,370 U.S./$35,695 Cdn. The Technology package adds about $3300 U.S./$3700 Cdn. to the price of the Acura.
Pricing my test units as closely as possible, taking into account differences in trim levels and options and Canadian/U.S. availability, my test RDX should cost about $37,195 U.S./$45,100 Canadian, while my test CX-7 would list at about $29,070 U.S./$37,695 Canadian.
My bottom line? While I'd be happy owning either of these vehicles, I'd be willing to give up the ELS audio and the paddle shifters to get the "Zoom-Zoom" the CX-7 has in spades – and save a few grand in the process. The Mazda isn't quite as luxurious or well appointed as the RDX, though you can option it up very nicely indeed. But, perhaps because it's a slightly newer design, I came away from my comparison more in lust with the CX-7 than with the also-excellent Acura RDX.
Having been a fan of the RDX since day one, I didn't think that would happen. Go figure.
Copyright 2009 Jim Bray
TechnoFile.com