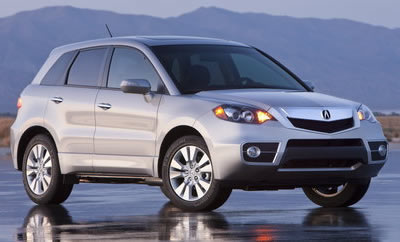 Acura and Honda "Cute Utes" Provide Good Rides
By Jim Bray
May 13, 2010
Whether you go up market or mainstream, the Honda Motor Company has an "entry level" sport utility vehicle they think you'll like. And they may be right. I certainly like both of them.
Not that Honda is alone in this, of course, but its CR-V and Acura RDX are both fine and compelling vehicles with a lot to offer. Choosing between them amounts basically to how much you want to be coddled, how much you want to spend and how sporty you want your vehicle to be.   
The CR-V was renewed a couple of years ago, and of course Honda found some tweaks for 2010, whereas the RDX is getting a little long in the tooth in car years (like dog years but, since technology advances so quickly, even shorter). That doesn't mean the RDX is out of date, though, especially since it also features a series of upgrades and enhancements for 2010. But if history is any judge there'll probably be an "all-new" version coming out in the next year or two.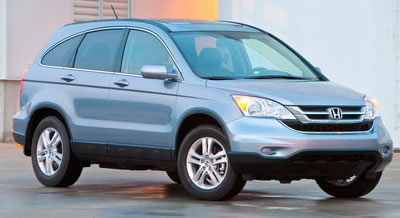 In the meantime, you have to "suffer" with one of my favorite SUV's, which means there won't be a lot of suffering involved.
The RDX was the first Honda consumer vehicle to be offered with a turbocharger, though the company has a long history of turbos in its racing engines. In the RDX' case, the turbo is attached to a 2.3 liter four cylinder engine that puts out 240 hp @ 6000 rpm and 260 lb.-ft. of torque @ 4500 rpm. This is plenty of motivation.
The only downside to the power plant is that there's a bit of turbo lag and, in general, the acceleration seems to come on as if you're stepping on an on/off switch, which affects its smoothness overall. This isn't a huge deal, however.
All RDX's come with what the company calls a "Performance-minded Sequential SportShift 5-speed automatic transmission" that offers the driver paddles for the manual shifting mode. I love paddles and they work very well here, though perhaps it's time for a sixth gear. You also get an electronically-controlled drive-by-wire throttle system.
RDX has sported Acura's Super Handling All-Wheel Drive (SH-AWD) system traditionally, which can direct torque not only to the rear wheels but to the outside rear wheel in cornering, and it works very well. For 2010, however, buyers in the United States can order their RDX with front wheel drive only, which can not only cut down on the price of entry but which the manufacturer says will also garner a two miles per gallon increase in its fuel economy.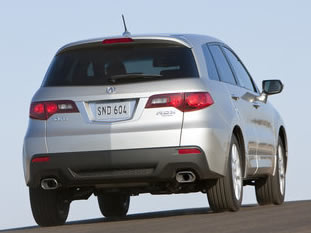 People who live in warmer climates may like this version over the all-wheel drive one. Canadian customers, most of whom of course don't live in warmer climes, don't get the front drive option, which may prompt some potential Canadian buyers to say SH-UCKS!
Acura has also given the RDX a more luxurious interior for 2010, as well as some new technology features, to make it more compelling.
The 2010 RDX is recognizable from the front immediately, thanks to the new "Acura signature design" front grille. Well, actually, it's recognizable from other RDX's, but the grille makes it harder to tell it apart from its big brother, the MDX (which was given the same grille this year as well).
Other exterior changes include redesigned 18 inch aluminum alloy wheels, new front and rear bumper fascias, revised HID headlights and taillights, new exhaust tips and "satin" trim accents.
Acura has also worked on the braking system to deliver "better feel and enhanced durability". I can't comment on the durability, since I only had the thing for a week, but the brake feel is very good, not grabby at all nor mushy when you press the pedal.
Inside, the 2010 RDX gets a new rear view camera system that shows up on its LCD screen, an electronic compass on the rear view mirror, automatic headlights (which in my opinion every vehicle should have), a handle to help you close the hatch (but no power closing option), a storage tray on the center console, better cup holders, USB-port connectivity (and charging capability) for your MP3 player, and stuff like that. The interior leather has been reworked as well, to give a higher end look to where you park your lower end.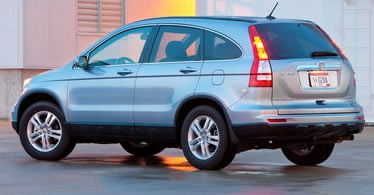 Acura is known for stuffing a lot of technology into its vehicles, and the RDX is no exception. Standard equipment includes RDX Bluetooth HandsFreeLink connectivity, now with Bluetooth audio capabilities. Base RDX's get a 7-speaker Acura Premium Sound System but my test unit also came with the optional Technology Package, which includes a Navigation System with Voice Recognition (though the recognition interface is a bit clunky).
The best thing about the premium sound is the 410 watt, 10 speaker ELS audio system, which plays DVD-Audio discs and more, and sounds spectacular. This is one of the best systems I've heard in a vehicle.
The front seats are very comfortable – and power-operated, with the driver's side of my test unit offering two memory settings as well. The rear seat splits 60/40 and folds and when it's down you get plenty of storage space. I brought home an OHM bicycle in the thing and, though it was tight, it fit in without much ado.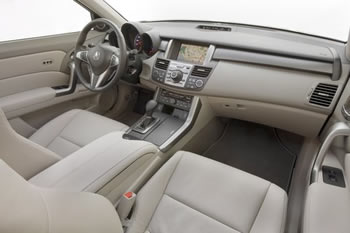 That was great, because it meant I didn't have to ride the bike!
One thing that turns my crank about the RDX is how Acura has so far eschewed the temptation to spray buttons and knobs all over the center stack, as they have with some of their other models. The RDX is pretty simple to use, with well-designed and laid out controls. The only real fly in the ointment is how the audio controls are kind of hidden down toward the bottom of the stack, where they're a bit of a long reach, but it isn't a deal breaker by any means especially since you can control the major audio functions from the steering wheel.
The 2010 Honda CR-V isn't as nice as the RDX, but that doesn't mean it's a slouch; in fact, it's a very nice machine; it's just not as ritzy as the Acura. And for 2010, Honda has given it some upgrades inside and out, some new features, more power and better fuel economy.
Sounds like a winner.
One of the things I like about the current CR-V compared to its earlier version (and the current Toyota RAV4) is that its tailgate opens upward, instead of to the right. While this does lead to a bit of a stretch for short people (and I speak from experience), it's a lot more logical than having a tailgate that opens against the curb when you're parallel parked, making access more difficult.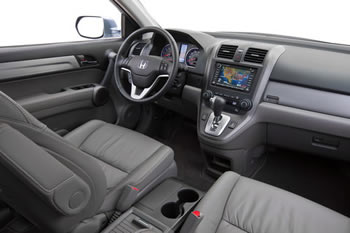 That isn't a 2010 thing, however, just a current generation thing. For 2010, new stuff includes a new grille and bumper design, re-sculpted hood, and a new rear bumper. Ten spoke alloy wheels are standard on CR-V EX and EX-L trim levels, replacing the previous seven spoke alloy wheels, if such things are important to you.
Inside, tweaks include the welcome Bluetooth HandsFreeLink, which is now standard on all CR-V's with the navigation system. The EX-L trim level now gets automatic on/off headlights and the front seats have wider armrests on the inside. I hate such armrests because I find they interfere with my movement (I keep them folded up when I come across them), but to each his own.
My EX-L test unit had such amenities as automatic climate control, tilt/telescoping steering wheel, and heated leather seats. The driver's seat features power adjustment, though the passenger's doesn't.
The CR-V's 2.4-liter 4-cylinder engine has been tweaked to provide 14 more horses, for a total of 180, which is adequate, while getting one mile per gallon better fuel economy. The five speed automatic transmission works well, but doesn't offer a manual mode.
The vehicle is easy to use and drive and quite comfortable, though my daughter-in-law complained that the rear seat shoulder belt hurt her neck. That's why we strapped her dear self to the fender and took her home like a deer self.
There's plenty of storage space, of course, including a double decker glove compartment.
All things being equal – which of course they aren't – I'd opt for the RDX over the CR-V any day. That's because of the Acura's higher level of toys and better fun to drive factor. I guess that's yet one more indicator of the old saw "You get what you pay for."
The Honda CR-V starts at $21,545 U.S./ $26,290 Canadian. The Acura RDX FWD version starts at $32,520 U.S. (Not available in Canada) . The SH-AWD version starts at $34,520 U.S./ $39,990 Canadian.
Copyright 2010 Jim Bray
TechnoFile.com