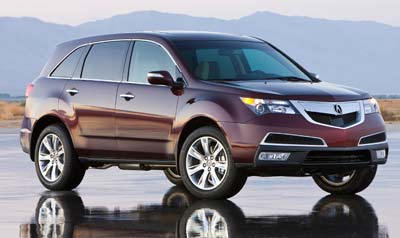 Acura MDX Tweaked Nicely for '10
By Jim Bray
April 2, 2010
Acura's big SUV didn't need a lot of fixing for 2010, and the company has wisely kept its hands off it for the most part.
That doesn't mean a little freshening might be unwelcome, though, and that's basically what the folk at Acura have done: take a very nice vehicle and make it even more compelling.
On the outside, the 2010 MDX has been given a new grille that matches other models' – such as the TSX and TL – better, and it works better here than it does there. There's also a new front fascia, side sills, a tweaked hood and the rear fascia is now matched with "rolled edge polished stainless-steel exhaust finishers".  The taillights now have brighter LED's as well.
Acura has also worked on the ride and handling aspects of the vehicle by revising the power steering system, making the body more rigid and giving it stiffer rear trailing arm mountings. Not that Acura's Super Handling All-Wheel Drive (SH-AWD) system was a slouch before….
Inside, they've put in more Milano leather and given the MDX a thicker sport steering wheel with a very welcome set of paddle shifters behind it. There are new gauges and a power tailgate and – in another extremely welcome touch – they've reworked the buttons on the center stack, making it less intimidating than the previous acres of buttons, knobs and stuff.
The refinements are small stuff overall, but they work, with the new front end and the reworked center stack being the most noticeable and welcome.
They've also added the availability of ventilated front seats, a new full VGA eight inch navigation screen, a new rear view camera (now with three choices of what you can rubberneck at while backing up; all it needs now is satellite TV!) and an upgraded rear entertainment system that's controllable from the front seats.
The terrific ELS audio system has been augmented with a 15 gig hard disk drive and USB port connectivity. It was a killer system before and it still is, though it still won't play SACD discs as anything more than regular CD's. This is complaining about a rather obscure aspect of the audio world, as you can tell by the lack titles you can buy in stores, but you'd think if they're going to handle DVD-Audio discs natively (which they do) then they'd also include its opposite number high quality audio format.
Maybe that's a 2011 tweak. I hope so.  
My MDX came about as loaded as they can, including such new stuff as a Blind Spot Information System that puts a quite illuminating icon on the A pillar. Using the A pillar makes the most sense because it puts the icon closer to your field of vision than the outside mirror – and let's face it, if you need a blind spot sensor then chances are you haven't been giving the proper attention to those mirrors anyway.  
My tester also included Adaptive Cruise Control, which in this incarnation uses a radar emitter behind the front grille to monitor the speed and distance of the slowpoke ahead of you. If you're bearing down on oblivious motorist at breakneck speed, it slows you down automatically and keeps you a preset distance behind it. If you pull out to pass, the MDX returns to its preprogrammed breakneck speed.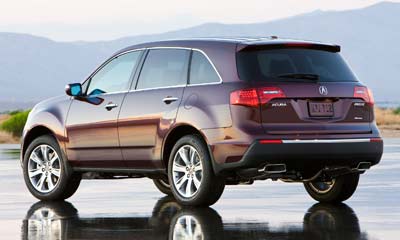 There's also Acura's Collision Mitigation Braking System, which they say is designed to "Reduce the likelihood of a collision by alerting the driver to potential collision situations and activating the brakes if the system determines a likely collision is unavoidable." It's a kind of reverse Darwin Award candidate strategy, helping to keep blissfully unaware drivers in the gene pool.
Heck, if they'd offer adaptive automated steering you could take a book to read while the MDX drives you around.
MDX also features a new, 300 horsepower (with 270 lb.-ft. of torque) 3.7 liter V6 engine that is not only plenty powerful, but is also as smooth as you'd expect from the folk at Honda and Acura. Acura says it gives better performance and gas mileage than before, and it's coupled to a new Sequential SportShift six speed automatic transmission – up one gear since I last drove the MDX – that's also extremely smooth. A new multi-clutch torque converter enhances the already-more-than-adequate acceleration and the paddle shifters are great at helping you control the vehicle almost as if it were a manual, but without the clutch.  
And you can access the paddles even while the vehicle is in automatic mode, giving you instant control when you want it, after which it goes "back to sleep" in automatic mode if you don't keep the spurs to 'er. It's the same way Porsche does it and I love the way it gives you the best of all worlds, unless you're bound and determined to have a clutch pedal.
Acura's press material says the transmission also comes with Grade Logic Control (I could've used that in high school!), Shift Hold Control, Cornering G Shift Control (which somehow sounds vaguely sexual) and Hill Start Assist, making it the most advanced automatic transmission offered by Acura, they say.
A front-mount transmission fluid cooler, the company says, supports the MDX's 5,000-pound towing capacity.
According to Acura, the SH-AWD system uses torque vectoring to distribute power not only between the front and rear sets of wheels, but also between the left and right rear wheels individually. It's meant to reduce understeer and help when cornering, and it works.
The MDX features independent suspension front and back, using MacPherson struts up front and a multi-link buttock sling with isolated subframes. For 2010, Acura says, the MDX uses stiffer rear trailing arm mounts.
An Active Damper System is available that gives you two driver-selectable settings – Comfort and Sport – that, not surprisingly, tighten or loosen the vehicle depending on your driving bent. Comfort mode gives "A more relaxed driving experience", while the Sport mode "Prioritizes handling response and vehicle body control to allow for spirited driving with high levels of precision and vehicle composure."
The nice thing about Sport mode is that it's sporty without being jarring, just as a luxury vehicle should be.
Acura has also stuck new and lighter 18 inch, five spoke aluminum-alloy wheels on the 2010 MDX; you can get 19 inch, seven spoke ones if you prefer.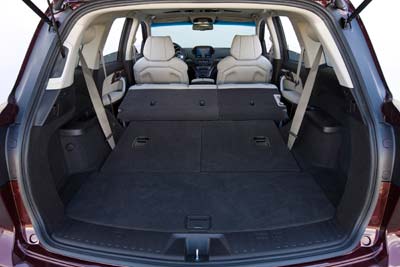 It's definitely a big vehicle, with three rows of seats and all the bulk that entails. And even though it feels big, the MDX and its SH-AWD handles very well, with a surprisingly good turning circle. It's a vehicle you can drive all day and not get too antsy. Well, the rearmost row is only suitable for kids or mothers in law.
Speaking of "comfort mode," the MDX features a 10 way power adjustable driver seat with an eight way adjustable front passenger seat. The outboard seats in the second row mimic the style and lateral support of the front seats. The third row is still a bench, though it's more comfortable than most park benches I've experienced.
Convenience and cargo features include under-floor storage in the back (a power-operated rear tailgate is now standard as well). And you can fold down the second and third row seats to use your MDX as a utility van.
Other standard equipment includes a power moonroof, power windows, leather-wrapped multi-function steering wheel, tri-zone climate control system with humidity control and Bluetooth wireless telephone interface.  
The second generation MDX was a fine vehicle when it premiered back about 2007. For 2010, it's even better – and the Acura designers have managed to make it look better than before, which hasn't always been the case with their current designs. What you end up with, then, is a fine vehicle that looks and acts luxurious without frightening away pedestrians and other onlookers.
The Acura MDX starts at $42,230 U.S./$51,990 Canadian.
Copyright 2010 Jim Bray
TechnoFile.com